Apple's extraordinary run over the last few years may begin to show signs of slowing next year—its first year without visionary leader Steve Jobs.
While we'll probably see an iPhone 5 that takes advantage of maturing, more power-efficient 4G chipsets, a ground-breaking product such as the iPhone, iPad or MacBook Air isn't likely in the cards at Cupertino.
But not all is doom and gloom for Apple; Apple's rivals are stumbling badly and will likely fall further next year. As a result, the iPad may take an insurmountable lead in the tablet market, while the iPhone carves into the Android smartphone lead, simple because competitors will face-plant around iOS.
Here are some bold predictions about Apple's challenging year ahead:
Apple's Enterprise Strategy Gets Cooking
CIOs should expect a warmer Apple with new CEO Tim Cook at the helm. In the past, says veteran tech analyst Rob Enderle, "Apple resisted enterprise pressure largely because Jobs thought IT managers were idiots, likely a holdover from the Lisa days. Cook is more enterprise friendly, and I expect Apple to start embracing the enterprise more as a result."
Slideshow: 15 Ways iPad Goes to Work
But Cook will need to show some restraint with his overtures to the enterprise. Truth is, it is difficult to court both companies and consumers. They are at odds with each other when it comes to usability features. Apple's success is built on consumers loving its products.
"The danger will be if Apple goes too far, as Microsoft did, and forget the user," Enderle says. "In that case, it will likely kill the company."
Will the Next Big Thing Come from Apple?
The bigger problem is on the product side.
While everyone's eyes are on the iPhone 5 for next year (check out this concept video of the future iPhone), it's unlikely Cook can deliver the kind of visionary product such as the iPhone and iPad the way Jobs did. That's because Cook isn't a product guy. As Apple's tumultuous history under executive-types such as John Sculley and Gil Amelio shows, Apple just doesn't do well with an operations leader running the show.
Blog: Is This the Future of the iPhone?
So why was Cook put in charge in the first place?
"Cook was selected because Steve felt that, when he recovered, he would be able to take the job back—up until the end, Steve though he would recover," Enderle says. "The result is they have the wrong guy at the top job and will either need to reformat the company to address the skill shortfall and redesign it around Cook or find someone to truly backfill Jobs. Otherwise, the company will likely drop into a decline, very slow at first but accelerating as long as the skill mismatch continues."
(Earlier this year and prior to Jobs' death, executive leadership expert Paul David Walker, author of Unleashing Genius, expressed concern why Cook wasn't on the Board if he was the planned successor. "It's a very different skill to operate a company successfully than it is to create new realities," Walker told CIO.com. "If Cook is a good operator, chances are he's not going to be the visionary who can create new realities.")
Turmoil at the Top
As Jobs' health worsened, and the odds of him continuing to lead Apple diminished, Apple bore witness to a rash of top talent leaving the company, such as retail chief Rob Johnson and global marketing VP Alison Johnson. Enderle expects this will continue next year.
"Most of the named folks have 24-month retention packages now," Enderle says. "Those that don't have already started to trickle out slowly. I'd expect a big exodus when the retention packages vest in 2013."
The desire to leave will only heighten as disputes increase. Jobs was the sole person who settled disputes, and his absence can lead to internal bickering, all of which makes for an unhappy workplace.
"I'd expect a lot of internal drama in Apple this coming year," Enderle says. "Some of these folks may simply give up and retire in the job until their retention package vests."
However, Apple Rivals Won't Catch Up
Whether or not Apple experiences these problems, one thing is for certain: Apple rivals are not taking advantage of opportunities. Even if Apple stumbles this coming year, its competitors will fall down.
The biggest challenge to Apple's dominance in the tablet market comes from the newly released Amazon Kindle Fire. But is it doomed to be the next Hewlett-Packard TouchPad?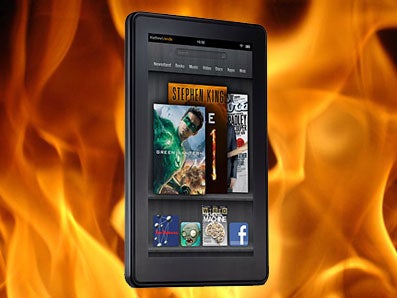 Amazon's Android-based tablet came to market under much fanfare, undercutting the iPad by hundreds of dollars. Reportedly, Amazon is losing as much as $20 on every Kindle Fire sold. Holiday sales are expected to be significant, although Amazon doesn't reveal sales figures of its Kindle devices.
Then the New York Times released a scathing story over the weekend that the Kindle Fire is facing much criticism from early buyers. The iPad has set the standard for tablet usability, in terms of performance and multi-touch navigation, and the Kindle Fire is failing to live up to those standards.
Amazon is working on an update, and there might be an improved device coming to market probably in the spring. "If that's a failure, then the Fire is doomed to the dust pile of history," Jakob Nielson of the consulting firm Nielson Norman Group, told the New York Times.
Lackluster sales of the BlackBerry Playbook has also put into question the future of RIM's tablet. "RIM is in a free fall, and I increasingly doubt they can pull out," says Enderle, adding that RIM has too much cash to fail outright. "My best guess is that they either have a catastrophic leadership or ownership change in 2012."
Will Security Woes Derail Android?
And then there's the many flavors that make up the Android platform, which, aided by a plethora of smartphone makers, collectively surpassed Apple iPhone in sales this year. But the year is ending on a sour note for Android that could spell trouble next year.
"Android has serious security issues reminiscent of Microsoft in the late 1990s," Enderle says. "All it will take is one catastrophic event, and this platform could be done. Google needs to revisit what happened to Microsoft and move more aggressively to shore up their platform. If they don't, things are likely to end very badly for Android."
Which would be very good news for Apple.
Tom Kaneshige covers Apple and Networking for CIO.com. Follow Tom on Twitter @kaneshige. Follow everything from CIO.com on Twitter @CIOonline and on Facebook. Email Tom at tkanshige@cio.com