Due to a number of holiday sales and other deep tablet discounts, Research In Motion 's (RIM) BlackBerry PlayBook tablet is flying off the shelves. (BestBuy.com is sold out of all three versions of the PlayBook, for instance, and RIM's own online store is out of the 16GB tablet, with just a limited supply of the 32GB and 64GB PlayBooks.)
That means lots of new PlayBook owners will soon be scouring the Web for BlackBerry tablet tips, tricks, apps and anything else they can find. If you're one of those new users, you won't want to miss my latest list of must-know PlayBook tips.
I've been using a BlackBerry PlayBook tablet since it was first released last spring. And though the device and tablet form factor in general has really grown on me over the past seven months, the PlayBook and its associated software is still a bit "quirky,"–especially the BlackBerry "Bridge" app, which is currently required to access your BlackBerry smartphone's native e-mail, calendar and other PIM apps.
What follows is a quick list of a half dozen BlackBerry PlayBook troubleshooting tips and tricks to help overcome some of the minor issues that new PlayBook owners are sure to experience. And if you're looking for more tips and tricks or lists of the best PlayBooks apps, check out the stories below.
(Read "PlayBook Battery Tips: How to Make Your Tablet Last Longer," "PlayBook Security: How to Protect Your Tablet," and "Basic PlayBook Tips for All RIM Tablet Users."
1) The BlackBerry PlayBook Master Reset
You can quickly restart or turn off your BlackBerry PlayBook by tapping the battery indicator in the top right corner of your tablet's display and then selecting the appropriate on-screen option. But what if your PlayBook's software freezes up and the screen becomes unresponsive? (Unfortunately, this situation isn't exactly uncommon.)
The BlackBerry master reset option really comes in handy whenever your tablet decides to lock up or your screen simply goes black, but the device is still turned on. To manually reset your PlayBook when your screen is frozen, simply hold down the PlayBook's tiny, round power button, located atop the device, until the PlayBook turns off. Then hold the button again for a second or two to turn your table back on.
Voila! Your PlayBook is up and running again. (If your PlayBook does not turn back on, plug it into a power outlet and ensure it has enough power to operate.)
2) Trouble with BlackBerry Bridge Notifications
The "buggiest" thing about RIM's PlayBook, at least in my experience, is the BlackBerry Bridge app, which gives PlayBook users access to their BlackBerry smartphone's native e-mail, calendar, tasks and other PIM apps, via a Bluetooth wireless connection. If you don't use a BlackBerry smartphone along with your PlayBook, you can skip this tip, along with the next two tricks.
Unfortunately, while using your PlayBook to access your BlackBerry's e-mail and BlackBerry Messenger (BBM) messages, the message notifications in the upper left corner of your PlayBook's display don't always correspond with the actual number of new messages on your device. Or maybe you already read and deleted a new BBM message, but the notification icon still says you have a new BBM.
Honestly, it's sometimes easier just to ignore the new message indicator when it's "acting up." But that kind of defeats the purpose of having message notifications altogether, or it decreases the value, at least. Plus, it's just annoying when your PlayBook says you have a new message, but you don't .
You can do away with errant PlayBook message notifications by tapping the new message icons in the top left corner of your PlayBook and then deleting them directly from the dropdown menu that appears on screen, instead of within the specific message inboxes. And if that doesn't work, you can simply disconnect your tablet and your smartphone momentarily, by turning off your PlayBook's Bluetooth or disabling the BlackBerry Bridge app.
To turn off the PlayBook's Bluetooth or disable the Bridge app, just tap the appropriate icon in the upper right corner of your tablet's display and then "toggle" the On switch into the Off position.
3) Disappearing BlackBerry Bridge Icons
BlackBerry PlayBook owners who use Bridge to access smartphone e-mail and apps will also likely encounter the common problem of disappearing Bridge icons. In other words, when you navigate to the BlackBerry Bridge panel on your PlayBook to access native BlackBerry e-mail, BBM, calendar, etc., all of your icons will be gone.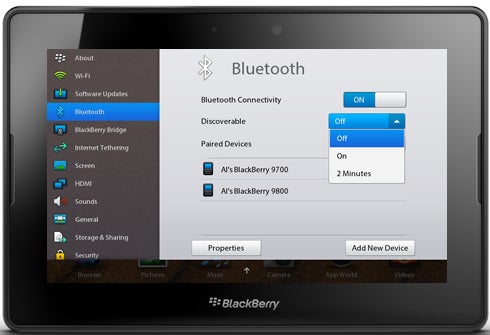 Again, this issue is sometimes easier to simply ignore than fix because you can still click the space where an icon should be to launch its corresponding app, and the names of the icons will still appear on screen. But if you'd rather revive your missing Bridge icons, simply disconnect your tablet and smartphone by turning off Bluetooth or disabling your Bridge app using the process described above.
If your icons are still gone when you reconnect your tablet and smartphone, try resetting the tablet and then connecting the devices again via Bridge.
4) Stubborn Cursor/Keyboard Within BlackBerry Bridge Apps
BlackBerry message notifications and icons aren't the only common bugs found in RIM's Bridge app; PlayBook owners will also occasionally find themselves unable to tap into a text field or message within certain Bridge apps, including the e-mail inbox, MemoPad and Tasks apps. Thankfully, this bug is an easy one to fix.
Should you find yourself unable to bring up the cursor or type in a text field of another area that should be text-friendly, just minimize the current app by dragging a finger upward from the bottom-center of your PlayBook's lower gesture area to bring up your "app carousel." Then just maximize the app again by tapping in its center. You should then be able to tap into a text field and type. If that doesn't resolve the issue, close the app completely and then reopen it.
5) Randomly Crashing PlayBook Apps
Sometimes after using your PlayBook for an extended period of time without turning it off or resetting the tablet, applications will crash or randomly close on their own. Like the PlayBook's BlackBerry smartphone counterpart, your tablet occasionally just needs a good reboot.
If you notice multiple PlayBooks apps crashing frequently, just reset your tablet by tapping the battery-life indicator in the top right corner of your display and then choosing "Restart." Or use the master reset function described above in this post's first tip.
6) Uncooperative PlayBook Software Updates
RIM frequently issues PlayBook software updates to address bugs like the ones described in this story or to add new features and functionality. (Who knows, maybe some of the quirks mentioned here will be fixed by the time you read this post.)
And the PlayBook tablet OS update process is typically a very simple one: You're prompted with a software update notification in the upper right corner of your PlayBooks display; you click the notification and confirm that you want to being the update process; wait a few minutes; reboot your PlayBook; and you're good to go…usually.
But sometimes you won't be able to complete your PlayBook update due to some random error. The solution can be a real inconvenience because it often requires a tablet backup, a PlayBook security "wipe" and a data restore after you install the software update. But this is the only solution I've found to complete PlayBook OS updates after receiving repeated installation errors.
Before you wipe all the data from your Playbook, you should first turn the tablet off or reset it to see if that resolves your update issues. If not, plug your tablet into your PC, use RIM's BlackBerry Desktop Software to backup all of your PlayBook data, then wipe your tablet and restore factory settings. (Check out this post for detailed steps on how to wipe your PlayBook.)
With your tablet wiped clean, you should be able to install the new software update. Once the installation is complete, again plug your tablet into a PC and restore your personal data using RIM's desktop software. Finally, you can login into RIM's BlackBerry App World shop using your BlackBerry ID to access and re-download all of your PlayBook apps.
AS
Al Sacco covers Mobile and Wireless for CIO.com. Follow Al on Twitter @ASacco. Follow everything from CIO.com on Twitter @CIOonline and on Facebook. Email Al at asacco@cio.com