When Microsoft wanted to show off its midmarket affinity, the software giant would do a promotional video with Lifetime Products, a manufacturer of polyethylene folding tables, chairs and sports equipment. Until about two years ago, Lifetime was Microsoft's midmarket darling.
So what's changed?
"We love Apple," says Lifetime CIO John Bowden, who began adopting iPhones and iPads recently. "The bottom line is that Apple makes great products."
To truly understand how monumental his decision was—"Wow, John is really doing this!" said employees—a little background is in order. When it comes to technology enabling people, Lifetime is one of the most conservative companies out there.
Bowden has a stranglehold on corporate data via a virtual desktop infrastructure, or VDI. He has disabled USB ports on laptops and deployed digital rights management software. He continues to force employees to check out Web sessions and monitors just about every digital transaction with Lifetime's servers.
(To be fair, the company has been burned by intellectual property theft, especially during Lifetime's early interactions with Chinese manufacturers.)
Such a Fort Knox approach practically demands the use of only a handful of vendors whose products work together like bricks in a wall. That's why Lifetime chose to build its fortress with Microsoft products. Lifetime works closely with Microsoft in product development and testing for the midmarket. Bowden visits the Redmond campus regularly.
"Then came Apple's disruptive technology," Bowden says.
Bowden's decision to adopt consumer-aimed iPhones and iPads is simply stunning. The thinking goes, if Apple can break Microsoft's grip on a place like Lifetime, then no company is safe from Apple in the enterprise.
Apple Inspiration in … Redmond?
Bowden began his Apple adventure with the iPhone 3 more than two years ago and the iPad 2 recently. The iPhones replaced Microsoft Windows Mobile 6.x phones even though Lifetime still participates in Microsoft's Windows Phone rapid adoption program. iPad's Airplay Mirroring allows sales and marketing people to wirelessly hook up to an HD TV and give presentations on the fly.
Today, Lifetime has a couple hundred iPhones and iPads each.
Lifetime has also adopted Apple products in other ways. The company has an app on the App Store called Lifetime Products that basically replaces all of its catalog sheets that sales people use. Moreover, Lifetime is installing Apple TVs in its conference rooms.
Slideshow: 15 Ways iPad Goes to Work
So what does Microsoft think about such a traitorous tech move? Herein lies the irony: The inspiration for Apple devices at Lifetime came from Microsoft itself.
"I remember sitting in a Microsoft office up in Redmond working on the Exchange 2010 rapid adoption program," Bowden says. "The Exchange product group was willing to make Exchange compatible with more than just Windows devices … and you'd be surprised how many of the Exchange group deep inside Microsoft had iPhones."
Despite Microsoft CEO Steve Ballmer making it clear he doesn't want Microsoft employees carrying iPhones, thousands are concealing iPhones in their pockets. Some 10 percent of Microsoft's global workforce have iPhones, according to a March 2010 article in the Wall Street Journal. Given iPhone's phenomenal growth in the market since, chances are even more Microsoft employees are packing iPhones (and now iPads).
Bowden returned to Lifetime's headquarters in an industrial district near Salt Lake City with an urgent message: "We can't ignore the iPhone any longer," he says. Moreover, Microsoft was willing to work with Lifetime to test ActiveSync support for iPhone 3, the iPhone platform at the time. T-Mobile also became deeply involved despite the fact that the wireless carrier doesn't officially carry iPhones, Bowden says.
Consumer Gadgets Test a CIO's Courage
There's no question that embracing consumer gadgets like the iPhone and iPad will test a CIO's mettle.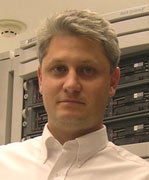 The soft-spoken Bowden projects a measured demeanor not typical of a man willing to push boundaries. Yet Bowden has made more than 30 trips to China checking up on Lifetime's operations there. He has come face to face with China's underbelly of deadly copycat manufacturers. For stress relief, Bowden flies a helicopter in Utah's formidable Wasatch mountain range.
The danger of adopting iPhones and iPads, of course, pales in comparison. Nevertheless, Bowden faced his share of internal challenges. "There were areas of IT that were resistant to the change," Bowden says.
To motivate his IT staff to embrace consumer gadgets (not to mention inspiring employees a la Steve Jobs), Bowden tapped into the techie mindset. "Leading geeks is a little bit different in that they really want to see their technical side grow," Bowden says.
Six months ago, Bowden encouraged and rewarded each of his 31 state-side IT staff to get a consumer gadget for personal use, become familiar with it, and share what they learned with the rest of the team.
Every IT staffer participated, buying mostly Apple iPads and iPhones, some Android phones and tablets, and a few laptops. Techies seemed to gravitate toward the Samsung Galaxy Tab because of its openness—that is, they could have at it. Not a single BlackBerry phone or PlayBook made the list.
"We really admire their choice and knowledge around their gadgets, and so it was pretty magical," Bowden says. "There was a lot of positive feedback."
Meanwhile, Lifetime executives and sales people love their iPhones and iPads (although Bowden is quick to point out that the company still uses a lot of Microsoft gear). The shift to Apple products represented a culture shock for IT that challenged the CIO to come up with ideas like the consumer gadget learning project to grease the wheels of consumer IT.
But that's all part of the job.
"You have to keep your eyes open out there," Bowden says. "What use is it for the CIO to put their head in the sand?"
Tom Kaneshige covers Apple and Networking for CIO.com. Follow Tom on Twitter @kaneshige. Follow everything from CIO.com on Twitter @CIOonline and on Facebook. Email Tom at tkanshige@cio.com