You probably have a handful of Facebook friends who play endless games of Mafia Wars or Farmville and consistently send you invitations to join them. Or, you may have a friend who works as an event promoter and sends you invites to events halfway across the country that clearly you won't be attending.
Removing these invitation alerts from your account can be tedious and annoying, but there is an easy way to selectively block them.
Log into your Facebook account and choose "Privacy Settings" from the drop-down menu at the top. Next, click "Manage Blocking" next to the last option, "Blocked People and Apps." This will bring you to the settings page for adding friends to your restricted list and blocking Facebook users, as well as blocking app and event invites.
To add someone to either of the block lists, type their name in the field and hit enter. When you add someone to the "Block app invites list," your account will automatically ignore all future app requests from that specific friend or group of friends. The same goes for blocking event invites—once they're added to the list, you'll no longer receive event invitations from them.
To remove someone from your block list, revisit the page and click the "Unblock" button. You'll then start receiving app and event invites from them.
Facebook Privacy: 11 Settings to Revisit Now
Another common complaint from users is News Feed noise from application updates. To block specific applications from cluttering your News Feed, hover over the specific post until a drop-down menu appears. Selecting "Hide story" will remove the individual story from your News Feed, while "Hide all by" and "Unsubscribe from" links will remove the post and prevent all future stories from a person, Page, group, event or app.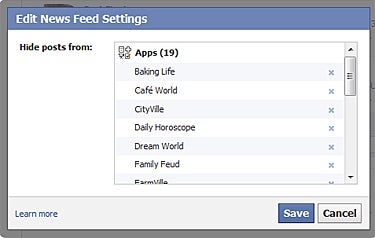 To review which applications you have hidden from your News Feed, scroll to the very bottom of your News Feed and select "Edit Options." The apps that appear in the pop-up box are the ones you have already hidden. Click the X next to them if you'd like them to re-appear on your News Feed.
Kristin Burnham covers consumer technology, social networking and Web 2.0 for CIO.com. Follow Kristin on Twitter @kmburnham. Follow everything from CIO.com on Twitter @CIOonline and on Facebook. Email Kristin at kburnham@cio.com