Business is full of dramatic narratives, from CEOs with unique personalities to soaring sales and market crashes to cutthroat competition. Inside a company's massive storehouse of business data, you'll often find nuggets that foreshadow what's coming—that is, if you look hard enough and can make sense of it all.
Now mobile business intelligence app Roambi is helping companies tell the story behind the numbers on the iPad. "We're combining analytics with editorial to make a rich style publication," says Quinton Alsbury, president and co-founder of MeLLmo, makers of Roambi.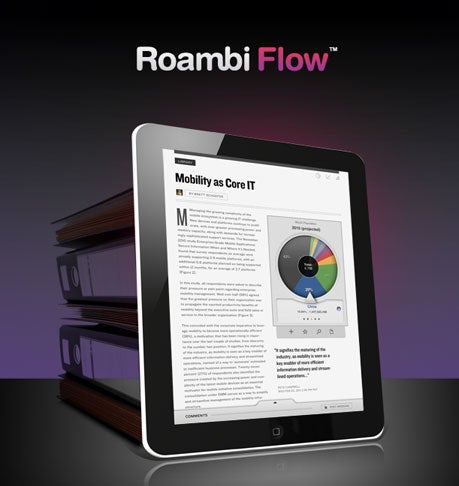 MeLLmo launched an iPad app viewer, called Roambi Flow, on the Apple App Store this week. Today, the company released its back-end Roambi Flow Publisher content management system. Together, the tools enable companies to take their analytics data and wrap content, graphics and photos around the numbers, and then deliver the magazine-like package safely and securely to specific iPad-toting employees.
Employees open the iPad app viewer app and view the library of documents available to them. After downloading one, they can flip through the pages and drill down into the numbers offline. For security reasons, users won't be able to open the document in other apps nor cut and paste content. They can e-mail a link of the document, but the recipient must have the right credentials to view the document.
However, iPad users can get around this by taking a screen shot of a Roambi Flow page by pressing Home and On-Off buttons simultaneously. The screen shot will appear in Photos and, of course, can be emailed. "There's not much we can do about this," Alsbury says.
The point of all this: Get the power of business intelligence into the hands of more people.
Business intelligence, often in the form of numbers, has been hampered by a lack of understanding. Few people were willing to look for the trends behind the numbers. Vendors tried to dress up the numbers by putting them into slick-looking charts and, later, mobile devices. User adoption rose slightly.
With Roambi Flow, Alsbury hopes to bring business intelligence to the masses. He compares the accessibility of data between a PDF full of charts to The Wall Street Journal. The latter gives context to the same information, making it accessible to more people. The Wall Street Journal, says Alsbury, "creates a cohesive story line of what's going on."
The big question: Who is going to put Roambi Flow iPad pages together?
Like every content management system, Roambi Flow Publisher requires a bit of a learning curve. But the real trouble will be finding people who have the time and business intelligence clearance to dig through the data, write about trends, and collect charts and other graphics.
Initially, analysts and marketing professionals—those already tasked with creating reports—will likely be Roambi Flow publishers. But Alsbury's vision of giving business intelligence to more employees will require a lot more content creators.
"Anyone in the company can use it," says Alsbury.
Tom Kaneshige covers Apple and Networking for CIO.com. Follow Tom on Twitter @kaneshige. Follow everything from CIO.com on Twitter @CIOonline and on Facebook. Email Tom at tkanshige@cio.com