Earlier this month, Research In Motion (RIM) began shipping a new generation of BlackBerry smartphones running the brand new BlackBerry 7 mobile OS. The most anticipated of these new BlackBerry smartphones, the BlackBerry Bold 9900/9930, is currently available in the United States through Verizon Wireless (9930), Sprint (9930) and T-Mobile (9900). And AT&T said it too will release the Bold 9900, though it hasn't specified exactly when.
I'll come right out and say it: I love the new BlackBerry Bold. I've used many smartphones in my day–in fact, I have access to just about any device I could want. But when it comes right down to it, I'd pick the new Bold over 99 percent of them without even a second thought. (Yeah, I'm talkin' about you, iPhone.)
I know that's a "bold" statement–poor pun shamelessly intended. But it's true. Chances are, you've already read a few Bold 9900/9930 reviews, since the device was officially released a couple of weeks ago. For this review, however, I spent a great deal of time with the device putting it through some rigorous/heavy testing. And my evaluation is aimed strictly at the tech-savvy, business user, or the BlackBerry "power user," if you will.
Here are the details on why I feel so strongly about this device, as well as a few reasons the BlackBerry Bold still isn't as functional as it could be.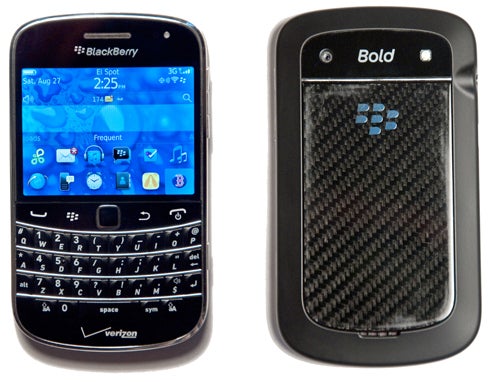 First up, the good stuff.
FREE CIO BlackBerry Newsletter
Get better use out of your BlackBerry and keep up-to-date on the latest developments. Sign-up »
Why I Love the BlackBerry Bold 9930 Hardware–and You Will Too The best thing about the new BlackBerry Bold 9930 is its form factor. It's simply fantastic. The new Bold is the first "candy bar" style BlackBerry with both a traditional, "physical" QWERTY keyboard and touch screen. The device also features the common BlackBerry Send/End calling keys, Menu and Return/Escape buttons and the BlackBerry trackpad for additional modes of navigation. All of these elements work seamlessly together to provide a wonderful navigation experience. BlackBerry Bold 9930 Sides (Image Credit: Brian Sacco) The keyboard on the new Bold 9930 is without question the best keyboard RIM has ever shipped on a handheld. And it's the best smartphone keyboard I've ever used. If messaging and typing are of the essence to you–and I know they are for many business users–you'll want to consider the Bold 9930 for the keyboard alone. I was a bit skeptical of the new Bold's combined trackpad/touch screen navigation, but have discovered that it works very well. I find myself mostly using the touch screen for scrolling through message lists, selecting and deleting e-mail, zooming in and out in the browser and for other general navigation. If I want a bit more precision to, say, click on a link within some tiny text on a webpage, I can simply jump over to the trackpad, which activates a cursor for a bit more control than just clicking with the larger surface of a thumb or forefinger. I easily and quickly got used to the touchscreen/trackpad navigation combination. After just a week or so, I was hopping back and forth between screen and trackpad, where appropriate, without even thinking about it–a good indicator of a well-designed UI experience. The Bold 9930 is RIM's thinnest BlackBerry ever, and it fits unobtrusively into a pants or shirt pocket. A brushed, real stainless-steel bezel adds both style and durability. The glassy-epoxy battery cover not only looks cool, it's functional as well, since it contains a key component that enables the Bold's Near Field Communications (NFC) support. (I do have a few complaints about the battery cover and NFC, but I'll elaborate in the following section.) And I'd be remiss to not mention the cool, new backlit trackpad, which, along with the backlit keyboard, makes the device easier to use in dark environments.
Anyone who is familiar with the BlackBerry devices of the past few years should immediately see similarities between the new Bold 9930 and RIM's original "Bold" smartphone, the BlackBerry 9000. And that's for good reason. RIM basically took the best design elements of the Bold 9000 and combined them with a touch screen, trackpad, faster processor, a much thinner profile and a vastly improved software experience, to make the Bold 99xx.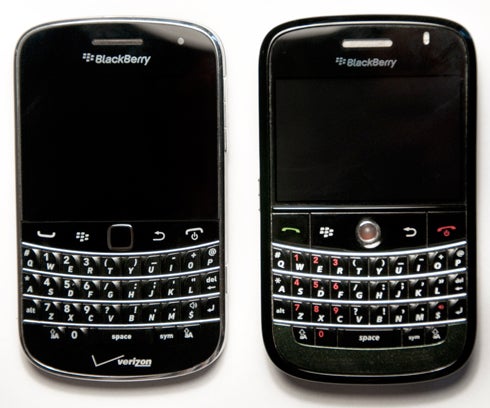 About that processor: The Bold 9930 packs a 1.2GHz, single-core Snapdragon processor from Qualcomm, which is significantly more powerful than the 624MHz processors found in the last generation of BlackBerrys. The processor, along with some software enhancements in BlackBerry 7, does speed up the overall UI and navigation experience, but I'm still not thrilled with this processor. (More on why in the next section.)
The new Bold packs more internal storage and RAM than any other BlackBerry, except the brand new Torch devices, with 8GB of built-in storage, expandable up to 40GB via microSD memory cards. It also features 768MB of RAM.
The Bold 9930 packs a pile of different wireless radios, which is definitely a boon for enterprise users. The unit I tested runs on Verizon's 3G CDMA network in the United States (dual-band 800/1900 MHz CDMA/EVDO Rev A), and in my experience, Verizon's network is one of if not the most reliable cellular networks where I live and in the areas in which I travel most frequently.
The Bold 9930 is also a "world phone," meaning it not only supports Verizon CDMA bands, but GSM/UMTS/HSPA bands so it can hop onto other networks, inside and outside of the United States, if necessary–of course, you'll need a SIM card and an active account with another carrier to use its network. (More specifically, the Bold 9930 supports dual-band 2100/900 MHz UMTS/HSPA, with maximum upload speeds of 5.76 Mbps and max downloads speeds of 14.4 Mbps; along with quad-band GSM/EDGE support for the 850/900/1800/1900 MHz frequencies.)
Combined with stereo Bluetooth 2.1, and Wi-Fi support (Wi-Fi 802.11 b/g/n [2.4 GHz]; and dual-band 802.11 a/n [5GHz]), that's an impressive array of radios. And business users who are constantly jumping from Wi-Fi network to Wi-Fi network, and continent to continent, will surely appreciate them all.
The device has standard headset- and micro-USB-ports, which means you don't need any sort of proprietary headphones or charging cords, and I certainly appreciate that.
The Verizon and Sprint versions of the Bold 9930 cost $249.99 along with new, two-year service agreements. And though that may sound a bit pricey for a BlackBerry, it's actually reasonable when you consider the quality of hardware you're getting–and when compared it to the $300 after rebate that T-Mobile is asking for its 9900. The new Bold also comes with a holster, which costs $39.99 on RIM's ShopBlackBerry.com. I'm not really a holster guy, but I know that many business users are. And you really do need some kind of case for the 9930. (More on why coming up shortly.)
Now, onto the new software.
The BlackBerry Bold 9930 and BlackBerry 7 Software: Pros
Overall, RIM's new BlackBerry 7 software feels very much like its BlackBerry 6 software, just running on more capable hardware, which leads to a smoother, more fluid, or "liquid" BlackBerry software experience. While there are some major enhancements, the overall layout and general functionality of BlackBerry 7 is just like BlackBerry 6. Because both versions are so similar, it was very easy to get used to and make the transition to the new 7 OS.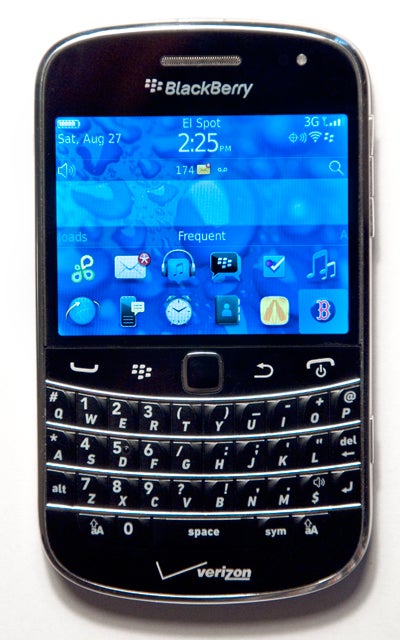 The most significant improvement in BlackBerry 7 relates to the overall performance and what RIM has named "Liquid Graphics." Due to the faster processor, a new graphics chip set and some "tighter" code, BlackBerry users will see much less lag on the BlackBerry Bold 9930 than on previous BlackBerry smartphones. Most BlackBerry owners are probably painfully familiar with the dreaded spinning clock icon, which appears when the device is overloaded and can't keep up with all the processes running at a given time. I wish I could say you don't see the clock icon at all on the Bold 9930, but unfortunately, that's not the case. However, the overall BlackBerry 7 navigation experience is much smoother.
The BlackBerry Browser also got some valuable modifications in BlackBerry 7, and it shows. The Webkit-based browser now fully supports HTML 5 video. It's faster and smoother, and simply a better overall Web browsing tool. The Bold 9930's touch screen works seamlessly with the BlackBerry 7 browser, making touch-based scrolling and zooming a pleasure.
Another notable feature in BlackBerry 7: Voice-activated universal search, lets you search just about anything on your device, including messages, contacts, browsing history and various applications, as well as query various online services, without ever having to touch your device. Universal search isn't new to BlackBerry 7, but the voice-activation part is unique to the new OS. In my tests, the voice search function worked quite well.
From a business perspective, the behind-the-scenes BlackBerry Enterprise Server (BES), which connects BlackBerry smartphones to corporate resources, is just as important as the handheld software. And, as expected, I had no trouble at all connecting my BlackBerry to my corporate BES. It really couldn't be easier to get most BlackBerrys connected BES; for the majority of users, it's as simple as launching the e-mail setup process and then entering in an access code provided by your IT department.
As for preloaded enterprise-oriented software, the Bold comes along with a number of valuable applications, including the full, premium version of the Documents to Go mobile office suite. The last couple of generations of BlackBerry smartphones also shipped with Doc to Go, but they included only the free, limited version that lacked some "advanced" options, such as the ability to create new documents. Docs to Go Premium also includes a full PDF reader, which isn't available in the free version. I'm a big fan of this software, and it's a must-have for all BlackBerry toting businesspeople.
The Bold 9930 also supports RIM's BlackBerry Balance technology, which helps IT secure corporate data on BlackBerrys without putting too many restrictions on users' devices. (Read more on BlackBerry Balance here.)
I know, I know, that's a lot to like–and a lot of information to take in. But that's just the positive stuff about the Bold 9930. Here's the flip side.
FREE CIO BlackBerry Newsletter
Get better use out of your BlackBerry and keep up-to-date on the latest developments. Sign-up »
Bold 9930 is Almost the Perfect BlackBerry…But Not Quite As stated early on in this evaluation, I really, really like the BlackBerry Bold 9930. And as such, I have many more good things to say about it than I have criticisms. But that's not to say I found it to be perfect, here's why. The number one flaw I currently see in the Bold 9930 is battery life. And unfortunately, that's a very significant flaw, especially for business users who depend on their handhelds to last them at least a full day before needing another charge. In my tests, the Bold 9930 got about 6 hours and 20 minutes of talk time, while in an area with full 3G coverage. BlackBerry Bold 9930 Rear with Battery Cover Removed (Image Credit: Brian Sacco) Well, that's not bad at all, you say? You're right, six hours of talk time is average or better for a modern 3G smartphone. The problem is that the Bold 9930 barely makes it through my work day with moderate to heavy use. For example, if I unplug my fully-charged Bold 9930 at 8 AM, and then use it regularly throughout the day, sending and receiving e-mail and BlackBerry Messenger (BBM) messages, occasionally checking Twitter and placing a phone call or two, the Bold will be dead by the time I get home around 5 PM. Again, in comparison to some other devices I use–ahem, Motorola Atrix–this battery life isn't bad at all. However, RIM spoiled me with the BlackBerry Bold 9780, and to a lesser extent, the Torch 9800, which can easily last 10 hours or more of heavy use on a single charge. For me, it's frustrating to have to get used to a device that offers significantly less battery life, especially since BlackBerrys are typically known to have great battery life. RIM could certainly release software updates in the future that improve overall 9930 battery life, but the fact that actual "JM-1" battery pack in the Bold 9930 has a lower capacity (1230mAh) than the Bold 9780 (1550mAh) and the Torch 9800/9810 (1270) is probably the best explanation for this decrease in battery life.
On the upside, the Bold 9930's battery is removable, so you can buy a few extras and stash them in your travel bag, though right now, you'll have to shell out another $35 – $50 each.
My second complaint relates to the Bold 9930's camera. Though all of the newest BlackBerrys, and even a few of the older devices, have 5.0 megapixel digital cameras, some of them have different focus mechanisms. My issue with the Bold 9930 is that it doesn't focus very well on close-up objects, and as a result, it takes photos of notably lower quality than both of RIM's new BlackBerry Torch devices and even the original Torch 9800.
I believe RIM used a different camera lens or at least a different focus mechanism in the Bold 9930, probably due to the fact that the device is so thin, and the end result is that the new Bold doesn't take as high quality images as my old Torch, which is an unfortunate downgrade.
As stated earlier in this post the BlackBerry 7 software experience is vastly improved over the last generation of BlackBerry 6 devices; however, after using the device for a few weeks now and loading up most of usual applications and services, the Bold 9930 still lags just enough that it warrants mentioning. I definitely see the BlackBerry "clock icon" far less often than I did on BlackBerry 6 devices, but it does show occasionally. And I find the Bold takes its time "waking" up sometimes after I haven't touched for a while, leaving me furiously tapping the standby key atop the device or the keyboard until it turns back on.
My final "significant" complaint relates to the BlackBerry application ecosystem as a whole. It simply doesn't stack up to iPhone or Android application ecosystems. This isn't a new problem. And the issue stems from a number of reasons that I won't necessarily elaborate on here, but the bottom line is that both iOS and Android, the BlackBerry platform's two top rivals right now, currently offer a drastically superior application experience to BlackBerry. And businesspeople like apps, too.
I love the Bold 9930, but due to its inferior application selection, I still find myself also carrying an iPhone or Android device. And I really wish I could just carry one smartphone for a change.
I also wish the Bold 9930 packed a dual-core processor, since many comparable high-end smartphones are currently hitting the market with dual-core chips. I should note that I haven't seen extensive lag or any of the other common indicators that the 9930's single-core 1.2GHz processor can't keep up with me. Given that, a dual-core processor may not be necessary in this case. But I still contend that the 9930 may end up feeling a bit outdated in the not-so-distant future, as dual-core processors become the norm instead of the exception to the rule.
And though the Bold 9930 does support NFC for short-range wireless communication, Verizon decided to launch the handheld without NFC enabled. Future software updates could, and probably will, enable this feature, but I really hoped to be experimenting with NFC now, especially since RIM touted the features when it first unveiled the new Bold last May.
The Bold 9930's epoxy-glass battery cover looks really nice, but it scratches and scuffs very easily. I carried my case-less Bold 9930 along with a similarly "naked" Motorola Atrix in the same pants pocket for two weeks, and the Bold's battery cover is covered in scratches and scuffs, while the Atrix is fine. (Check out the included image to see for yourself.) If I had been using a case or holster, I probably wouldn't have scratched up the device as much, so I strongly recommend picking up some sort of protective covering for the Bold 9930.
A few more minor complaints: I really wish the 9930 had a second user-programmable convenience key–it only has one. But a number of applications do exist that allow you to assign multiple functions to one convenience key, so the lack of an additional key isn't a huge deal. Also, the volume up/down and mute keys already feel slightly "loose" after using the device for just a few weeks, and that may not bode well for future durability.
Sooooo, to sum that all up…
BlackBerry Bold 9930 Business-Oriented Review: Conclusions
The BlackBerry Bold 9930 is one hell of a business smartphone. You need only look at the lengthy list of things I love about the device, and my relatively short list of complaints, to see that the positive drastically outweighs the negative when it comes to RIM's new Bold 9930, at least from a business user's perspective.
I'm infatuated with the form factor and UI. BlackBerry 7 provides a much better user-experience than any RIM OS has in the past. And the Bold 9930 is actually very good-looking–something I haven't really been able to say about too many BlackBerrys.
Sure, it has its shortcomings, namely the fact that the BlackBerry application ecosystem isn't as robust as some competitors' ecosystems. Battery life isn't what I've come to expect from RIM. The digital camera is lacking. And the Bold really can't compete with rival devices like the iPhone, from a multimedia perspective, due largely to the smaller screen size. But the target Bold 9930 user doesn't much care about all that; the ideal Bold 9930 owner wants, first and foremost, high performance; top of the line messaging components–like a great keyboard and best of breed messaging application; security; and reliability. The rest is just icing on the cake.
If you fit that target Bold 9930 user profile, the 9930 is one of, if not the, best smartphones available to you today.
Will this device draw loyal iPhone or Android users towards RIM and BlackBerry and away from Apple or Google? No, probably not. But it's sure to wow current BlackBerry users, who have stayed with RIM for a reason: BlackBerrys are still the best messaging and enterprise-oriented devices on the market today. The Bold 9930 may also lure former BlackBerry users who recently jumped ship back to BlackBerry–and I believe they'll be satisfied upon return. And again, the device is really good looking, so much so it may scoop up some smartphone users who are still on the fence.
RIM and BlackBerry have been catching a lot of flak from various critics in recent days, but the Bold 9930 is a perfect example of why I still remain a loyal BlackBerry user.
(Still haven't had enough Bold 9930 info? Check out the quick hands-on video below for a live demo.) AS
Al Sacco covers Mobile and Wireless for CIO.com. Follow Al on Twitter @ASacco. Follow everything from CIO.com on Twitter @CIOonline and on Facebook. Email Al at asacco@cio.com