It's a sundry tale chock full of seedy copycats and scammers, a secretive Chinese government bent on making one of the biggest foreign companies look bad, and an all-too-apologetic American CEO. All are chasing a multi-billion-dollar market for an over-priced consumer gadget called the iPhone.
"It's about West and East cultural differences in doing business," says CEO Stanley Li of San Francisco-based Netswitch, who has worked overseas for many years and has intimate knowledge of business practices in China.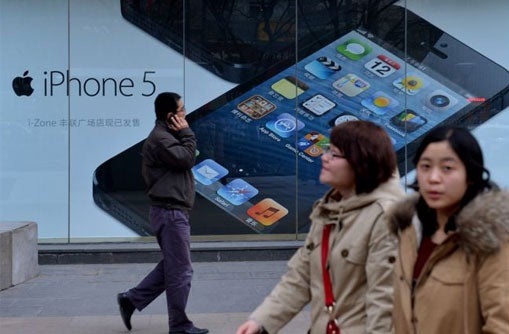 To understand this story, we'll have to start at the beginning: lines forming around the corner of Apple stores across the United States with the release of every new iPhone. Many of the people in those lines are being paid $50 to buy two iPhones that they'll never use. Instead, they hand them over to smugglers.
Smugglers bring the iPhones into China to feed a frenzy of consumers, often charging several hundred dollars above the U.S. retail price. They might even break apart the phone and sell the components to be used in fake iPhones. Simply put, the iPhone is red-hot in Greater China, a region that produced $22.5 billion in 2012 for Apple.
The sky-high demand has led to a black market of iPhone knock-offs, as shown in this video:
More importantly, the iPhone market in China has led to a second-tier services market. When a smuggled iPhone breaks, the consumer will take it to the local vendor that sold it to them. Some shopping malls in China have floors of vendors selling fake iPhones, smuggled iPhones, unauthorized electronic parts and repair services.
In turn, second-tier vendors will take iPhones to the local Apple store for free service and perhaps get a replacement. Then they'll charge the consumer hundreds of dollars for the repair job.
Sick and tired of seeing the same group repeatedly taking advantage of Apple's warranty policies, Apple store staffers likely began rejecting requests for service, especially if the iPhone had unauthorized parts or was smuggled from the United States.
"This is where it started, when people began looking at Apple as arrogant and lacking customer skills," Li says.
This set off a two-week storm of Apple criticism led by the state-run media, which accused Apple of "unparalleled arrogance" and mistreating customers. Suspicions arose that the Chinese government was pulling the strings. Movie star Peter Ho criticized Apple in a post that included the instructions "Post Around 8:20," the slip-up clearly revealing an orchestrated campaign.
Story: Apple in China: Should We Applaud Instead of Condemn?
Of course, Chinese government involvement is mere speculation—but there is motive. It's no secret the Chinese government favors domestic products over foreign products. By making Apple look like a greedy American capitalist, the Chinese government may have been trying to drum up support for local products or at least slow down Apple's momentum.
"From my experience, there's a lot of pushback on foreign product," Li says. "My speculation is that the Chinese government is trying to grow the domestic market—that is, localized products and services."
The criticism worked, and Apple CEO Tim Cook quickly issued an apology: "We realize that a lack of communication in this process has led the outside to believe that Apple is arrogant and doesn't care or value consumers' feedback. We sincerely apologize for any concern or misunderstanding this has brought to the customers."
It's hard to imagine Cook's predecessor, the fiery Steve Jobs, apologizing for anything (although he did give a half-hearted mea culpa for the iPhone 4's antenna problem). Cook's apology, says Li, was too quick and makes Apple look weak in the eyes of many Chinese.
Slideshow: 15 Best iPhone Apps for Newbies (2012)
China's Foreign Ministry jumped on Cook's apology, calling it a "conscientious response." The country's official mouthpiece, The People's Daily, wrote: "The company apology letter has eased the situation, softening the tense relationship between Apple and the Chinese market. Its reaction is worth respect compared with other American companies."
While the drama continues to unfold—Cook plans to improve customer service in China, but we don't know how—the heart of the matter lies in the very different ways the two countries see business opportunities. While American companies see warranties and product return policies as forms of customer service, some Chinese companies see them as a way to make money.
But Li believes these differences are not insurmountable.
"This is not just about an apology, but about learning the cultural differences and about doing business with different cultures," Li says. "You need this understanding before jumping on issuing a formal apology, because people can take it in different value."
Tom Kaneshige covers Apple, BYOD and Consumerization of IT for CIO.com. Follow Tom on Twitter @kaneshige. Follow everything from CIO.com on Twitter @CIOonline, Facebook, Google + and LinkedIn. Email Tom at tkaneshige@cio.com