It's a rare CIO today who doesn't think about the impact of mobility and consumerization of IT. But mobile is more than just the latest step forward in tech innovation, say Mike Brinker and Shehryar Khan, principals with Deloitte Consulting. Mobile is fundamentally reshaping operating models, business models and marketplaces.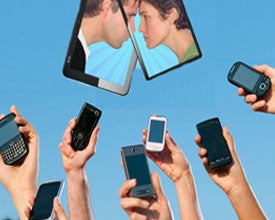 It's not sufficient to think "mobile first" anymore, they say. Instead, CIOs who want to lead their enterprises into the postdigital future should begin thinking about "mobile only."
The signs are clear, they say: In 2012, both Apple and Google Play surpassed 25 billion app downloads. Additionally, according to Internet trends research by Mary Meeker, a general partner at Kleiner Perkins Caufield & Byers, 13 percent of all Internet traffic in 2012 originated from mobile devices.
"The explosion of smartphone and tablet adoption in the consumer world cannot be denied," write Brinker and Khan in Deloitte's Tech Trends 2013: Elements of Postdigital report. "And enterprises have taken note. Mobile initiatives have popped up in almost every corner of the business—looking to untether the workforce, engage customers more effectively and reshape business-as-usual. CIOs are scrambling to deal with the outcry: to imagine, build, deploy and promote applications. And all the while, many are singing the gospel of "an app for that," trying to close the gap between end-user expectations and current offerings."
Think Embedded Sensors and Actuators
This led many CIOs to adopt a "mobile first" attitude in 2012, in which their teams were urged to consider a mobile component for each project, solution or investment. And that's where many organizations remain today, they say, trying to veneer existing operations and processes for smartphones and tablets. In the meantime, advances in embedded sensors and actuators are hitting the market, potentially enabling powerful machine-to-machine use cases.
For instance, Champaign, Ill.'s Oso Technologies recently concluded a successful Kickstarter project to fund production of Plant Link, a sensor that you place next to your plants or in your lawn. Plant Link monitors the amount of water in the soil and sends alerts to you when your plants or lawn need water. Your tomatoes might text or email you to let you know they need a drink. Plant Link can also connect to a smart valve from Oso that can automatically activate your sprinkler system when your plants or lawn need water.
Or consider the Port of Long Beach. Trade valued at more than $140 billion moves through the port annually, making it the second-busiest seaport in the U.S. Its IT team uses seismologic sensors to alert them to earthquakes and potential infrastructure damage, RFID tags to control truck access to its terminals and sewer and storm water control sensors to measure performance and environmental impact and monitor security.
"Sensor data enters directly into our systems and moves all the way up to the analytics for operational dashboards," says Doug Albrecht, director of information management at the Port of Long Beach. "For example, we receive ship movement data that tracks entry to and exit from the harbor, all integrated with our billing system. The Green Flag Program automatically applies incentive discounts to ships that manage their speed nearing the port, smoothing traffic and mitigating environmental impact. A Green Flag dashboard shows monthly and yearly performance of all carriers calling the Port of Long Beach."
Ships that enter the harbor more slowly emit fewer smog-forming emissions and diesel particulates. In addition to making traffic through the port easier to manage, the port says the program prevents more than 1,000 tons of air pollution a year.
Many Enterprises Stuck on Creating Mobile Veneer
While organizations like the Port of Long Beach are advanced in their use of mobile to transform their business processes, Deloitte's Brinker and Khan say that many organizations are still simply working on incorporating smartphones and tablets with existing operations and processes, rather than capitalizing on the potential of mobile to transform operations and processes.
"In the post-PC era, mobile can't be just a hobby," they say. "It's not noteworthy that your enterprise has great mobile apps; it's noteworthy if you don't. As you move past experimentation, make sure you avoid getting stuck on mobile first. Focus instead on the prospect of reinvention, based on the new realities of Mobile Only (and beyond)."
Four Forces Are Defining the Future of Mobile
Four forces, they say, are currently coming together to define the future of mobile:
Convergence. "Mobile will likely become the anchor to our digital identities, providing a centralized, connected, always-with-us hub for services, information, entertainment and convenience across our personal and professional lives," Brinker and Khan say.

"Impulse computing is moving from luxury to the very fabric of how we interact with the world around us. Mobile is already the new camera, watch, book store, radio, car key, dictionary, textbook, address book, medical health record, sales tool, cash register, daily planner, calculator, customer service agent, thermostat and personal assistant. How long before it also becomes the new doctor, personal historian, retail store, personal manufacturing line (3D printing and replication) and official proof of identity? More compelling than the individual use cases is how they'll converge in a mobile footprint accessible across different devices as our definition evolves from a discrete piece of electronic equipment to a collection of participating nodes," Brinker and Khan say.

Ubiquity. Mobility will soon be embedded in almost everything we interact with, Brinker and Khan say. You will soon be able to sync almost any activity across any device. For instance, in the not-too-distant future, you might begin your day by reading the morning paper in your bathroom mirror, then continue your newspaper experience by listening to a text-to-voice version from your car during your commute, and then finish reading it through the heads-up display from your glasses during the elevator ride to your office.
Transparency.For more than two decades, user interface has meant point-click-type. Recently it has evolved to include touch-swipe. Soon, Brinker and Khan say, voice, gesture and location-based services are likely to become our primary way of interfacing with devices and systems, making available new use cases for commerce, back office and our personal lives. "A simple example is a mobile boarding pass for an airline flight," they say.

"Until recently, a user had to take her phone out, unlock the device, open her calendar, find her flight, copy her confirmation code, find and launch the airline's app, choose check-in, paste her confirmation detail, and then stay in the app to present the boarding pass at security and again upon boarding. Using location-based services and a host of technologies for short-range communication, today's devices can make the operation a user-free interaction. When the user arrives at the airport within three hours of a flight on her calendar, the boarding pass is automatically displayed on her screen and transmitted to the TSA and gate agents without her having to take the device out of her purse," Brinker and Khan say.

Extending reality. Augmented reality is perhaps the most science fiction-like of the forces, but Brinker and Khan note that it is moving out of games, military and scientific environments and into the mainstream enterprise. "What you can read, hear or feel is delivered based on how you gesture, move and talk—sensitive to location and context, with information you need or want in a format that can adapt to the environment at hand," they say. "The defining developmental work of Sixth Sense from Pranav Mistry and Patty Maes in the MIT Media Lab's Fluid Interfaces Group demonstrates that this is not science fiction, but rather business reality."
Five Foundational Steps Toward a Mobile Only Future
Of course, dealing with the challenges of BYOD and creating mobile apps—what Brinker and Khan refer to as veneering today's business and processes—can be challenging as it is. Envisioning and implementing a mobile-only enterprise may seem an insurmountable challenge. Brinker and Khan say there are five foundational steps that CIOs should consider to start:
Accelerate your digital strategy. There's no time for a "prolonged academic exercise" in strategic planning, they say, because mobile is moving too fast. Yes, strategy is important, but eight weeks of planning is a more viable window than eight months.

"It should begin with opportunity identification—helping the business discover ideas for reshaping customer, employee, product and partner experience through mobile," Brinker and Khan say. "And don't forget about enablement—creating a roadmap for just enough foundational architecture, infrastructure and management capabilities to be slightly ahead of the usage scenarios.

Cross the streams. As Ray Stantz and Egon Spengler learned, at times, crossing the streams is good. Your organization is probably funding parallel efforts in areas like content management, asset management, social, CRM, analytics, gamification and mobile.

"At best, there's redundant work being done," Brinker and Khan say. "At worst, connections are being missed, and competing priorities may be leading in drastically different directions. These efforts don't necessarily have to be corralled under a single centralized team, though they increasingly are. But there are enough real dependencies and overlap that they can't be handled in isolation, either."

Show, don't tell. When you start getting into advanced mobile features, showing what they can accomplish is superior to telling. "Even your most creative end users are subconsciously anchored in how things work today," Brinker and Khan say. "You need to bring concepts to life—whether through illustrated user stories or wireframes or working prototypes."

Brinker and Khan recommend creating a mobile "A-team" that has a mix of talents that include creative, UX, engineering and sector and functional knowledge. "Let them earn their stripes on a particularly juicy use case with clear business value," they say. "Also, consider using them as the inner circle of your mobile center of excellence—guiding choices as mobile moves from an experiment to a core strategic discipline."

Monitor the start-up community and tech blogosphere. The start-up community and technology blogosphere may just provide the anecdote that will seed your next big thing. "Especially in mobile, use cases are remarkably portable across industries," Brinker and Khan say. "Consider making team members accountable for staying current on what others are doing."
See each interaction through the eyes of the customer. To meet user expectations, you need to understand the target users' needs, desires and routines. "For an airline, that may mean grounding features and functionality in the realities of the pilot and attendant experience, from pre-departure workflows to in-flight limitations such as low lighting and turbulence," Brinker and Khan say.

"For a distributor, it may mean weighing the needs of the business with the on-the-ground needs of drivers. And for a railroad, it may mean opportunities to help conductors overcome the distractions of a moving train with customizable font sizes, expanded touch areas and a task-focused architecture Brinker and Khan say. "
"Many CIOs, myself included, like to be in control," says Larry Quinlan, global CIO for Deloitte Touche Tohmatsu Limited. "But with mobile, my advice is to not try to control it completely. Consider an experimental approach to developing apps—it will likely teach you something. Listen to your people, and get an improved understanding of how they are using mobile. Build prototypes, get feedback and throw them away. This is hard to embrace, since nobody has ever said "let's implement an ERP system, see what it does for us, and scrap it next year." But mobile brings the need for a different approach."
"Ultimately, success is when technology supports the way we inherently do our jobs, so we need to figure out how to tie mobile back to our fundamental business processes," he adds. "When we can finally affect business processes with mobile in a way that makes people say, "Wow! I never thought of that," we've done our job."
The information for this article was drawn from the Tech Trends 2013: Elements of Postdigital report by Deloitte Consulting.
Thor Olavsrud covers IT Security, Big Data, Open Source, Microsoft Tools and Servers for CIO.com. Follow Thor on Twitter @ThorOlavsrud. Follow everything from CIO.com on Twitter @CIOonline, Facebook, Google + and LinkedIn. Email Thor at tolavsrud@cio.com