Loyal BlackBerry enthusiasts in the United States have been waiting a long time for the release of BlackBerry 10 and the first smartphone that runs the new mobile software, the BlackBerry Z10. Today, the wait is over as AT&T became the first major U.S. wireless carrier to release the Z10.
Later this month, on March 27, T-Mobile USA will also release the BlackBerry Z10, and Verizon Wireless will follow suit on March 28. Sprint has said it will not carry the first BlackBerry 10 device, but sometime this spring it will offer the BlackBerry Q10, which sports a traditional "physical" hardware BlackBerry keyboard.
(Solavei, T-Mobile's ,"contract-free mobile service provider (MVNO)," became the very first wireless carrier to sell the Z10 in the United States last month when it offered an unsubsidized version of the device for $1000. The BlackBerry Z10 has also been available in Canada and the United Kingdom for a number of weeks.)
CIO.com's Al Sacco got his hands on the BlackBerry Z10 more than a month before its official U.S. release, and he's been writing about it, and BlackBerry 10, ever since. Check out his review of the BlackBerry Z10 smartphone below, followed by a number of BlackBerry 10 tips and tricks stories, a BlackBerry 10 apps roundup, a best Z10 accessories spotlight and various BlackBerry 10 analysis stories.
BlackBerry Z10 Review: Hands On with the First BlackBerry 10 Smartphone
The first BlackBerry 10 smartphone, the BlackBerry Z10, packs some unique features and functionality, including an industry-best virtual keyboard. But while the Z10 is a huge step in the right direction for BlackBerry, according to CIO.com's Al Sacco, it alone won't save the struggling company. This BlackBerry Z10 review explains why.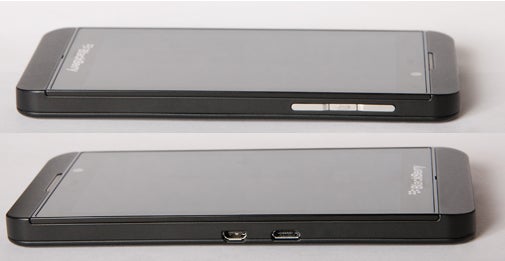 BlackBerry Z10 Tips, Tricks and Shortcuts
Here's a handful of valuable BlackBerry Z10 and BlackBerry 10 tips including how to capture a screen shot, how to instantly launch voice control, a variety of keyboard shortcuts and more.
Looking for the best BlackBerry 10 apps that will be available on launch day in the United States? Here are 20 of the best early BlackBerry 10 apps, including apps for social networking, image and video editing, cloud storage, audio, sports and more.
BlackBerry Developer Evangelist and Z10 Users Talk Ported Android Apps
Many BlackBerry 10 apps in the BlackBerry World app store are really ported Android apps. BlackBerry Z10 users and a BlackBerry developer weigh in on the pros and cons of using Android apps on BlackBerry 10.
Some Perspective on Android Apps for BlackBerry 10
CIO.com's Al Sacco shares his opinions on ported Android apps for the BlackBerry 10 OS and what they mean to BlackBerry 10 users.
3 Must-Have BlackBerry Z10 Accessories
Here's a spotlight of three of the best new BlackBerry-made accessories for the BlackBerry Z10 smartphone.
New BlackBerry 10 Virtual Keyboard and 'Story Maker' (Video)
CIO.com's Al Sacco shows the new BlackBerry 10 virtual keyboard in action, describes an innovative new BlackBerry "Story Maker" video-montage feature and shares a Story Maker clip he made during his BlackBerry Z10 review process.
BlackBerry Z10 Production Cost 'Estimated' at $15 More Than iPhone 5
A new teardown of the BlackBerry Z10 smartphone suggests it costs $15 more to build than the iPhone 5. But production cost and retail price won't mean much to potential BlackBerry buyers if BlackBerry can't overcome one significant challenge, according to CIO.com blogger Al Sacco.
BlackBerry 10 Has US, German Security Nod but No UK Okay
Reports suggest the United Kingdom rejected BlackBerry 10 for secure government use, but BlackBerry denies the claims and says the approval process is just taking longer than expected.
Amazon Kindle App Coming to BlackBerry 10 This Month
BlackBerry announced today that an official Amazon Kindle e-reader app will be available for BlackBerry 10 before the end of March.
AS
Al Sacco covers Mobile and Wireless for CIO.com. Follow Al on Twitter @ASacco. Follow everything from CIO.com on Twitter @CIOonline, Facebook, Google + and LinkedIn.