Facebook has already had a busy year: In January, the social network announced its new search capability, Graph Search. Last week, CEO Mark Zuckerberg offered a preview of the redesigned News Feed and, most recently, the company revealed a new look for Timeline.
But why so many changes over such a short period? Andreas Pouros, COO at London-based digital marketing agency Greenlight, says it's two-fold: The social network was in need of a design overhaul and it's feeling pressure from investors to capitalize on advertising.
"Facebooks interface was looking tired and dated while its competitors had refreshed their own," Pouros says. "Many of the changes will have a positive impact on its advertising revenues, which is not an accident. The redesigned News Feed mirrors the Facebook experience on mobile, a platform where its advertising has found more success recently. "
Pouros anticipates that Facebook users will be happy with most of the changes, as long as it's strategic about the new ad possibilities.
"These changes are all positive and a much-needed improvement in multiple aspects of the Facebook experience for both users and advertisers," he says. "Whether there is such a thing as too much advertising when it comes to Facebook is still an unknown. If there is, then Facebook must be wary of not going too far as it could end up alienating its own user base."
Here's a look at five of the best changes coming to your Facebook News Feed and Timeline.
1. Sort Your Content Easily
Perhaps the most significant change to Facebook's News Feed is the addition of multiple customizable feeds. When the new News Feed rolls out to users, which Facebook says will happen slowly as it works out kinks, you can sort posts by music, photos and posts from pages you have liked—in addition to customizable feeds based on lists you have set up.
As you follow more brands, more updates, photos and news is broadcast to your feed. Sorting options will make it easier for you to consume content and help make this influx of information more manageable.
[5 Things You'll Like About Facebook's Recent Changes]
Music Feed: Facebook's music feed displays posts from musicians you've liked, information on albums they've released and details on upcoming concerts. You can also see the most popular songs your friends are listening to and discover other suggestions for musicians to follow.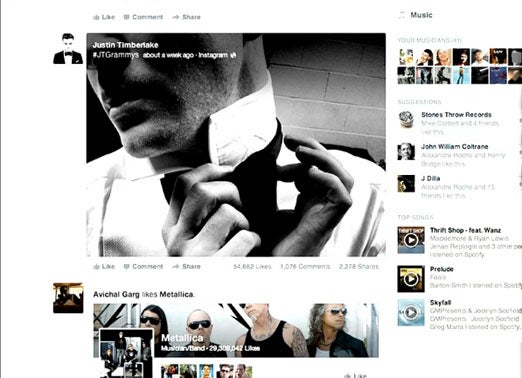 Photos Feed: You can expect to see larger images in your new photos feed, as well as photos your friends share via Instagram. Facebook Director of Design Julie Zhuo says the new photos feed design "looks more like a table of contents," and albums will include a summary at the top.
Following Feed: EdgeRank, Facebook's algorithm for determining which posts show up in your News Feed, caused a lot of headaches for Page managers in the last several months. The new Following feed will display all posts from news pages, public figures and sports teams you've liked, in chronological order—no need to sort by "Most Recent" or "Most Popular." The Following feed will also aggregate the most-shared posts on Facebook from the pages you like.
2. Streamlined Experience Across Devices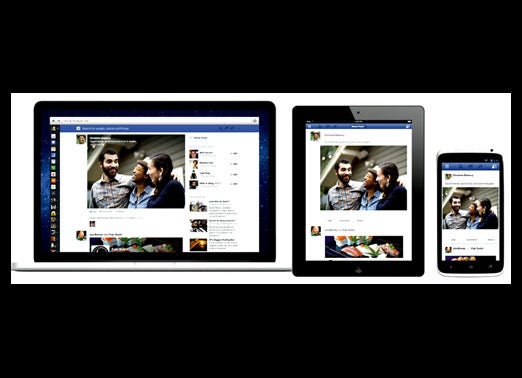 Facebook Vice President of Product Chris Cox says that the updated News Feed look is a "mobile-inspired Web design." You will have a similar experience across devices, whether you're accessing Facebook from your cell phone, tablet or desktop, he says.
The mobile version of Facebook currently features a left-side when you swipe the screen from left to right. Facebook's new News Feed will feature a similar right-size navigation on desktop versions, too. Click the icons on the left to access events, messenger, photos, search, apps, notes, feeds and more.
3. Cleanly Grouping News Feed Activity
When multiple friends post the same popular story on Facebook, the activity can clutter your News Feed. Facebook aims to solve this problem by introducing a cleaner, more streamlined look for when multiple friends share the same thing.
The new design shows off the popular post—whether it's a photo, video, status update or news article—and groups your friends who have shared it in thumbnails on the left. Hover over each of the thumbnails to see what your friends have said about the post.
4. Read More About the Things You Like
If you've liked a certain musical artist, celebrity, public figure or interest page, expect to see more news stories about them in your News Feed.
Facebook CEO Mark Zuckerberg said that the redesigned News Feed should feel like your own, personalized news paper. But rather than inserting multiple news items into your feed, Facebook groups them into topics. If you've liked Taylor Swift, for example, you'll see some of the most shared stories about her from across the web on Facebook.
[5 Ways to Job Hunt Using Facebook]
5. A Cleaner Timeline
Facebook most recently released images for a new Timeline design. Posts are no longer split down the middle; the new Timeline features a single, larger column that displays all posts in chronological order.
It also replaces the Friends, Photos and Apps boxes you now see below the cover photo with simplified tabs. Recent activity is moved to a narrower box on the left side of the page.
Many people complained when Timeline first launched that the design made posts difficult to read. The new profile design, which is rolling out to users in the coming weeks, is simple and clean.
What do you think about Facebook's newest changes? Do you think they're an improvement? Let us know in the comments section below.
Kristin Burnham covers consumer technology, social networking and social business for CIO.com. Follow Kristin on Twitter @kmburnham. Follow everything from CIO.com on Twitter @CIOonline and on Facebook. Email Kristin at kburnham@cio.com