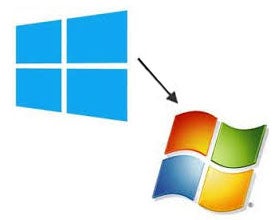 Dissatisfaction with Windows 8 is prompting increasing numbers of Microsoft customers to ditch the new operating system and downgrade their computers to Windows 7.
[Related: 8 Reasons Why CIOs Shouldn't Race to Windows 8
Because home computer users often like to run the latest Microsoft software releases, this kind of downgrade activity wouldn't be likely for consumers. But for business users there are many reasons to downgrade a Microsoft application or operating system and run an earlier version than the one that you actually paid for.
Related: Windows XP to Windows 8: Don't Go There ]
The good news is that most of Microsoft's business licenses come with downgrade rights. In general, these entitle the owner of a product license to install and run an earlier version and equivalent edition of the same product in its place, according to Rob Horowitz, an analyst at Directions on Microsoft. By downgrading, a customer does not forfeit the right to switch to the licensed, more recent, version at some point in the future, he says.
The most common reason for exercising downgrade rights stems from the fact that Microsoft typically doesn't continue to sell older versions of its software once newer versions are released. That means that if you want to standardise on a noncurrent version and plan to upgrade at a slower pace than Microsoft's upgrade cycle, then you may have no option but to purchase the current version and then downgrade to the version you have standardized on. For example, if you want to deploy a new server running Windows Server 2008 Standard Edition, you would have to purchase Windows Server 2012 Standard Edition (the current version) and exercise your version downgrade rights.
Related: The How-To Guide to Windows 8 ]
But it turns out that Microsoft's rules on the matter are complex in the extreme. That's a problem because if you break them you could face a large and unforeseen licensing bill next time your company is audited.
"Microsoft's rules have changed over time to accommodate innovations such as chips with multiple cores, the Internet and virtualization," says Horowitz. "But when you change things you inevitably make them more complex, and that certainly seems to be the case with Microsoft's downgrade rights."
Windows 8 Downgrade Rights for Businesses
So what are your downgrade rights? The answer depends on how you acquired the license to a particular product in the first place. If you acquired it through a volume licensing program then that has the maximum flexibility: You can generally downgrade to any previous version of the product. For server software this applies to the client access licenses (CALs) too–a SQL Server 2012 CAL may be used to license access to SQL Server 2008 R2, SQL Server 2008 or any previous version.
Related: Can Microsoft Survive If Windows 8 Fails? ]
When it comes to OEM licenses–which would apply if your organization has recently bought a number of new laptops preloaded with Windows 8, for example–then things are a little bit stricter. Consumer versions of Windows have no downgrade rights, but the Professional versions (such as Windows 8 Pro , Windows 7 Professional or Windows Vista Business) have rights to downgrade to the two previous versions.
That means Windows 8 Pro licenses supplied by OEMs include the right to downgrade to Windows 7 Professional and Windows Vista Business, but not Windows XP Professional, Horowitz says. (If you want to downgrade to Windows XP then you would have to add Software Assurance to the new Windows 8 Pro machines within 90 days to gain the volume licensing's unlimited downgrade rights, he says.)
To make things more confusing, there's also the issue of edition downgrade rights. Edition downgrade rights are provided for only a few Microsoft products such as Windows Server and SQL Server. They are commonly used at the same time as version downgrade rights to allow you to deploy an earlier version of a different edition of the product–for instance downgrading to SQL Server 2008 R2 Standard Edition on a computer that is assigned a SQL Server 2012 Enterprise Edition license, says Horowitz.
It's not immediately obvious why you would want to exercise edition downgrade rights, but one common reason is when a particular edition is no longer offered. For example, there is no Enterprise Edition of Windows Server 2012, so to downgrade to Server 2008 R2 Enterprise Edition you would have to acquire Windows Server 2012 Standard or Datacenter Edition and exercise your edition downgrade rights.
The other reason is to simplify virtualization. Higher-edition Windows Server and SQL Server product licenses combine the right to run multiple instances of the software within virtual machines on the licensed hardware with edition downgrade rights. That means you don't need to worry about which particular edition you are running on each individual virtual machine, Horowitz explains.
Beware Possible Compliance Pitfalls with Windows Downgrades
There's a couple of common downgrade scenarios that are worth being aware of that could cause you to fall into noncompliance unwittingly. One of these revolves around lack of edition downgrade rights: If you buy Office Professional Plus, for example, but choose to deploy Office Standard, you could be in trouble.
That's because, surprisingly, Office Professional Plus does not include edition downgrade rights to the lower edition. If your company were to be audited in this scenario, you would have to buy Office Standard licenses to match your deployment.
Another common and potentially expensive mistake concerns a version mismatch with CALs. Here's the problem: all your CALs must be the same or a higher version than the servers that your clients access–Windows Server 2008 CALs allow access to Windows Server 2008 and Windows Server 2003 R2, for example.
If you buy a copy of Windows Server 2012 and downgrade it to Windows Server 2008, and you have Windows 2008 CALs, then your company is in compliance. But all it takes is someone in the IT department upgrading a Windows Server 2008 installation back to Windows Server 2012 (which you have a license to do) and suddenly all your clients that can access that server are now out of compliance.
That's because you only have Windows Server 2008 CALs, not Server 2012 CALs. Deploying an instance of Windows Server 2012 as a DNS server — a core network service accessible to all clients — would be likely to trigger an organization-wide requirement for Windows Server 2012 CALs, Horowitz adds.
So if your business has recently bought some Windows 8 machines you want to downgrade them to Windows 7, what does all this mean for you and how do you go about it?
We'll assume that the machines came with Windows 8 OEM licenses, and that they have the Pro version, which includes downgrade rights to Windows 7 Professional or Windows Vista Business, so in compliance terms you're good to go.
How to Downgrade a Windows 8 Machine to Windows 7
1. Obtain media. The first thing you'll need to do is obtain installation media for Windows 7 Professional, and its corresponding product key. You can use a disk and product key that has already been used in your organization or elsewhere.
2. Check driver availability. Before downgrading, be sure to check that Windows 7 drivers are available for the hardware.
3. Create a recovery drive. If you haven't already done so, create a recovery drive using the Windows 8 Recovery Media Creator utility (accessible through Windows 8's Settings) so that you can easily restore the machine to Windows 8 in the future.
4. Configure the BIOS. If you are planning to install Windows 7 Pro X86 version (not X64 version), and if your hardware includes the new Unified Extensible Firmware Interface (UEFI) instead of standard BIOS, then this will have to be configured to the "Legacy" boot option. (That's because while the X64 version supports UEFI, the X86 version does not.)
5. Install the OS. Install Window 7 Professional using the installation media, and enter the product key when asked to do so. You can use the same disk and key for multiple installations.
6. Activate Windows 7 by phone Automatic product activation will fail because the Windows 7 product key has already been used, so at this point you will have to call Microsoft on the number displayed in the activation window, explain that you are downgrading to Windows 7, and provide a valid Windows 8 Pro key. You will then be provided with an activation code to activate Windows 7.
Two-day Microsoft Licensing Boot Camps (run by Microsoft) cover the issue of downgrade rights in more detail.
Paul Rubens is a technology journalist based in England. Contact him at paul@rubens.org.
Follow everything from CIO.com on Twitter @CIOonline, Facebook, Google + and LinkedIn.