Last week I got an email from BlackBerry to let me know about a handful of new BlackBerry 10 app releases, as well as a few high-profile apps that will be available in the coming weeks and months. One upcoming app in particular caught my eye: Amazon Kindle, which is supposed to be released before the end of March.
Shortly after I received the message from BlackBerry I responded and asked if the Kindle app for BlackBerry 10 is native, meaning built specifically for BlackBerry, or a "ported" version of the Android app.
It took BlackBerry more than 24 hours to get back to me with what I thought would be a simple response. But when I heard back, the answer I got wasn't simple at all. Victoria Berry, a BlackBerry senior PR manager, answered my questionthe Kindle app will be a ported Android versionbut not without first asking why I cared.
My response: I care because my readers care, and it's my job to provide all of the information I can when I report on a subject.
The email exchange got me thinking about what exactly BlackBerry 10 users think of the current crop of Android apps in BlackBerry World. So I asked my Twitter followers, many of whom own Z10 devices if they care if a BlackBerry 10 app is native or an Android port. Rather than post all the responses I received, I embedded the most notable tweets.
@asacco I absolutely care. I get pissy when I pay for an app then find out its [sic] a android port. But if it works well, I cope lol.

— J. Duke, OSBB (@BerryInformed) March 11, 2013
@asacco I prefer Native 100% the overall experience is smoother and the integration with OS is much nicer.

— King, OSBB ë (Don) (@BlkScorp33) March 11, 2013
@asacco yes I do care. Android apps on BB10 show that BB is desperate and devs are cheap.

— Khalid AlMarri (@khalmarri) March 11, 2013
@asacco If it works, it works, I don't discriminate

— BBA Brian (@BBABrian) March 11, 2013
@asacco I will PAY for native apps. Ported apps I might pay .99 for but I'll look for native first.

— Stephen (@StephenBB81) March 11, 2013
@stephenbb81 @asacco I refuse to pay for ported android apps and would prefer not to even run them. Most of them are quite ugly.

— Joey Beechey ë (@joeybeechey) March 11, 2013
@asacco I used to, but after trying out some good ports, I don't mind anymore.

— JT Teran (@jt_teran) March 11, 2013
@asacco I would prefer a native app. But I'll use an android app if need be.

— Mark PPG(@MarkPPG) March 11, 2013
@asacco most apps that I have tried work ok, but there is noticeable lag in scrolling. I've paid for some in hopes they bring native apps.

— Devin Churchill (@Devchurchill) March 11, 2013
@asacco some ports are ok, a lot of them are bad. In the end, native will always be preferred.

— Vishal Sheth (@VishalSheth83) March 11, 2013
@asacco they work, although it is a competitive advantage to a flowing native experience and integration. The port is a low risk/reward

— Matthew Bodnar (@Detritalgeo) March 11, 2013
As you can see from the responses, the users I queried fall into two general categories: 1) Z10 users who care if apps are native and who say ported Android apps don't provide the experience they expect or want on BlackBerry 10; and 2) Z10 owners who don't care either way as long as the apps work well. It's also clear that many Z10 users do not feel as though all the Android apps they download from BlackBerry World work all that well.
I wanted an official BlackBerry take on the subject, so I reached out to Tom Anderson, Senior BlackBerry Developer Evangelist and a Z10 user.
Before getting into his own opinion of ported Android apps on BlackBerry 10, Anderson quickly detailed BlackBerry's Android apps strategy and explained why he thinks it's working well.
The Android runtime environment in BlackBerry 10 "provides a stepping stone for people to try the new platform before launching into native development," Anderson says. "The Z10 [and BlackBerry 10] are entirely new. New hardware, new software. Android paved the way to very quickly get applications onto BlackBerry 10. Many of the companies I work with, that's the path they're taking."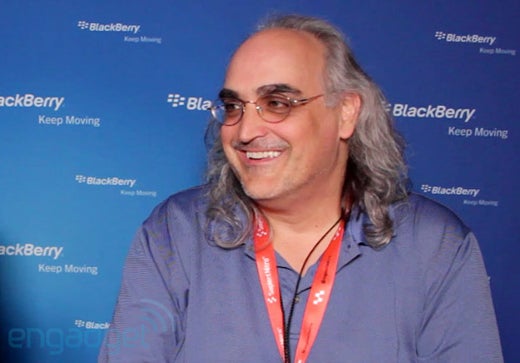 The idea, Anderson says, is to get companies and developers familiar with BlackBerry 10 by letting them port existing Android apps so their software is available to users while they work on native apps.
Are the majority of companies that ported Android apps working on native apps?
"The ones that I have worked with, every single one of them, that's their strategy," Anderson says. They're working on more robust, native or HTML 5 BlackBerry 10 apps, "[w]hile we're building momentum."
Anderson is clearly in the "If it works, I have no problem" camp when it comes to Android apps on BlackBerry 10.
"When it comes to performance, you really can't tell the difference" between native BlackBerry 10 apps and ported Android apps, Anderson says. That's because the Android runtime runs a full version of Android Gingerbread 2.3, and BlackBerry quality tests every ported Android app it releases in BlackBerry Worldthe same cannot be said for Google and the apps in its Play Store, according to Anderson.
I pointed out that I have noticed some performance differences in ported Android apps and native BlackBerry 10 apps, such as lag time when opening up ported apps and the occasional freeze and/or crash, and Anderson admitted he too sees lags sometimes.
"Some Android apps are perfectly fine, and users will be perfectly happy," Anderson says. "I think native applications are going to provide a much richer experience that you might not need right off the bat."
One complaint I frequently hear from users is that there's no easy way to tell if an app in BlackBerry World is an Android port or a native app before downloading. Anderson says he doesn't know why the decision was made not to somehow mark ported apps as such, but the lack of a designation doesn't bother him.
One sure way to tell if a BlackBerry 10 app is a ported Android version is when it asks for security permissions: Android apps ask for permission immediately after being downloaded, while BlackBerry 10 native apps don't ask until they're launched for the first time, according to Anderson.
The developer evangelist says he's not concerned that varying application experiences could have a negative effect on BlackBerry 10.
"I don't think it will have an impact on the overall user experience," he says. "As we get more and more applications, we'll see native apps become more popular. Market forces will make that happen. Customers will gravitate toward native."
Anderson is also confident that the strategy behind allowing Android apps on BlackBerry 10 is sound.
"I do think it's working [the way BlackBerry intended it to]," Anderson says. "The Android runtime was a very wise decision. It is working well as a stepping stone, particularly for some of the brands that really take their time before making major development decisions."
Some of these companies may not have embraced BlackBerry 10 at all without the Android runtime as a stepping stone, he adds.
Al Sacco covers Mobile and Wireless for CIO.com. Follow Al on Twitter @ASacco. Follow everything from CIO.com on Twitter @CIOonline, Facebook, Google + and LinkedIn.