At a race track somewhere in North America, a NASCAR driver finishes his practice session and pulls into the pit. He's immediately handed a tablet PC, and after taking off his gloves he starts tapping a map of the track on the screen to indicate areas where he's having problems.
What's surprising about this scene is that the tablet is running Windows 8. 9 Things Enterprise IT Will Like About Windows 8
10 Third-Party Alternatives for 'Missing' Windows 8 Apps
It's surprising because to date very few enterprises have implemented Windows 8–either on tablets, phones, or desktops and laptops, according to Michael Silver, a Gartner analyst.
And that means very few developers have written business-oriented apps for the platform. "Really only developers that are writing for consumers would be interested in Windows 8 at this time," Silversays. "Few organizations will have significant numbers of devices that could run Win8 apps for quite a while."
Windows 8 has been designed to be used with a touch interface, and there is certainly no shortage of tablets–such as Microsoft's own Surface — that can take advantage of this fact. But Apple's iPad is the elephant in the room.
That's because millions of these devices are already in the hands of consumers, and many are in use in enterprises thanks to BYOD programs . That means it makes far more sense for most businesses to roll out touch-enabled mobile apps on iOS than it does on Windows 8.
"If we had a great application, what platform would we plan on writing it for first? Most likely we would answer iOS first, Android second," says Michael Cherry, an analyst at Directions on Microsoft.
Lessons from a Big iPad Enterprise Adopter
One of the distinguishing features of Windows 8 is that it uses a consistent user interface across desktop and laptop, tablet and mobile phone operating systems.
It's still early days, but so far there are precious few signs that enterprises see widespread potential in exploiting this to produce applications that can be run on all three Windows platforms with the same look and feel.
"The problem is that if you try to force an app to be the same across all the platforms, it will likely be good on one platform, marginal on one and awful on the third. You can likely preserve business logic (algorithms) and data (structure and storage model), but the UI would have to be custom for each platform," Cherry says.
Windows 8 Enterprise App Development Revs Up
Because Windows 8 is touch-enabled, it should well compete with the iOS and Android in the tablet market when it comes to enterprise apps. And in certain circumstances where there has already been a significant investment in creating business logic and data structures on other Windows platforms, it makes sense to create Windows 8 tablet applications rather than rewriting everything for a completely different operating system, according to David Johnson, an analyst at Forrester.
"We're seeing interest in enterprise Windows 8 app development from IT and their vendors mainly for line of business applications, like point of sale, or other applications characterized by a limited deployment of Windows 8 and new hardware to specific teams," Johnson says.
And it's exactly this type of application that Toyota Racing Development (TRD) has produced for NASCAR drivers to use in the pits.
The company has been involved with NASCAR for about a decade, and its software group develops Windows applications to support race teams like RAB Racing that use Toyota technology.
Initially it developed a Windows 7 application that received lap times and other race data and presented it with a simple user interface. But it has its limitations.
"Windows 7 worked, but with only 60 minutes of practice time the driver has to be able to pull in, see his lap times compared to competitors, and give his feedback about the car," explains Darren Jones, TRD's group lead of software development."
The driver is very limited in what he can do in the car cockpit–it's certainly not easy to move in such a confined space, so a keyboard is hard to use. Windows 8 with its touch interface is ideal," Jones says.
The team was able to take the Windows 7 application and re-skin it with the Windows 8 interface, while keeping the business logic behind the interface, and therefore not having to worry about new bugs, Jones explains.
"Touch was definitely one of the decisive factors for choosing Windows 8 on a tablet. But so the fact that we could use our existing Windows skills, and the ability to leverage the back end of our old Windows 7 app," Jones says.
Jones adds that there was a small learning curve for developing for Windows 8, but the team's developers were actually able to get up to speed faster with Windows 8 than they were with Windows 7 when that operating system was introduced.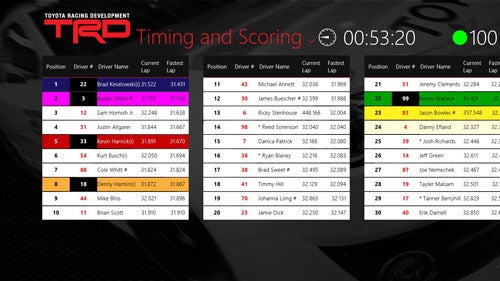 Emirates Airlines is another company that has carried out a limited deployment of a line-of-business app developed for Windows 8. Its Knowledge Driven Inflight Service (KIS) app has been rolled out to 100 Emirates pursers so far.
Before each flight the application receives data about passengers booked on board from other Emirates computer systems, and during flights pursers can use the app to record customer feedback and to upgrade passengers to business or first class. The airline aims to have about 1,000 Windows 8 tablets running the application in the air by year-end.
And in the U.K., British Telecom engineers are being provided with touch-enabled Panasonic Toughbooks and a suite of Windows 8 line-of-business apps that allow them to manage and update their assigned job information while working in the field. About 5,000 have been issued so far.
The Windows 8 Touch Screen Challenge
The problem that Microsoft is having to face is this: These types of limited deployments of line of business apps–where a touch interface is required–is a fairly small market.
For most other purposes, a laptop running a Windows 7 app, or even an iOS or Android phone or tablet running an enterprise app or even a Web app, could probably suffice.
"Developers see the new .Net versions as Java's equal for complex enterprise and cloud deployment, but they don't see Microsoft as relevant yet with mobile devices," Forrester's David Johnson concludes.
Paul Rubens is a technology journalist based in England. Follow everything from CIO.com on Twitter @CIOonline, Facebook, Google + and LinkedIn.