LinkedIn boasts more than 200 million members, making it the largest professional social networking site. Not creating and maintaining a presence on LinkedIn isn't an option anymore.
Last October, LinkedIn rolled new company pages and with them comes a new way to engage your customer base and showcase your products and services. "For companies, this means a more powerful way to build relationships with your target audience on LinkedIn," writes Mike Grivasher, who handles Product Management and Monetization at LinkedIn.
Your employees are probably on LinkedIn and each of them should link to your company, making it easy to find in everyday LinkedIn browsing. If you aren't sharing the exciting things going on at your business, you're missing an opportunity.
Whether your business entails product launches, services, lead generation or content production, LinkedIn offers a way to get the word out and to build a following. And because your LinkedIn company page is another active place on the web with your name and likely keywords related to your business, it's good for SEO as well. To help you get started, CIO.com put together this step-by-step guide on how to create a LinkedIn company page.
Who Can Create a LinkedIn Company Page?
Not just any LinkedIn member can build a company page for any company. There are specific requirements for members who wish to create a page:
You're a current company employee and your position is listed in the Experience section of your profile.
You have a company email address (e.g., john@companyname.com) added and confirmed on your LinkedIn account.
Your company's email domain is unique to the company.
Your profile strength must be listed as Intermediate or All Star.
You must have several connections.
Once you've got these prerequisites squared away, it's time to get started. Head over to LinkedIn.com and log in. Once you are logged in, click on the Companies button in the top navigation.
Next, click on the Add a Company link in the upper right hand corner.
Here's where the fun starts. Add your company name and email address. Keep in mind that you must have an email associated with the domain in order to build the page.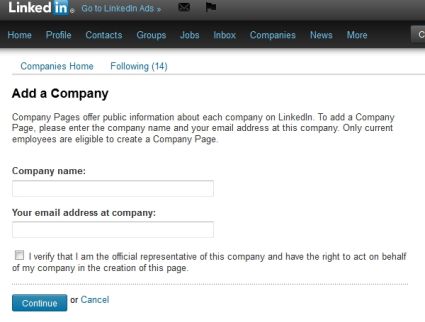 Click Continue. This should create your company page. The LinkedIn profile you used to create the company page should automatically be elevated to admin of the page. You should be able to see the Edit button in the upper right hand corner of your company page.

If you click the Edit button, you can then add designated admins to your page. This may be someone in marketing to add products and services or your in-house social networking person. To add them click on the Edit button. This is important to prevent any employee from editing your company page. It's also important to remember that you must be connected to the person in order to add them so you may need to connect first.
There are a number of other items that can you edit from this screen. You can also company details such as description, location, size and industry. You can update your cover art for your company page and add other logos here as well. If your company is part of any LinkedIn group, you can add that information towards the bottom of the page.
Once you are done filling out these details click "Publish."

Your company page is now created, but it hasn't been populated with products and services. To do this click on the Products tab of your company page.
Once you've got your Products and Services listed, it's time to start flexing some LinkedIn muscle.
Tips to Help Grow Your LinkedIn Following
Encourage employees to connect with the company page. They'll appear on your page as employees giving them more visibility within LinkedIn and search.
Reach out to your customers and ask them to write recommendations for your products and services. These can then be used to populate your company page's "People that recommend" section.
Add a social button or link on your site just like you would for Facebook, Twitter or Google+. LinkedIn also allows you set target updates and create feature updates.
It's also worth mentioning that for a fee you can post open positions at your company. These will appear on the Careers tab of you company page as well as in the jobs section of LinkedIn. LinkedIn is a great tool to find and recruit talent.
Rich Hein is a senior writer for CIO.com. He covers IT careers. Follow everything from CIO.com on Twitter @CIOonline, on Facebook, and on Google +.