Facebook may be the dominant social network for Americans, but more people are voluntarily taking breaks from the social network, according to a new report from the Pew Research Center.
Pew, which surveyed 1,006 people for the report, found that 61 percent of current Facebook users have voluntarily taken a break from Facebook for a period of several weeks or more. Twenty percent say they once used the social network, but no longer do.
The top reason for taking a break from Facebook: Twenty-one percent reported it was a result of being too busy with other demands or not having time to spend on the site. Ten percent reported they were no longer interested in the social network and that it was a waste of time, while nine percent attributed their hiatus to an influx of negativity and drama.
The respondents who used Facebook in the past but no longer do so (20 percent) attributed their departure to similar reasons. In their own words, according to the report, their reasons for leaving included the following:
"It's a gossipy thing"
"My account was compromised"
"I got tired of minding everybody else's business"
"Not enough privacy"
While not all Facebook users choose to take a hiatus from the social network, Pew reports that 27 percent are actively trying to reduce the amount of time they spend logged on. Sixty-nine percent estimate they'll spend about the same amount of time on Facebook, while just 3 percent say they intend to increase their use of the site.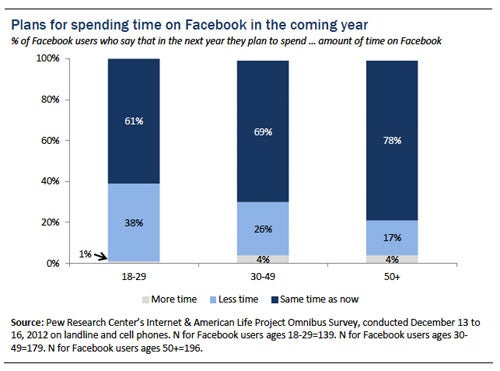 Young adults ages 18-29 report they expect to spend less time on the social network, which is important, Pew says, because "young adults are the most likely forecasters of decreased engagement."
[How Your Facebook Privacy Settings Impact Graph Search]
Despite the shift in Facebook usage, Pew reports that the overall health of social networks is strong: In September 2009, 47 percent of online adults used social networks. Today, that number has jumped to 69 percent.
People are also accessing social networks more frequently than in the past: In August 2011, just 33 percent of users said they accessed social networking sites several times a day. In a separate survey conducted in November, 41 percent report doing so, according to Pew.
Kristin Burnham covers consumer technology, social networking, social business and enterprise collaboration for CIO.com. Follow Kristin on Twitter @kmburnham. Follow everything from CIO.com on Twitter @CIOonline and on Facebook. Email Kristin at kburnham@cio.com