Building a business is a time-intensive activity. At the heart of the matter is the task of finding and attracting new customers, and much of that happens online.
However, many businesses only look for new customers, ignoring those who purchased from them in the past. This is a huge mistake for several reasons:
While a website makes the front-end sale, you'll miss out on 90 percent or more of the profits if you don't use email to "fan the flames," according to Maria Veloso, author of Web Copy That Sells. The real selling starts when you use follow-up emails to turn that first sale into many, many more sales.
Veloso notes that it costs up to 10 times as much to find a new customer as it does to retain an existing one.
It's easier to sell to someone who has already bought products or services from you. The customer could stay with you for many years, which could add greatly to your bottom line.
Over time, your email list could become more important to your business than your website. While the website will help you gain a customer, effective email marketing strategies could make you many more sales over the long term.
Autoresponders Help Convert Prospects Into Customers
Email is one of the best ways to keep in contact with your customers, and one of the best ways to keep in touch with clients via email is through an autoresponder, which lets you collect email addresses, place them in lists and send predetermined messages. Examples of third-party email services include AWeber, iContact and Constant Contact.
How-to: Build an Online Business From Scratch
With an autoresponder, you can either add email addresses manually to a list or use Web forms to do that for you automatically. For the purposes of this article, I'm going to use iContact, but there are several other programs you could choose.
In iContact, you add email addresses in four ways: Upload from File, One at a Time, Copy and Paste, and Sign-up Forms. When you create lists, you'll want two for your business: one for prospects and the other for customers. The intention of the prospect list is to convert them into paying customers. The customer list, meanwhile, comes into play after the customer pays for a product or service. In this case, you need to add the customer information to your list. One way to do this is with an email form that customers fill out after making a purchase.
Manual Email Collection Using iContact
First, let's look at manual email entry. This would apply to any business that uses a physical email sign-up list. After you collect all the email addresses, you manually enter them into the autoresponder. In this case we'll look at the process of adding names one at a time. (Note that this process will be different depending on the autoresponder that you use.)
How-to: Find the Right Email Marketing Service Provider
Before you can get started, you need to create a list. To begin, click on the Contacts header in iContact. This brings up a page with the following options, as seen below: My Lists, Add Contacts, Search My Contacts and My Segments.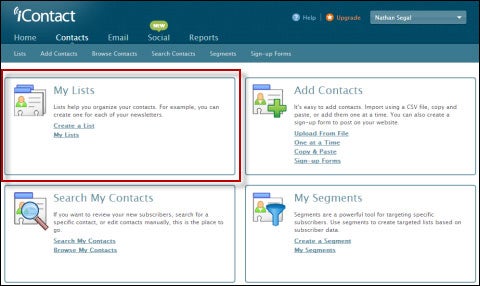 To build a list, click on the Create a List link in the My Lists section.
This brings up the List Settings section.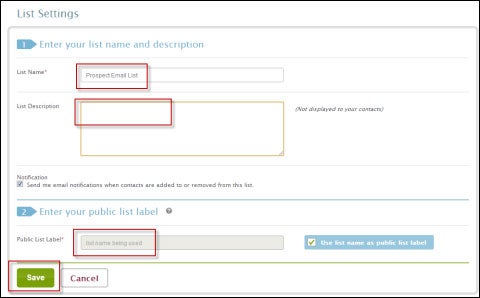 Enter the list name and the description (if any), then choose to use a new public list label or the default label. When finished, click Save. This takes you to the My Lists page, where you can see your entry at the bottom of the page.
The next step is to add a welcome message. Click on the Add Welcome Message link and go to the Create a Message page.
Here there are four options: Message Builder, Message Coder, Create a Text-Only Email or Create from Web Page. We'll look only at the first two options, since those allow you to track responses.
First, click on the Message Builder button for a list of email templates. There are many options.
Click on the Message Coder button, meanwhile, and you'll get the message editor below. By default, this displays in an HTML format. (I prefer to change that to the design tab, which is easier for editing text.)
For the purpose of this article, I'll leave the text untouched and click on the test message button to send a message to my email account.
This is what the test message looks like in Gmail. (Note that you can modify the HTML of this message to suit your business.)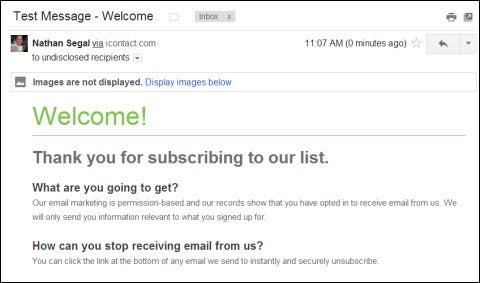 Once you're satisfied with your welcome message, choose the methods of sending a message (by individual signup or Web form) and click on the green Save Welcome Message button.
This takes you back to the My Lists page. As you can see below, you're now ready to add email contacts to your list. Click on the Add link under Subscribers.
This is the Add Contact to My Lists page. In this case we'll click on the Add Contacts One by One button.
On the Add One Contact page, you can add the email address for each person and other contact information if you wish. (Note that the prospect email list option has been enabled by default.)
Enabling Email Collection With a Web Form in iContact
Now we're going to look at email collection using web forms. To get started, click on the Contacts heading, which brings up the screen seen below.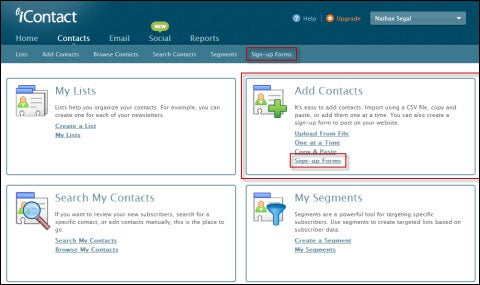 On this page there are two different headings you can click on to create Web forms. In this case, click on the Web Forms heading in the main menu bar. This takes you to the Create or Edit Signup Forms page.
At the top is an option to create a Facebook form, but that's not our purpose here. Instead, click on the blue Create HTML Form button. The first step is choosing the colors you want to use. Click on the Next button to continue.
The next step is to choose a signup form name and the list you want to use. Below that is the fields section, where you can choose how many fields you want for your Web form. In most cases, the name and email address are enough, though in some businesses you might need more for shipping or other services.
How-to: Use OptimizePress to Improve Your WordPress Site
At the bottom of this page are the "success URL" and the "error URL." If you leave the success URL blank, you'll get a default thank you page when the customer signs up. If you use this form with a squeeze page, you can set the URL to forward to a download page or a sales page. With the error URL, meanwhile, I recommend leaving this blank and using default error page.
Once you're satisfied with your settings, click the green Save button. This takes you back to the bottom of the Create or Edit Signup Forms page.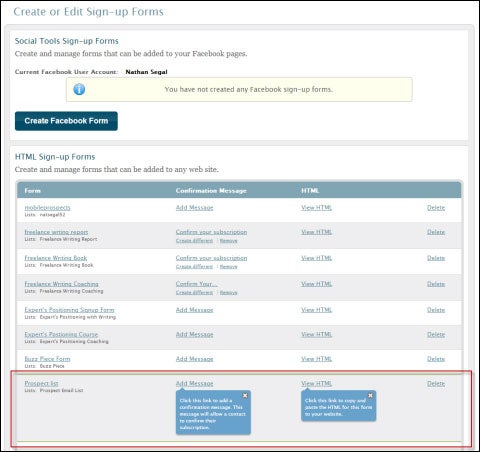 As with manual signup, you'll need to create a welcome page when prospects sign up. This is similar to the signup page we created for the manual form, so we won't cover this step again.
The next step is to click the blue View HTML link, which takes you to the Publish to Your Website page. On this page you have two options: the JavaScript form, which is recommended for ease of publishing, or the HTML form.
Click on the preview button for the JavaScript form and not much shows up in the browser. Click on the form preview for the HTML form, though, and this is what you see:
The downside to the JavaScript form is that the number of changes you can make is limited. In contrast, you can manipulate the manual HTML form to suit your site if necessary. To give you an idea of what that looks like, the code for the JavaScript form and HTML form are both available at the end of this article.
When Using Autoresponders, Make Sure Customers Want Emails
Whether you add email addresses to lists manually or with a Web form, it's important to use a verification process to ensure that prospects and customers want to receive your email messages.
In the case of a Web form, I recommend a double opt-in method. With the first step, the prospect signs up for your list. Once they do so, they receive a message asking them to confirm that they want to be on your list. Once they click on the link, they will be signed up for your list.
Commentary: Take Me Off Your Mailing List!
Using double opt-in reduces issues to do with spam complaints, since people knowingly sign up to receive emails from you. While you can use single opt-in—in which the prospect signs up with a form and immediately winds up on your list—I don't recommend it, partly because of those spam issues.
Learn How to Write Great Email Messages
With these steps complete, you can start building a list and emailing customers. When writing messages, it's important to get it right.
Unfortunately, most business owners haven't a clue how to make this work. As copywriter Adil Amarsi puts it, "Many business owners are committing 'list suicide.'"
Amarsi's Copy Conquest, the aforementioned Web Copy That Sells and a recent American Express Open Forum post Why Your Social Media Success Depends on E-mail Marketing are resources that will help you determine what to write and when.
Meanwhile, businesses that already have a mature list should look at Frank Kern's 4-Day Cash Machine. Using this on even a small list can make a business thousands of dollars in four days. However, use this method only once or twice in a short period, then give your list six or more months to recover. Otherwise, you risk damaging your list.
Email marketing is one of the most important business activities that you can undertake to grow your small business. Focusing on building a responsive list of customers who are hungry for your product or service is an important step to ensure the long-term success of your business.
Nathan Segal has been working as a freelance writer, photographer and artist for 14 years. He is based in British Columbia, Canada. Reach him via email or visit his website. Follow everything from CIO.com on Twitter @CIOonline, on Facebook, and on Google +.
For email signup form code, go to the next page.
Email Signup Form: JavaScript Code
.link,
.link a,
#SignUp .signupframe {
color: #226699;
font-family: Arial, Helvetica, sans-serif;
font-size: 13px;
}
.link,
.link a {
text-decoration: none;
}
#SignUp .signupframe {
border: 1px solid #000000;
background: #ffffff;
}
#SignUp .signupframe .required {
font-size: 10px;
}
Email Marketing You Can Trust
Email Signup Form: HTML Code
.link,
.link a,
.signupframe
{
color: #226699;
font-family: Arial, Helvetica, sans-serif;
font-size: 13px;
}
.link,
.link a {
text-decoration: none;
}
.signupframe {
border: 1px solid #000000;
background: #ffffff;
}
.signupframe .required {
font-size: 10px;
}
* Email
* First Name
* = Required Field
var icpForm5938 = document.getElementById('icpsignup5938');
if (document.location.protocol === "https:")
icpForm5938.action = "https://app.icontact.com/icp/signup.php";
function verifyRequired5938() {
if (icpForm5938["fields_email"].value == "") {
icpForm5938["fields_email"].focus();
alert("The Email field is required.");
return false;
}
if (icpForm5938["fields_fname"].value == "") {
icpForm5938["fields_fname"].focus();
alert("The First Name field is required.");
return false;
}
return true;
}
Email Marketing You Can Trust