Many companies have a hard time getting employees to attend corporate training. Workers are often reluctant because it means taking time away from the office and possibly incurring high travel expenses. With corporate training budgets currently in recovery mode after the toll the recession took, many companies are looking to see the ROI before buying in to training.
In hopes of making training more accessible for employees, Deloitte put its course catalog, Deloitte Leadership Academy, online. The catalog includes a variety of courses and webinars from Harvard Business School to Melbourne University in Australia.
"If you can gamify the process, you are rewarding the behavior and it's like a dopamine release in the brain. Humans like a game."
–Frank Farrall, Deloitte Digital
The challenge was getting nearly 200,000 Deloitte employees and more than 50 client companies to log on, take courses and continue the practice of corporate training.
Deloitte Leadership Academy focuses on leadership training classes such as managing change, leading teams and managing complex situations. Because the target group for these classes have schedules with little time to spare, the classes needed to be designed to be quick and easy to take, says Frank Farrall, lead partner at Deloitte Digital. "[The classes are] meant to be [something] you can digest in 10 minutes to an hour while you are on the move," he says.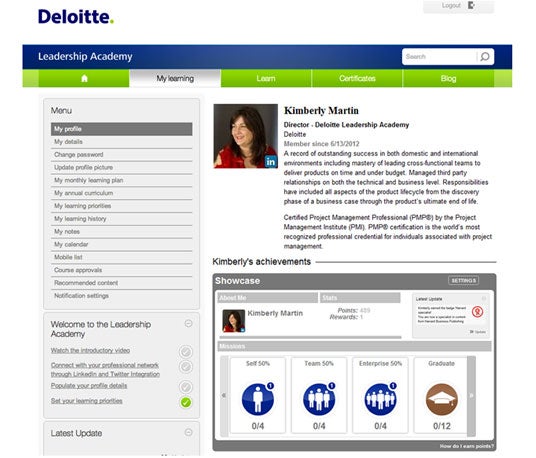 Deloitte added videos and downloadable content to the courses in order to make them easier to absorb. But it was going to take more than that to give employees more incentive to take part–it was going to take something like adding fun.
A Vistit to Badgeville
In early 2012, Farrall called on Badgeville to add gamification functionality to Deloitte's course portal so participants could earn points and badges based on the number of courses completed. Every time an employee completes a course it is added to his or her total number of points and badges. Employees are ranked based on these totals, and the top earners are rewarded with coveted seats on the leader board.
[Related: For CIOs, the Games Are Just Beginning]
Farrall says he thought gamification could be the thing to "drive stickiness" to the learning portal. "It's meant to incentivize you from a peer-comparison point," he says. "Any time you put a leader board up, the increase in activity is dramatic and noticeable."
Farrall compares the gamification of the portal to Farmville or Trip Advisor, noting that people become addicted to the competitive aspect. In addition, he says people want to be recognized for their skills and knowledge. "The reason people get training is that they want to progress and build skills," he says. "If you build skills and no one knows about it, that's less of a point."
[Related: Making Games of Enterprise Software]
Beyond getting employees to take the courses, Farrall says he was looking to make participants feel like champions in each area of expertise. Making the courses an employee completed visible to others also creates an atmosphere of knowledge-sharing and opens the possibility for internal job opportunities. For example, participants who completed 'managing for change' modules would publish the badges they earned. Then, someone seeking an individual to fill an open 'change project' role would see the information and could ask the newly qualified employee to apply for the position, says Farrall.
Why Gamification Works
Michael Hugos, a gamification expert and author of "Enterprise Games: Using Game Mechanics to Build a Better Business" says creating local gurus around a company is positive for the company but also for the mentality of employees. "Badges and points show you and everyone else that you are the go-to person when it comes to subject X," he says.
Becoming a guru is another way to be recognized, Hugos says. "If we are counting your knowledge sharing numbers, you start to get an objective record of what you are doing, not just if your boss likes you."
Hugos says a lot of companies are using things like gamification not only for motivation, but to get employees to understand the complex systems they implement. "Show them the complexity in bite-size chunks so they can learn it," he says.
"It's aimed at leveraging existing software and getting more use out of it." Hugos says this is how a company like Deloitte can earn future investments in cool software. "This is how people will be drawn in," he says.
Deloitte's success is contrast to a Gartner prediction that 80 percent of gamification systems will fail to meet business objectives by 2014. Deloitte has already seen a 47 percent increase in the amount of employees that return to the course portal on a daily basis since the platform was launched nine months ago. There has also been an average of three badges per active user, with one user collecting 30 badges in two months and another earning the Leadership Academy Graduate badge within three months.
Deloitte isn't rewarding employees with more than the pride of earning a badge, but it is looking into furthering the incentives. "We've had a lot of discussions about rewards and taking badges and tying that into performance bonuses," Farrall says.
In the future, Farrall says he is excited to see the potential of gamifying the recruitment process at Deloitte to motivate employees to refer candidates to jobs. "If you can gamify the process, you can make it more interesting," he says. "You are rewarding the behavior and it's like a dopamine release in the brain. Humans like a game."
Lauren Brousell is a staff writer for CIO magazine. Follow her on Twitter @LBrousell. Follow everything from CIO.com on Twitter @CIOonline, on Facebook, and on Google +.