Today BlackBerry officially announced its first BlackBerry 10 smartphones, the Z10 and Q10, at a series of elaborate press events across the globe. Like many BlackBerry users and smartphone enthusiasts, I have been waiting for BlackBerry 10 for a long time. The fate of BlackBerry depends on the success, or lack thereof, of the BlackBerry 10 platform. If both BlackBerry 10 and the two new handsets fail to wow potential users, it could be the final nail in the coffin for the company.
I was fortunate enough to get a BlackBerry Z10 last week, and the device barely left my hands since I got it – except, of course, when I was sleeping, and even then it was only a foot or two away. I put the BlackBerry Z10 through all the paces and I found a lot to like, even love. But BlackBerry's new smartphone is not perfect, and one area in particular has me disappointed.
The question everyone wants answered: Can BlackBerry 10 save BlackBerry and get these new devices into the hands of the iOS-or-Android-toting masses? The following review breaks down everything you need to know about the first BlackBerry 10 smartphone, the Z10, and answers that question.
The all-touch BlackBerry Z10 will be available first in the United Kingdom starting January 31 on a number of carriers. And the Z10 will be released in Canada on February 5. Unfortunately, the device will not be available in the United States until March, though BlackBerry did say all four major U.S. carriers will carry the Z10. Pricing information will vary based on carrier and country. (BlackBerry CEO Thorsten Heins also said the Q10, which has a physical QWERTY keyboard, is expected in April.)
First up, the good stuff about the BlackBerry Z10 and the BlackBerry 10 software.
(Note: This is an in-depth review that goes into great detail. If you don't care so much about the specifics, use the navigation bar at the top of each page to jump to the information you're most interested in or to jump right to the review's conclusion.)
BlackBerry Z10 Positives
BlackBerry Z10 Hardware Is Slick and Built to Last
When I first saw leaked images of the BlackBerry Z10, I was not particularly impressed with its hardware design. But I admit that my first impressions were off base; The Z10 hardware is quite elegant looking, and both well-made and functional.
It has a beautiful, crisp 4.2-inch LCD display with a 1280 x 768 resolution at 356 DPI. In comparison, Apple's iPhone 5 has a smaller, 4-inch display with 1136 x 640 resolution at 326 PPI. And Samsung's Galaxy SIII's display is larger at 4.8 inches, but it has a slightly lower, 1280 x 720 resolution. Higher screen resolution doesn't necessarily mean a better overall visual experience, but to my eye the BlackBerry Z10's display is on par with or better-looking than the competition.
The BlackBerry Z10 looks a lot like the iPhone 5. It is similarly long and narrow with rounded-off corners. And it is flat and boxy, unlike the Galaxy SIII and other high-end devices that have notably-curved or contoured rear sides. At 9mm thick, the BlackBerry Z10 is a bit thicker than the 7.6mm iPhone 5. The Z10 is also slightly heavier than the iPhone 5 and Galaxy SIII, but its thickness and weight don't make it feel clunky.
The BlackBerry Z10 is also built to last. It has a thick-plastic bezel that encircles the device and covers its top, bottom and corners, so the glass display doesn't actually reach its edges. This adds a bit of bulk to the device, and you get less screen size than if the display took up the entire front surface, as is the case with Samsung's Galaxy SIII and Galaxy Note II. But those devices are more susceptible to screen breakage, and if they fall and land on a corner their screens could easily break. (Trust me, I know.)
The Z10's bezel helps to protect the corners and sides of the display. And the screen itself is seated in another layer of thin plastic, so the glass doesn't extend all the way to its sides. The Z10's battery door is covered in tiny plastic dots, which gives it some texture and style and also makes the cover "sticky" so it doesn't slide too much when placed on a desk or other surface. The battery cover is easy to remove and replace, and it fits sturdily without any slippage or related "creaking."
The device has a removable 1800-mAh battery, something I definitely appreciate. I travel frequently, and I've yet to find a device with a battery that lasts a full day of travel with heavy use. So handsets with fixed batteries just don't cut it for me.
The Z10 comes with 16GB of built-in Flash storage, but it also supports microSD media cards up to 64GB, for a total possible capacity of 80GB. You can remove and replace the memory card without powering down the handset. The BlackBerry Z10 has 2GB of RAM and a dual-core, 1.5GHz processor. I've been using the Z10 for more than a week now, and I've seen little or no notable lag. I purposely tried to open as many apps as possible – the Z10 can run 8 apps at a time – to see if I they affected device performance, but the Z10 stood up to the tests and performed well.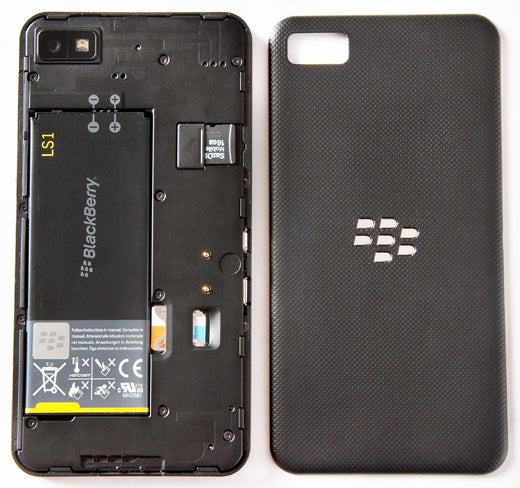 The device has standard headset- and micro-USB-ports, which means you don't need any sort of proprietary headphones or charging cords. The same cannot be said for all of the popular devices on the market. (I'm looking at you, Apple.) The Z10 also has a standard mini-HDMI port, which makes it easy to connect your device to an HDTV or monitor to watch videos, listen to HD-quality audio, share a presentation or show anything else on your device's display. (The Z10 does not come with a mini-HDMI to HMDI cord, though.)
The Z10's speaker is loud and provides relatively clear audio, so it works well for speakerphone calls. Call quality was average or better in my experience using AT&T's network in and around Boston. The Z10's cellular radio didn't drop a single call, and at one point I placed a six-hour test call to evaluate battery life.
On the subject of battery, the manufacturer says the device should get up to 10 hours of talk time on 3G. I placed my test call in an area with full LTE coverage and full HSPA+ coverage, and my device showed the 4G icon during my call. I only got 6 and half hours of talk time before my Z10 powered down. As for normal, daily use – frequently checking email, using apps and placing the occasional call – on LTE and Wi-Fi where available, I got more than 16 hours of battery life, which is more than I get from my Galaxy SIII.
The device I reviewed is an AT&T BlackBerry Z10, and it runs on the carrier's LTE network, making it the first LTE BlackBerry smartphone. And as is standard for high-end smartphones today, the Z10 has Wi-Fi and Bluetooth. It also has NFC, and it comes with a Smart Tags app that lets you customize your own NFC tags to launch web pages or frequently-used apps or services.
The volume-up and volume down keys for the Z10 are on one side, with a mute key between them. The keys can be used to adjust call volume, media volume and to mute calls. You can hold the volume-up and volume-down keys while listening to music to skip through tracks. And holding down both keys simultaneously for a couple of seconds captures a screen shot. A single button atop the device puts it to sleep, restarts and powers it down, depending on how long you hold the key and what on-screen options you choose.
Now, on to what I liked about the brand-spankin' new BlackBerry 10 software….
BlackBerry 10 Software Is Innovative and Efficient
The BlackBerry 10 software is composed of three main UI components: Application home screens, which show all of the applications on your device, and any folders you create to organize them; an Active Frames screen, which shows open apps in dynamic windows that change and update with new information; and the "BlackBerry Hub," a central inbox where you find all of your various messages and notifications. BlackBerry calls the process of navigating through these components "BlackBerry Flow."
The heart and soul of BlackBerry 10 is the BlackBerry Hub and it's a standout feature. You can easily access the BlackBerry Hub when you're using a specific application or while you're navigating home screens by sliding your thumb up from the bottom of the display and then to the right, to pull the active page to the side and "peek" at your Hub. If you want to open a message or notification you just continue your thumb's leftward motion until the Hub takes up your entire display and click on the message or notification of your choice. If there are no pressing messages, you can slide your thumb back to the right and return to whatever you were doing.
BlackBerry Hub also lets you filter messages and notifications so you see only the items you want. For example, when you're in the Hub you can pick Email to see only email messages, or you could choose Facebook to see only messages and notifications from Facebook Friends. Developers can build applications that integrate with the Hub, and the more Hub-compatible apps you use the richer the information you find there.
The application home screens are similar to what you find in iOS or Android, and you can customize your screen to include as many panes as you want. Each panel fits 16 apps or folders, with four icons in four rows. To create a folder, you just hold your finger on an app for a few seconds and then drag it on top of another app icon.
BlackBerry 10, the BlackBerry Hub and BlackBerry Flow are truly unique. As such, they take some getting used to, but after a week with the Z10, I find myself flying around the device. It's very easy to check messages and notifications using the Hub, and I love that I can check any new notification without having to open up the inbox and leave the app or pages I'm using. Overall, I'm a big fan of the new UI and navigation features.
My single favorite feature in BlackBerry 10, and on the Z10, is the virtual keyboard. It's the best touch-screen, virtual keyboard I have ever used, hands down. When it comes to accuracy, ease of use and predictive-text features, it puts the stock Android and iOS keyboards to shame.
The on-screen keys are large, and the keyboard's rows are separated by virtual "frets," which add some space and provide more touchable area per key. The keyboard literally "learns" your typing behavior and adjusts accordingly. For example, if you have large hands and you constantly hit the "P" key when you're trying to tap the letter "O," the keyboard learns your pattern and adjusts itself. You can even type in different languages in certain applications without changing any input settings, and the keyboard predicts words in both languages.
The BlackBerry 10 keyboard's predictive-text features are what truly set it apart from other touch-screen keypads. When you start typing, the software predicts what it thinks you'll type next. But unlike other keyboards, the predicted words appear directly above the next letter in the word you're typing. To finish the word you just slide your finger upward from above the letter you're on. And the software inserts a space after the word you slide up, so it also eliminates another step.
The Z10 virtual keypad also it takes predictive text a step further. In the past week, I've send a lot emails to BlackBerry staffers asking questions about the Z10, and I closed many of these messages with a standard: "Thanks very much for your assistance." (Thanks again, Ruth!) Now, when I start typing "Thanks," on my Z10, it not only predicts that word, but "very" automatically appears above the "V" key. And if I slide my finger up to type "very," the word "much" appears above the "M" key and so on.
BlackBerry 10 still supports some of the keyboard shortcuts BlackBerry users know and love, but not as many as I'd hoped. BlackBerry tells me it plans to add more keyboard shortcuts to BlackBerry 10 in the future. I've been using two smartphones, a BlackBerry and an Android device, for a long time. I've enjoyed the application selection, better UI and performance of Android, but I couldn't part with the BlackBerry physical QWERTY keyboard. Yeah, I'm that guy who says he can never use a virtual keyboard. Or I was. The BlackBerry 10 virtual keyboard changed that, though I admit I'm still very interested in the BlackBerry Q10, which runs BlackBerry 10 and has a physical keyboard.
An awesome new camera feature in BlackBerry 10 is the TimeShift camera setting, which helps you capture better pictures of groups of people – particularly children, who may have trouble sitting still. TimeShift takes a rapid series of images and lets you isolate the faces of the subjects in your photos. You can then tap the faces in the picture and "fast forward" or "rewind" them to find the best facial expressions.
Another new multimedia feature that's worth noting in BlackBerry 10 is Story Maker. Story Maker lets you create multimedia video montages using images, video and music stored on your device. You just pick the media you want to include, arrange it the way want and then choose from a handful of Instagram-like filter and effects. You can save your Story Maker clips in HD 720p or 1080p resolutions. (Check out the video clip below for a look at one of my Story Maker clips.)
The BlackBerry 10 browser is a huge improvement over past versions of BlackBerry's Web-surfing software. It's speedy, easy to use and it has all of the common features you expect in a modern mobile browser. It is particularly adept at handling HTML 5 websites, and it supports Adobe Flash.
The BlackBerry Messenger (BBM) app also got a significant upgrade in BlackBerry 10. You can now use BBM in BlackBerry 10 for video calls, in addition to voice and text chats, over Wi-Fi and 4G cellular networks. I only used the BBM video chat feature briefly, but in my experience it was intuitive and the quality was decent over LTE. BBM in BlackBerry 10 also lets you share your device's screen with video-chat participants, so you could initiate a video chat with a colleague to show them a presentation or chat with a long-distance loved one while showing them pictures of your recent travels. IT folks could also use this feature to help resolve problems with users' devices; employees could share their screens and then follow IT's instructions to identify and solve handheld issues. (Note: BlackBerry 10 is required for video chats; you cannot chat with users of older BlackBerrys.)
The BlackBerry World app store finally feels like a legitimate mobile-software and media shop. You can buy apps, games, music, TV shows and music, using a number of payment options including PayPal, credit card and carrier billing, where available. The TV/movie catalogue is powered by Rovi, and I was pleased to find a decent selection of new releases, older movies and TV shows. The music selection is similarly solid. BlackBerry implemented a new set of Parental Controls in BlackBerry World to give parents control over what content their kids consume. And a new Newsstand app, which is not a part of BlackBerry World, lets you download magazines and other reading materials.
From an enterprise perspective, BlackBerry 10 should be very appealing to businesses. It can easily connect to Microsoft Exchange using ActiveSync, with no BlackBerry Enterprise Server or Enterprise Service required. But using the new BES 10 gives organizations tons of unique security and management features, including access to BlackBerry Balance, which creates a secure workspace on BlackBerry 10 devices that can be managed by IT without affecting personal data. BlackBerry Balance also has an enterprise-specific version of the BlackBerry World store. (Read more about BES 10 and BlackBerry Balance.)
Finally, I appreciate the full-feature Docs to Go document-creation and editing software that ships with BlackBerry 10 – though I wish the Word app supported Track Changes. I like how you can set a custom message to appear on your device's lock screen and access the camera when your phone is locked. The new BlackBerry Link software makes it easy to manage multimedia, files and other data, backup your phone and switch BlackBerry devices, though I only used the Windows version; the Mac software wasn't ready when I got my review device, but BlackBerry says it will be soon.
I know, I know, that's a whole lot to like. But there are a few things that drive me nuts about the Z10, too. One area in particular could make all of this good stuff irrelevant in the long run. So let's move on to the not-so-great things about the BlackBerry Z10 and BlackBerry 10.
BlackBerry Z10 Negatives
Z10 GPS/LBS Gripes, Camera Complaints and More
I had a lot of issues with the Z10's location services and/or GPS even when I had full LTE coverage and I was outside. The problems I experienced could be software-related, because some apps seem to be able to use my location more effectively than others, but I'm not sure. Regardless, it was frustrating to get errors every other or every third time I tried to use an app or service that utilizes GPS or LBS.
The new BlackBerry Z10 has an eight MP rear camera and a two MP front-facing camera. In my experience, the rear-facing camera performs well outside in natural lighting but leaves something to be desired inside and in dimly-lit environments. It also seems to have issues with close-up shots in dim-to-moderately lit environments.
The Z10 has some cool, built-in image editing features that let you adjust brightness and white balance, and add filters and frames. But the device only has three shooting modes (normal, stabilization and burst) and four "scene" modes (auto; action; whiteboard; night; and beach and snow) compared to the dozens of shooting and scene modes you can use on the Galaxy SIII and other high-end smartphones.
The Z10's processor is dual core, and it runs at 1.5GHz. A number of comparable high-end smartphones, including the Samsung Galaxy SIII and Note II have quad-core processors, so part of me feels like the Z10's hardware isn't equal to these devices in terms of processing power. But I didn't see any real performance issues with the dual-core processor in the Z10, so the device may simply not need a more beefy, quad-core chip.
I also would have liked to see a few different storage capacities. The Z10 is currently only available in 16GB. I assume BlackBerry made this decision to minimize production costs, but you can never have too much storage, and as is, the Z10 maxes out at 48GB, unless you carry multiple memory cards to swap them out.
BlackBerry did away with the green cellular-coverage indicator LED in BlackBerry 10, and even though I'm probably one of only a dozen people in the world who actually used that feature, I miss it, and I wish the option was still there in the new OS. The Z10's LED indicator still blinks red when you have new notifications and orange when the battery is low, but it no longer blinks green or blue when Bluetooth devices are attached – at least not without some sort of third-party app.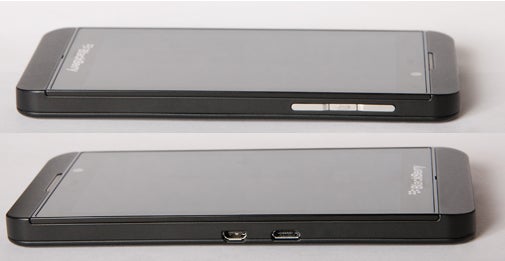 The charging and HDMI-out ports are on the device's right side, and I'm partial to devices with the ports on the bottom because it can be awkward to hold the Z10 or talk on the phone while it's charging because of this port placement, especially if you're a south paw.
Finally, I don't like the name of this new device. The letter "Z" is pronounced "zed" in parts of Canada, Britain and elsewhere, and being a Canadian company, BlackBerry decided to go with this pronunciation. But the company's most challenging geographic area, and the area with the most potential, is the United States, where the letter is pronounced "zee."
I'm hoping its U.S. advertising campaign uses the American pronunciation, but if not, the name could be a turn off for some people. (I know I'm not the only one who thinks of the creepy deviant in Quentin Tarantino's Pulp Fiction when I hear the name "Zed," which conjures up violent images and probably isn't what the compnay is going for.) This is obviously a minor complaint, but the name rubs me the wrong way. (UPDATE: Shortly after this review was posted, BlackBerry announced that it will use the U.S. pronounciation of the letter "Z" in this market and the device will NOT be referred to as the "zed 10" in the United States.)
Few Big-Name Apps for BlackBerry 10, Buggy Software and More
Back in August when BlackBerry gave me an exclusive hands-on with the first two BlackBerry 10 devices, I wrote about how I was impressed with the hardware, but that the success of BlackBerry 10 would ultimately depend on applications and the app ecosystem. BlackBerry knows this to be true, and it put a ton of effort into courting developers during the past year or so, holding BlackBerry "Jam Sessions" and application "portathons" around the world and even offering software makers monetary incentives for creating BlackBerry 10 apps.
Despite all of this, the current BlackBerry 10 application situation is disappointing. I'm frustrated with the overall selection of apps in BlackBerry World today. I'm disappointed in the quality of apps. And I'm disappointed because I was honestly expecting more.
To be fair, there are a lot of BlackBerry 10 apps and games available in BlackBerry World. Some of them seem cool, too. They're just not the apps I want or need, and I don't play games, at least not of the video variety.
When I got my Z10 review unit last week, BlackBerry told me that the selection in BlackBerry World won't be representative of what will be available on launch day. The company says it has a number of development partners who want to wait until the platform is officially launched before making their app announcements. And it also told me that some of the apps it pre-installed on my device are still being worked on and will be updated before the official Z10 launch. (Specifically, it said Twitter and Facebook would be improved upon.) I took that into account, but I can only review what was given to me, and what I see is lacking.
I have a few handfuls of Android applications that I use regularly. When I say "regularly," I mean every day or at least every few days. The apps I use most often: Twitter; Foursquare; Instagram; Google+; Untappd; Facebook; Google Maps; Google Music; Amazon MP3; Amazon Kindle; Netflix; Dropbox; Kik Messenger; Spotify; Fitbit; Dunkin' Donuts payment app; and NBA Game Time.
Of those apps, only Twitter, Foursquare, Untappd, and Facebook are available for BlackBerry 10. A third-party Dropbox client is also available, and it gets the job done, but the official Android and iOS apps offer much better experiences. Counting the Dropbox app, that's 5 out of 17, or less than 30 percent of the Android apps I use regularly.
BlackBerry World may be packed with apps right now, but much of what I see is junk. And very few of the "big name" apps from notable app makers are available. (Again, that could change after launch.) Just yesterday, when I traveled from Boston to New York for a BlackBerry 10 launch event, I had to repeatedly pull out my Galaxy SIII because the Z10 doesn't have the apps I use to find public transit information, my digital train ticket and my hotel reservation information.
What's worse, some of the native BlackBerry 10 apps are buggy, as well. The native calendar application crashes every single time I try to add an appointment without first specifying whether I want to add it to my work or personal calendar. If I search for a business using the browser search bar, I get error messages when I try to click on the phone number in the browser to place a call, and I have to type the phone number in manually. And I've had issues opening email attachments, even basic Word documents.
The BlackBerry 10 OS frozen up completely on me a few times during the past week, too, and I have to pull my battery to reset it. This is particularly disappointing given the amount of time the company spent developing BlackBerry 10.
One thing BlackBerry really did well in past versions of its BlackBerry OS was notifications. You could set custom vibrations and tones for the majority of your apps and services, and you still can in BlackBerry 10, but the available options have been slimmed down. For example, you can no longer assign multiple vibrations or longer or shorter vibrations as alerts – there is only one vibration setting in BlackBerry 10. And there are significantly fewer tones and sounds in BlackBerry 10.
Fixed phone and camera icons appear on the BlackBerry 10 Active Frame tab and on all of your home panels, but you cannot swap out the phone or camera for other commonly-used apps. And you can only add 16 applications to a single home-screen folder, which also isn't ideal.
BlackBerry would have been wise to offer some sort of cloud-music locker service like Google's Play Music or Amazon's MP3 cloud service. I'm not used to having to store my music on my device, and I'm using more storage space than I'd like on the Z10 because I don't have access to any cloud-based music service.
It would have also been nice to see some level of BlackBerry PlayBook integration. The BlackBerry 7 OS has an app that can be used to control the PlayBook remotely, but BlackBerry 10 does not. (UPDATE: Shortly after the official BlackBerry 10 launch, the BlackBerry Bridge application showed up in BlackBerry World. BlackBerry Bridge lets you control a PlayBook tablet using a BlackBerry 10 smartphone, among other things.)
Finally, the BlackBerry 10 reboot time is much longer than I expected it to be. It takes about 70 seconds for the Z10 to start up. My Samsung Galaxy SIII starts in about 35 seconds and the HTC Windows Phone 8X takes about 50 seconds to start.
Now, on to my BlackBerry Z10 review conclusion.
BlackBerry Z10 and BlackBerry 10 Review Conclusion
The BlackBerry Z10 hardware is good-looking, well-built and functional. The display is top of the line, and it's big but not too large at 4.2 inches. It has a removable battery and expandable memory. The camera isn't the best I've used on a smartphone, but it should do the trick for casual mobile photographers.
The BlackBerry 10 software is smooth and snappy, and I've seen very little lag. It also feels like no other mobile OS, and that's refreshing. The new virtual keyboard is the best touch-screen keyboard on the market today. BlackBerry packaged some truly unique and valuable multimedia features in BlackBerry 10, including the TimeShift camera setting and the Story Maker video-montage tool.
BBM, long one of BlackBerry's most popular offerings, now supports video calling between BlackBerry 10 smartphone over Wi-Fi and cellular networks. But the OS and native applications are still a bit buggy, and that's really disappointing, especially when you consider the amount of time the company spent working on its new OS.
BlackBerry 10 also lacks quality apps from big name developers and corporations. Many of these large developers probably feel as though they don't need to rush into development for BlackBerry 10 due to their success with Android or iOS application. So they could be waiting to see how well the platform is received before investing. It's possible that BlackBerry World could see an influx of quality, popular apps in the coming months. But right now I'm not impressed with the app selection.
BlackBerry's biggest challenge right now is drawing users away from rival platforms, but the average consumer is not going to drop his or her iPhone or Android smartphone for the Z10 or Q10 if they can't use the apps they've come to rely on. It's that simple.
I've asked myself repeatedly since I received the BlackBerry Z10: Could I ditch my Android phone completely and use only the Z10? The answer is no. Not yet at least. And that says an awful lot.
Yet the BlackBerry Z10 is a huge step in the right direction for the company. If you're looking for a high-end, touch-screen smartphone that feels different than the iPhone, Android or any other mobile OS – and you're not too concerned with the lack of quality BlackBerry 10 apps – you'll find a friend in the Z10. But if you want a healthy selection of the most popular mobile apps and the best overall mobile experience available today, you probably want to look elsewhere.
The million dollar question: Can BlackBerry 10 save BlackBerry and get these new devices into the hands of the iOS-or-Android-toting masses? Yes, it could. But the Z10 alone will not save BlackBerry, and even if it is well received by smartphone users, the Z10 represents only the first step on the long and winding road to recovery for the BlackBerry maker.
AS
Al Sacco covers Mobile and Wireless for CIO.com. Follow Al on Twitter @ASacco. Follow everything from CIO.com on Twitter @CIOonline and on Facebook. Email Al at asacco@cio.com