If Facebook used your likeness in Sponsored Stories, an advertising feature introduced in early 2011, you may be eligible for your share of a $20 million settlement in a class action privacy lawsuit.
Sponsored Stories used either a user's name or profile picture as an endorsement of the product or service in the ad, without the users' consent. You could not opt-out of the feature, which advocacy groups and users considered a violation of privacy. Facebook decided to settle rather than fight the allegations in court.
The settlement that Facebook agreed to in October sets aside $20 million for affected users. If you're one of them, Facebook will pay you up to $10. Here's what you need to do to cash in.
How to Collect the Cash From Facebook
If you were affected by Sponsored Stories, check your inbox and spam filter for an email from Facebook—excerpted below—notifying you of the class action settlement. The emails were sent out the week of January 21, and many people disregarded them as a hoax.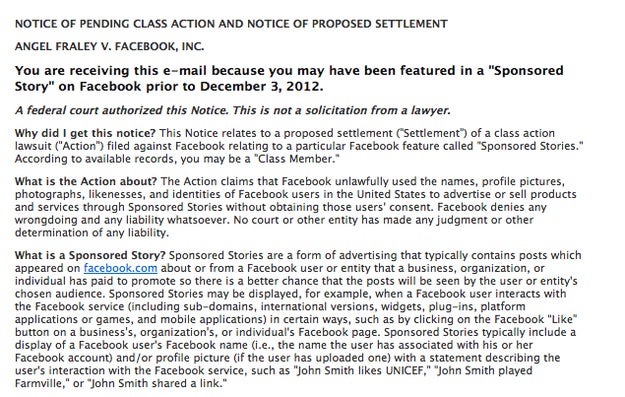 If you received the email, you have until 11:59 p.m. Pacific Time on May 2, 2013 to file an electronic or postmarked claim form, which you can find on the Fraley v. Facebook website. It will ask you for your name, email address, Facebook user ID and the claim number provided to you in the email.
Once you submit your claim, you're done: Payments will be cut after June.
But, according to the settlement notice, there is one major stipulation: If too many Facebook users file a claim, the money will go to charity.
"However, if the number of claims made renders it economically infeasible to pay any money to Authorized Claimants, the entire Net Settlement Fund will be distributed to the not-for-profit organizations […] instead of to Authorized Claimants."
There's nothing to lose by filing a claim—best-case scenario: Facebook buys you lunch.
Kristin Burnham covers consumer technology, social networking, social business and enterprise collaboration for CIO.com. Follow Kristin on Twitter @kmburnham. Follow everything from CIO.com on Twitter @CIOonline and on Facebook. Email Kristin at kburnham@cio.com