Today Research In Motion (RIM) released the first version of its BlackBerry Enterprise Service (BES) 10 enterprise mobility management product, a week before it's expected to launch its brand new mobile platform, BlackBerry 10. RIM is offering organizations free, 60-day BES 10 trials for a limited time.
Before the release of BES 10, enterprises could use RIM's BlackBerry Mobile Fusion to manage BlackBerry PlayBook tablets and iOS and Android devices, but they had to use RIM's aging BlackBerry Enterprise Server (BES) software to manage older, pre-BlackBerry-10 smartphones. And RIM did not offer a product that enabled enterprises to manage the various infrastructure components using a single Web console.
PlayBook tablets could connect to corporate resources in the past without Mobile Fusion, thanks to support for Microsoft's ActiveSync. But Mobile Fusion, which is now part of BES 10, provide more security and management features, including its BlackBerry Balance service, which lets organizations separate corporate and personal information on BlackBerry 10 devices and PlayBook tablets so that administrators can manage that data separately.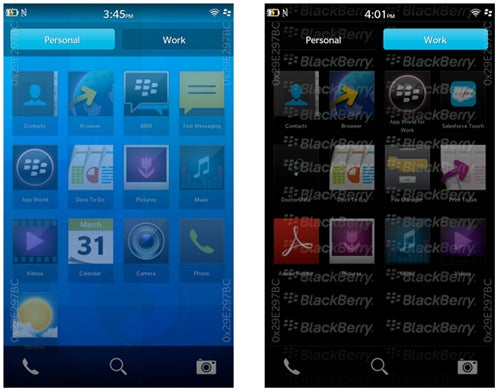 The version of BES 10 released today incorporates Mobile Fusion and RIM's older BlackBerry management software so both products can be managed via one console. However, organizations still need to run the Mobile Fusion and BlackBerry Enterprise Server software on different servers; they cannot currently run on the same server.
RIM plans to release another BES 10 update that will allow all of the various infrastructure components to run on the same server in May, at its newly rebranded "BlackBerry Live" conference–formerly known as BlackBerry World.
"We've had hundreds of customers across all of the different verticals testing [BES 10] for a number of months now, and the feedback has been incredible," says Jeff Holleran, RIM's senior director of enterprise product management. "It's the best-rated release [based on] our customer-satisfaction surveys ahead of a launch that we've ever had."
The most notable features in this BES 10 release, according to RIM, are as follows.
Support for secure separation of work and personal applications and data on BlackBerry 10 smartphones through BlackBerry Balance technology.
Support for secure access to work email, content and secure connectivity to behind the firewall applications and data.
BlackBerry World for Work, the new corporate app storefront for BlackBerry 10 smartphones that allows organizations to manage apps for employees. Administrators can push and install the organizations mandatory apps to both corporate and personal-owned devices and publish recommended apps to employees.
Management controls for securing and managing work profiles including hierarchical group management with Active Directory integration, support for customizable administrative roles with granular capabilities, an enterprise enrollment process for employees that offers a self-service console, and centralized control of assignable profiles for email, SCEP, Wi-Fi, VPN and proxy servers.
(Check out a recent interview with two RIM executives for more details on BES 10, BlackBerry Balance, BlackBerry World for enterprises and more.)
Last week, RIM announced that more than 1,600 organizations in North America are participating in its BlackBerry 10 Ready program, which is designed to help organizations make the transition to BlackBerry 10 and RIM's BlackBerry Enterprise Service (BES) 10. Qualifying businesses can also receive a free BlackBerry 10 device from RIM as part of the program.
BES 10 has also already received FIPS 140-2 certification, which means BES 10 can be used by U.S. government agencies immediately upon launch. And the U.S. Immigration and Customs Enforcement (ICE) announced in December that it would begin piloting BES 10 in early 2013.
BES 10 can be downloaded immediately via RIM's website. And you can also request a free BES 10 trial at BlackBerry.com.
AS
Al Sacco covers Mobile and Wireless for CIO.com. Follow Al on Twitter @ASacco. Follow everything from CIO.com on Twitter @CIOonline and on Fa