As you build a website for your online business, three things will come in handy: a "squeeze page," a sales page and an autoresponder. This article explains how to use the OptimizePress template along with the static page feature in WordPress to set up these components and dictate users see when they come to your site.
A squeeze page is a short page that comes up when you visit a website. Its purpose is to capture your attention and to induce you to sign up for that site in exchange for a free offering, such as a report or tutorial video. The sign-up part of the squeeze page is a Web form that's part of an autoresponder. This article uses a sign-up form from iContact; other options include aWeber or Mailchimp.
An autoresponder is used to collect names and email addresses to build a list. This lets you follow up with prospects and clients after the fact with, say, timed email messages that can contain valuable information and/or a marketing pitch. Building a list is an important Internet marketing strategy—it gives you the opportunity to make many more sales to the same customer, who as a result could stay with you for many years.
How-to: How to Build an Online Business From Scratch
How-To: Enhance Your WordPress Online Business Site
When someone signs up for your free offering, they receive a confirmation message from your autoresponder with information about the report or video. Other options include redirecting customers to the sales page that lists a single product offering or sending them a catalog of available products.
How to Build a Squeeze Page in OptimizePress
Let's start with a squeeze page. The first step is to go to Pages > Add New and enter a title. In this case, as seen at right, it's "Want to Hire a Professional Writer?"
To the far right of the title, you'll see the OptimizePress Help section. To see what's available, click on View Template Gallery. This brings up the main templates page.
Next, click on the Squeeze Pages link. This brings up a variety of squeeze page designs, many of which can be customized.
Note that this is only where you preview the pages. You'll go somewhere else to actually use them. For now, close the template gallery.
How-To: Beyond Templates: Building a Better Business Website
Now it's time to move on to the Dashboard. Go to the right of side of the interface and look for the Page Attributes heading, seen at right. Below that, click on the popup below the Template heading and choose Squeeze 08.
The next step is to use the editor in WordPress. Click on the Visual tab at the far right and enter some text for the squeeze page. Generally, a squeeze page consists of a headline, a short introduction, a few bullet points and then one or two more sentences with a call to action:
(We can edit this Web copy later.)
The final step is to use OptimizePress to style the page. Styles can be found below the editor.
Don't use the normal WordPress controls; they might not work. (Note that this section includes link to some squeeze page tutorials as well.)
Make the Most of Squeeze Page Settings in OptimizePress
Now it's time to look at the OptimizePress squeeze page settings. As you can see, there are numerous options. For now, we'll focus on three—overall page settings, headline options and opt-ins.
In the overall page settings, I'm going to make one small change, which is to select the red arrow bullet. As you can see, there are many other things you can do:
The headline options are next. When this section opens, you'll see four header tabs. To see the controls, select Show Options under each tab to see the controls. In this case, I'm going to work with the headline and subheadline. This takes a little bit of adjusting until you get the results you seek, as seen below. Note that I deleted the subheadline from the WordPress editor and decided to use the OptimizePress controls instead. Note, also, the effect of the red bullets.
Now we'll return to WordPress and keep working on the look and feel of our squeeze page. When you look at the options below the WordPress editor, you'll see an option for adding a video. (I've decided not to do this.) You can do that using YouTube, though OptimizePress recommends that you use Amazon Simple Storage Service (Amazon S3) instead.
The last step is to insert a signup form from the iContact autoresponder to work with OptimzePress. (A future article will look at autoresponders in more depth.)
To get started, scroll to the Opt-in/Squeeze Forms Options (Squeeze) header and open it.
Next, open iContact and copy over the code for an HTML signup form that you'll find at the end of this article. When you do so, some of the fields within OptimizePress become active. Make sure the name field appears above the email field, as seen below:
You can set other options after this, but the only one we'll set for now is the button that will appear on the squeeze page. Click on the link under Select Squeeze Page Button and choose one of the options: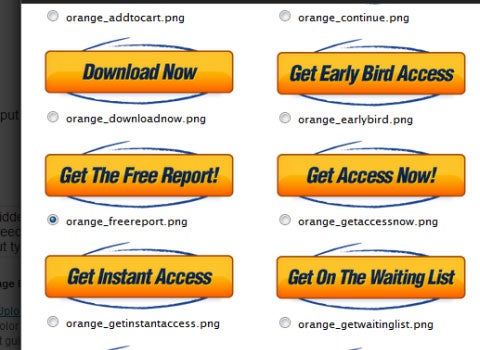 Next, click on the blue Update button in the Publish section, then click on the View Page button. This is what your finished squeeze page will look like. Once this is done, test the sign-up form to make sure it works properly.
The last step of the process is to return to the WordPress controls and go to Settings > Reading. Change the static page to the title that we chose when we set up the sales page: "Want to Hire a Professional Writer?"
Click on the blue Save Changes button.
Build a Sales Page With OptimizePress
As stated, a sales page typically offers a single product for sale. Another option is what's known as a "one-time offer." This takes place after the initial sale is made and lets the marketer offer multiple products, one after another. Each page lets the buyer say "No" and choose only the one desired sale, though it's possible to make many more sales to the same customer using this technique.
Whatever the sales page looks like, when it comes time to collect from a customer, you can use a merchant account with a bank or a service such as ClickBank or PayPal.
Analysis: 10 Open Source Shopping Carts to Run Your Ecommerce Business
To get started, you'll need to be on the Dashboard in OptimizePress. Go to Pages > Add New. I'm going to name my page Sales Page One.
Next, select a template. As shown at right, open View Template Gallery (accessed from the OptimizePress menu) to look at some designs.
In the Template Gallery dialog box, click on the Sales Pages heading, as shown below: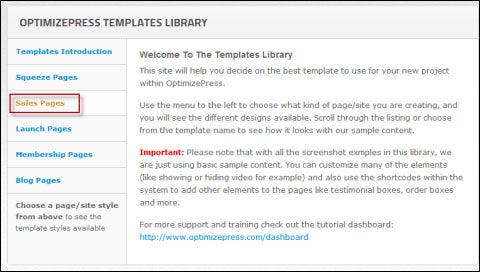 This gives you an idea of the various templates you can use.
Once you find a template you like, close this window. Scroll down to the Page Attributes section and, under Template, choose the sales letter template that you want to use (as seen at right).
As was the case with the squeeze page, you'll paste the text for the sales page into the editor window and control the page layout using the controls under the editor window. This will override the text options in the editor window—with one exception, which we'll get to soon. Once you've chosen a template, click on the blue Update button to save the page.
Next, add text and other elements to the editor to build the sales letter. For the sake of brevity, I'll use the same text from the squeeze page. Note that below the editor window, there's a great deal of layout power. When you make your changes, use the Launch Page & Sales Letters Options section, as shown below:
Now it's time to look at headline options. Click on the Headline tab, enable Show Options and enter the text from the squeeze page. I've left the font at the default (Impact) and changed the letter spacing to zero. To save your changes, click on the blue Update button.
Here's what the sales page looks like so far:
Keep in mind that it's in a basic stage and we'll add some more functionality to it.
Add Shortcodes to Your OptimizePress Sales Page
One thing that makes OptimizePress shine is the use of WordPress shortcodes to represent graphical elements. These save considerable time when you are building your pages. You access shortcodes through buttons that appear at the top of the editor window, as seen here:
Click on the first icon, the lightning bolt, and you'll see a text list of shortcodes.
Click on the Add to Cart icon and you'll see a list of add to cart buttons.
You'll need these for the checkout part of your sales page.
On the back end, all you have to do is add your purchase code to the button code. As an example, here's the shortcode text of one of these buttons:
[add_to_cart_btn_style_2 link="#" + target="_self"] [/add_to_cart_btn_style_2]
Replace the # sign with your purchasing code. The end result will look something like this:
[add_to_cart_btn_style_2 link="http://simplehowtoguides.com/dlg/sell.php?prodData=cb%3C10" + target="_self"] [/add_to_cart_btn_style_2]
When you click on the icon on the far right, you'll get a huge variety of options for your sales pages—custom bullets, testimonial boxes, guarantees, custom headline options, dividers and more.
Using only the shortcodes discussed here, though, you can still build a robust sales page. Here's what ours looks like:
It represents only a portion of what you can do with OptimizePress. Future articles will look at how to use an autoresponder and set up payment gateways and an integrated blog. You'll also learn some strategies for successful list building.
Nathan Segal has been working as a freelance writer, photographer and artist for 14 years. He is based in British Columbia, Canada. Reach him via email or visit his website. Follow everything from CIO.com on Twitter @CIOonline, on Facebook, and on Google +.
HTML Signup Form Code
.link,
.link a,v .signupframe
{
color: #226699;
font-family: Arial, Helvetica, sans-serif;
font-size: 13px;
}
.link,
.link a {
text-decoration: none;
}
.signupframe {
border: 1px solid #000000;
background: #ffffff;
}
.signupframe .required {
font-size: 10px;
}
First Name
v
* Email
* = Required Field
var icpForm5722 = document.getElementById('icpsignup5722');
if (document.location.protocol === "https:")
icpForm5722.action = "https://app.icontact.com/icp/signup.php";
function verifyRequired5722() {
if (icpForm5722["fields_email"].value == "") {
icpForm5722["fields_email"].focus();
alert("The Email field is required.");
return false;
}
return true;
}
Email Marketing You Can Trust