OptimizePress is a WordPress theme that lets users create sales letters, squeeze pages and other features for their online business. As noted in How to Build an Online Business From Scratch, using a template such as OptimizePress will speed up the process of building your website and will allow your site to function as a sales funnel as well as a blog.
This article will show you how to build an online business using OptimizePress.
Step 1: Secure Your Passwords, Files and Servers
WordPress is a great content management system, but it's prone to hacker attacks. Therefore, before you start working with OptimizePress, you need to harden your WordPress installation—and before you do that, you need to take a few steps to protect your computer and your data.
News: WordPress Leads the Blogging Platform Pack
Here are a few recommendations.
Get the latest virus and spyware protection programs on your computer. Options include Microsoft Security Essentials, Malwarebytes Anti Malware and CCleaner.
Back up your database once a week. This process will vary with each hosting provider, so ask yours to walk you through the procedure. Another option is to purchase a commercially available program such as Backup Buddy.
If you use File Transfer Protocol, upgrade to Secure FTP. You'll also need an SFTP program; one option is Win SCP.
For additional security, use a hosting service that provide either a dedicated server or a server with only a few users. One example is Turnkey Internet.
Keep your plugins to a minimum. Many security vulnerabilities have been exploited this way.
Step 2: Secure Your WordPress Installation
Once your systems are safe and sound, it's time to secure WordPress. Here's what you need to do:
After creating your WordPress account, don't use the default "admin" password. Use a strong password with as many as 16 characters, such as W_Xfic_gyYxch__dx. Change your passwords weekly, too.
Install the Limited Login Attempts plugin. By default, WordPress allows for unlimited login attempts. Limit Login Attempts blocks this after a number of retries; this makes a brute-force attack less likely.
Install the Bulletproof Security plugin, which claims to protect WordPress websites against XSS, RFI, CRLF, CSRF, Base64, Code Injection and SQL Injection hacking attempts. Bulletproof also addresses wp-config.php, bb-config.php, php.ini, php5.ini, install.php and readme.html files by using .htaccess WordPress security protection, according to its developers. If your installation is anything like mine, you'll have to take care of a number of settings before you can use this plugin. It's recommended that you make a backup before you proceed.
Another security option is Better WP Security, which combines numerous WordPress security features in a single plugin. This, the developers say, helps users alleviate concerns about myriad plugins having conflicting features or leaving gaps in a site's security.
The last option is the Timthumb Vulnerability Scanner, which scans your wp-content directory for instances of timthumb.php and upgrades them to a safer version.
WordPress offers many more plugins, though this should be more than enough for your needs.
Step 3: Install and Configure OptimizePress
Once you've purchased a copy of OptimizePress (for $97) and activated your membership, the next step is to download the template from the members area.
Next, launch WordPress. This where you'll upload the OptimizePress theme. Be aware that the file size is roughly 5 MB, so make sure that your installation will allow you to load large file sizes. (Your hosting provider will be able to determine this.)
To see what you can upload, click on Media: Add New and look at the Upload New Media section, as shown below.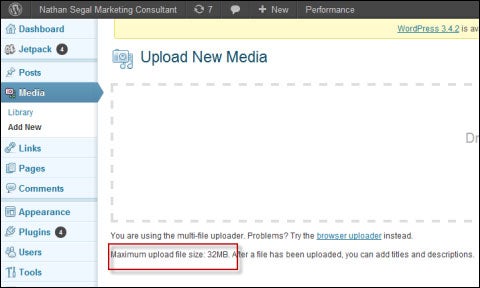 In this case, the maximum file size is 32 MB, so uploading the theme won't be an issue. If this number is too low, you'll get an error message when you upload the theme through WordPress. If that happens, you'll have to contact your hosting provider about increasing your limit. The other option is to use FTP.
News: WordPress 3.4 Offers No-Hassle Theme Testing
To install OptimizePress, go to Appearance: Themes. This takes you to the Themes panel. Click on the Install Themes tab, then click on the Upload heading. Browse for the OptimizePress file (wherever you saved it—in my case, the Downloads folder), then click on the Install Now button.
After OptimizePress has been installed successfully, go to the OptimizePress panel under General Settings in your WordPress installation. It's time to license the site.
Go to the OptimizePress site (not your theme) and copy and paste the URL for your site exactly as you see it in your browser. Click on Submit. This will generate a license key.
Copy the license key. Go back to your OptimizePress installation on your WordPress blog. Paste in the license key. When you do so, you'll see the message below.
Step 4: Modify Additional OptimizePress Configuration Settings
The next task is to set your site's permalinks. To do so, go to Settings: Permalinks. Note that WordPress is set to the default setting. Unfortunately, this isn't good for SEO. To fix that, enable the Custom Structure radio button. In the parameters box, type in /%postname%/. Next, click on the blue Save Changes button at the bottom of the page.
Next, go to the OptimizePress header on your WordPress site and click on SEO options. At the top of this section, you'll see a note about disabling the OptimizePress SEO options. You'll want to check that box if you've installed a plugin to take care of SEO.
Below that is a section to enter the title of your blog, the description and the keywords.
How-To: 10 Online Reputation Management Tips for Businesses
Tips: How Small Businesses Can Manage Their Online Reputation
Keep going and you'll see a section that contains settings for the structure of your blog. This section, which uses shortcodes, offers several options: Page Title, Blog Post Title, Blog Author Pages Title, Blog Category Title, Blog Archive Title, Blog Tag Title, Search Page Title and 404 Page Title. Beside each section is the shortcodes that you can use. I typically leave all the shortcodes at the default setting. To save any changes, click on the blue Save Changes button at the bottom of the page.
WordPress' Shortcode API offers functions for creating macro codes that can be added to posts or pages. OptimizePress uses shortcodes for a wide variety of graphical elements. This means you'll be able to build page layouts much faster than if you had to add graphical elements manually.
Step 5: Create a Static Page
One great WordPress feature is the ability to create a static page. Typically, when you build a blog, you see a number of entries on the home page, with the newest entries on top. But what happens if you want to create a page that comes up every time someone new visits your site?
Tips: Beyond Templates: Building a Better Business Website
This where the static page comes in. The static page could be a blog entry, a squeeze page or a sales page. In our case, that's going to be a squeeze page.
A future article will discuss the specifics of how to build a squeeze page. For now, we're just going to configure the settings. Go to Settings: Reading. In the Reading Settings panel, enable the Static Page radio button and choose a page to open as the home page.

Since I've already built an OptimizePress site, I've selected a page here. (These settings will change when we actually build a "squeeze page," which will make use of a Web signup form and an autoresponder.) Next, make sure you leave the Posts page option at "Select." This feature isn't used within OptimizePress.
To save your changes, click on the blue Save changes button at the bottom of the page. Your static page is now ready to go.
This article explained how to secure a WordPress blog and to download and configure an OptimizePress template. In the next article, you'll go further with your OptimizePress setup and build a squeeze page and a sales page, integrate an autoresponder and set up a basic blog.
Nathan Segal has been working as a freelance writer, photographer and artist for 14 years. He is based in British Columbia, Canada. Reach him via email or visit his website. Follow everything from CIO.com on Twitter @CIOonline, on Facebook, and on Google +.