We'd all like to make more money and 2013 brings with it the hope that the economy will continue to grow. However, according to a recent survey from Janco and eJobDescription.com that growth will be modest and IT professionals specifically can expect to see only small gains in the salary department for 2013.
Janco is a management consulting firm that works specifically with management information systems. Its survey data includes data points from more than 249 large companies and 785 mid-sized companies. Janco and eJobDescription.com are jointly releasing the 2013 Salary Survey using data compiled from Q4 of last year.
"Salaries are up 1.98 percent for IT pros in the past 12 months and the big winners are CIO s, especially those in larger enterprises," says Victor Janulaitis, CEO of Janco. Not only are salaries are up, but CIO tenure has gained a month as well, moving up from the previous year's four years and two months to four years and three months.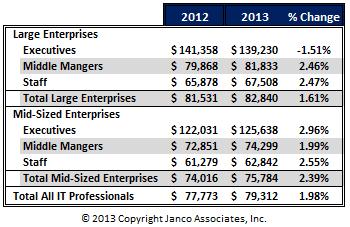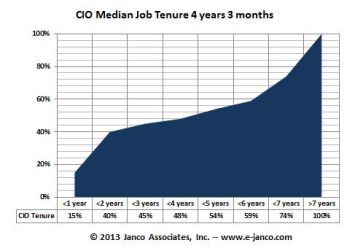 Mid-size companies have seen the most growth in the salary department up 2.39 percent while larger enterprises lag behind up only 1.61 percent. IT pros in all size companies on average gained around $1,500 annually up from $77,773 to $79,312. According to Janco's data, urban/metropolitan areas across North America have seen the most improvements in salaries for IT professionals.
IT Execs and CIOs Top the List
IT executives and CIOs have gained the most, according to the survey's data. "Over the long term IT executives have fared better in mid-sized companies than large companies," says Janulaitis. CIOs in companies surveyed had compensation packages that were up on average 1.6 percent in mid-sized enterprises and 6.04 percent in larger companies.
Another good sign, says Janulaitis: "Outsourcing has peaked and companies are looking to bring IT operations back into their direct control. A number of enterprises are moving help desks and data center operations in-house, which has resulted in an increase demand for data center managers. "
The news isn't all good however, though lay-offs have slowed, companies are still in cost-control mode. This can be seen with the increase in part-time and contract workers across the IT spectrum. The survey also notes that 82 percent of employees have health benefits, but those employees are sharing more of that cost than in years past.
Related Story: How to Revive a Stalled Job Search
IT Jobs in the Highest Demand
Positions seeing the highest demand are those associated with the quality control, records management and data center operations management.
The mandated requirements for records management systems and electronic medical records have increased the demand for quality control staff and custodians (librarians) of mechanized records. This is becoming huge specifically for Healthcare IT with the looming IDC-10 update and EMR adoption.
Rich Hein is a senior writer for CIO.com. He covers IT careers. Follow everything from CIO.com on Twitter @CIOonline, on Facebook, and on Google +.