Is this the year the iPad replaces the laptop?
The short answer is that more iPads will replace laptops in the workplace—at least more than most people expect, says David Johnson, analyst at Forrester. But iPads still have a few years to go before knowledge workers can chuck their laptops en masse.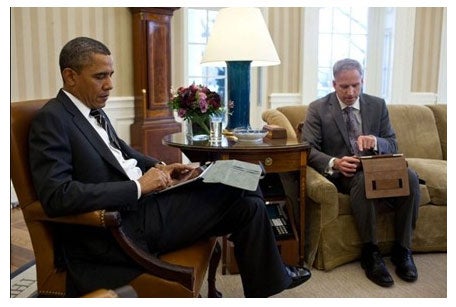 The main reason is critical enterprise apps on the tablet: They need to evolve before they can compete with their laptop counterparts.
With iPads, CIOs have been caught between the proverbial rock and hard place. IT departments have been under pressure to support iPads, either as company-owned devices or bring-your-own devices. Yet iPads haven't really replaced laptops in most cases, which mean iPads are an additive cost.
The hope is that iPads can replace corporate laptops and help companies save money. Not only are iPads hundreds of dollars cheaper than laptops, they're also cheaper to manage because they don't require a lot of traditional services such as patching and software packaging and deployment. CIOs envision the day when iPads follow the way of the laptop in the early 2000s, when laptops replaced desktops.
"As the progression of iPads become more enterprise friendly, we will be looking for them to replace a PC or Mac" for certain employees, Sheila Jordan, senior vice president of communication and collaboration IT at Cisco, told CIO.com. "Right now, they don't, but I think they will."
There are some early signs that this is starting to happen. For instance, the iPad is expected to hold down PC growth to 2 percent this year, according to a Sterne Agee investor's note reported by Apple Insider this week. Anecdotal evidence also abounds showing executives favoring their sleek iPads over clunky laptops, such as President Barrack Obama and Governor Mitt Romney.
But several things need to come together before an iPad can really become a laptop replacement for more workers. Tablet apps need to go through what Johnson calls "an evolution of modernization."
Truth is, many employees work with advanced spreadsheet applications and must access systems of record, such as Oracle Financials, Siebel and Peoplesoft—and these applications are best suited for a PC.
For this situation to change, enterprise software vendors must make a move toward a hosted environment where there is better support for tablet apps, as well as develop touch interfaces. It's happening, albeit slowly. Vendors such as Salesforce.com are developing solid tablet apps and putting pressure on traditional enterprise software vendors to modernize their platforms for mobile devices.
"This is going to take some time," Johnson says. "We're probably a year or two away from really good tablet support for traditional enterprise apps."
It's important to note that "evolution of modernization" is more than just accessing data on a tablet. Some enterprise software can be occasionally accessed over the iPad's mobile Safari browser, but the tablet isn't good for regular use and deep dives.
"We find several cases where many companies have their versions of Siebel or SAP, where other things are installed, in which case the iPad Safari browser experience isn't compatible," Johnson says.
One vendor making strides is Apple itself, especially with core productivity apps. Last month, Apple updated its suite of iWork apps for iOS (Pages, Keynote and Numbers) to make it easier for the apps to work with iWork for Mac and, most importantly, Microsoft Office.
Slideshow: 15 Best iPad Apps for Newbies (2012)
Another hurdle for iPads to make if they are to replace laptops involves security. Tablets will have to move toward a pervasive zero-trust security model, Johnson says. That's when CIOs no longer have to worry about security of the device, because security is being handled at the network and data levels. Right now, companies are using proxies and access gateways for tablets.
"This is going to be three to four years out, at least," Johnson says.
Forrester is also keeping an eye on iOS and Android being used as primary operating systems, which would be a sure sign that the iPad is replacing the venerable laptop. When employees hook up iPads to larger monitors and other peripherals either wirelessly or via the dock connector, CIOs can start unhooking laptops.
"If we start to see those form factors and use cases develop, that'll be another indicator that the iPad and other tablets are a bit more mainstream for business apps," Johnson says.
Tom Kaneshige covers Apple and Consumerization of IT for CIO.com. Follow Tom on Twitter @kaneshige. Follow everything from CIO.com on Twitter @CIOonline and on Facebook. Email Tom at tkaneshige@cio.com