Facebook's privacy settings are a pain point for many users: From the chaos it's caused after a privacy breach to the confusing settings after the launch of Timeline in 2011, securing your data and understanding who can see which parts of your profile have never been easy.
Not even for Facebook founder Mark Zuckerberg's sister, who had troubles of her own this past Christmas.
While Facebook has taken some considerable missteps, the social network has also made strides in ensuring its privacy settings are more accessible and straight-forward. Most recently, Facebook launched a new set of privacy tools to help you more easily manage who can see what you share.
Here's a look at those new privacy settings, plus three more you should revisit to ensure you start the New Year off safe and secure.
1. How to Navigate Facebook's New Privacy Shortcuts
Previously, if you wanted to change your Facebook privacy controls, you needed to navigate through a separate set of pages to find the setting you were looking for. Facebook has made this process a little easier with a new set of shortcuts found between the "Home" and "Settings" buttons in the top-right.
Clicking on the lock icon gives you three privacy settings to jump to: Who can see my stuff? Who can contact me? And, How do I stop someone from bothering me? Clicking each of these options will give you a rundown of who can see what, who can contact you, how to block someone and how to change your settings.
2. How to Review Old Facebook Posts With the Activity Log
Facebook's Activity Log, which it introduced last year, shows an overview of the activity on your profile.
Click to enlarge.
Facebook recently updated the Activity Log with a new navigation on the left side that lets you review your comments and likes, photos of you, and posts you've been tagged in. You can also sort your information to see public photos you're tagged in and have hidden from your timeline, but which still appear on Facebook.
The updated Activity Log is most useful if you're looking to browse or remove individual posts, or tweak the settings of an action or photo—not for updating blanket privacy controls.
3. How to Browse Your Apps Settings
If you've ever logged into an external website using your Facebook account, you may be surprised to find how many have access to your profile. To review which apps you've granted access to, navigate to your Privacy Settings page and select "Apps" from the menu on the left.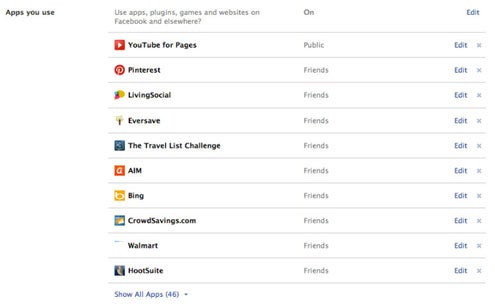 Here, you can see and change whether the app is allowed to post on your behalf, whether those posts are public, what permissions each app is granted and whether it can access your data at any time. You can also view when it last accessed your data.
You can also choose to remove the app. Note that while you remove the app from your account—and can choose whether to delete all of the app's activity on Facebook—it may still have the data you shared with it, which you can determine by reading the app's privacy policy.
[How Secure Are Your Facebook Apps]
4. How to Set Your Facebook Notifications
Facebook's Notification Center is where you view and change what actions you're notified about on Facebook and how you're notified of them. Find this by navigating to your Privacy Settings page and clicking "Notifications" from the left side.
For example, you can choose to be notified on Facebook and via text message every time someone tags you in a photo. Or, you can choose to be notified via a weekly email digest about important friend activity you may have missed.
There are a number of settings and options on this page; browse through all of them to ensure you're seeing what you want to see and are being notified only about important activity.
Kristin Burnham covers consumer technology, social networking, social business and enterprise collaboration for CIO.com. Follow Kristin on Twitter @kmburnham. Follow everything from CIO.com on Twitter @CIOonline and on Facebook. Email Kristin at kburnham@cio.com