Facebook rolled out a new gifting service last week, just in time for the holidays. Facebook Gifts, which was in beta for a few weeks, now lets all U.S. Facebook users send a real gift to friends through the social network.
Giving a gift is simple: Navigate to your friend's profile and click the Gift button. Next, Facebook will populate the area with three gifts, or you can click "See More Gifts" for additional options.
You can search the available products by category, such as food; fun; wine; home and kitchen; beauty and body; fashion and accessories; flowers and gift baskets; baby and kids; digital; and gifts that give back, which are donations to charities.
Once you've chosen a gift you can pick out a card to accompany it. The cards are searchable based on the occasion, such as holidays, birthday, thank you, baby, get well, graduation and wedding.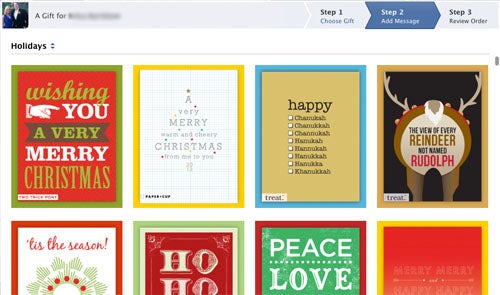 After you personalize the card, which only you and the person who's receiving it will see, Facebook will take you to the checkout page. Here, you'll review the final details of your gift, including whether you want to share the gift on your friend's timeline. You do not need to provide a shipping address; your friend will provide that information when he or she receives the notification of the gift. On the final page, you'll enter in your payment information.
Facebook Gifts: What You Need to Know
While giving a gift via Facebook is fairly easy, there are a few things you should know about privacy, shipping and exchanges.
Facebook Gift Privacy: When you send a gift on Facebook, a post is shared on your friend's timeline, which is visible by others depending on their privacy settings. Only your friend is able to see the personal message you include in the card.
You can choose not to share the gift on your friend's timeline by unchecking the "Share Gift on Timeline" option at the top of the checkout page. Your friend will still receive a private notification and email letting them know you sent a gift.
When you enter your credit card information to purchase the gift, Facebook stores it for future use. The information is kept on "a secure server with multiple layers of hardware and software protection," it says. If you don't want to have your credit card information stored, you can remove it by doing the following:
Click the account dropdown menu in the upper-right corner of any page and chose "Account Settings."
From the menu on the left, select "Payments."
Click "Payment Methods" and enter your password if prompted.
Below the card you want to remove from your account, click "Remove."
Facebook Gift Shipping: Each gift that's not an e-gift is wrapped in Facebook packaging and comes with a card. You cannot ship a gift to a P.O. box. The shipping and handling charges are based on the price of the gift and the type of gift.
Facebook says that depending on the item, gifts can take up to two weeks for delivery. Most are shipped within 24 hours and typically arrive 3 to 5 business days. Magazine subscriptions may take up to eight weeks.
After you place an order for a gift, Facebook will send you an email that lets you track the gift. You'll also be able to find tracking information in your gift order history.
Swapping a Gift: When you receive a Facebook gift, you have the option to swap it for an item of equal or lesser value. You can do this when you first preview a gift by clicking "Swap for a different gift" in the lower-left corner. Or, within 24 hours of entering your address:
Click the account dropdown menu in the upper-right corner of any page and choose "Account Settings."
From the menu on the left, select "Gifts."
Click "View Details" beside your gift.
Below the billing information, click "Swap Gift."
The person who sent you the gift will be notified that it was swapped.
Kristin Burnham covers consumer technology, social networking and enterprise collaboration for CIO.com. Follow Kristin on Twitter @kmburnham. Follow everything from CIO.com on Twitter @CIOonline and on Facebook. Email Kristin at kburnham@cio.com