Facebook announced that its rolling out a handful of changes to the social network at the end of the year. Looking to help you better manage its privacy and security settings (which have been time-consuming and confusing to use), Facebook is adding privacy shortcuts, a tool for managing multiple photos in which you're tagged and new navigation in the activity log.
Facebook Product Manager Samuel Lessin says these changes were made to give you more transparency and help you better understand who can see the things you share.
"We continue to strive toward three main goals: bringing controls in context where you share, helping you understand what appears where you use Facebook, and providing tools to help you act on content you don't like," he says.
While some of these changes—in particular the new privacy shortcut—are a step in the right direction, according to Naked Security blogger Lisa Vaas, some miss the mark.
Here's an in-depth look at Facebook's major changes and what it all means for you.
Facebook's New Privacy Shortcut
Facebook's privacy settings have never been easy to navigate. But a new privacy shortcut the social network is rolling out aims to easily direct you to answers to three common questions: Who can see my stuff? Who can contact me? How do I stop someone from bothering me?
By the end of the year, you'll see a new icon between your Home and Settings. Click the lock icon to view the drop-down menu, and select the option for the setting you want to change.
Facebook's new privacy shortcut is a positive change, Vaas says.
"Up until now, tweaking privacy and timeline controls required you to stop what you were doing and navigate through a separate set of pages. In the best of all possible worlds, the ease of access to Facebook privacy controls would increase their use," she says. "That's good. It's hard to imagine their use getting worse, at any rate."
Facebook's New App Permissions
Facebook is also tweaking the permissions you see when you install a new app. Traditionally, you were prompted to give permission to use your information to personalize your experience and to post to Facebook, all on the same screen.
Soon, these two permissions will appear in separate windows so you can better control what you share. For example, you can grant an app the capability to read your public profile and friends list to personalize your experience, but decline to allow it to post your activity on your behalf.
[How Secure Are Your Facebook Apps?]
Facebook Removes Search Setting, Adds In-Context Notices
One privacy setting that Facebook is removing is the "Who can look up my timeline by name" setting, which has controlled whether you can be found by typing your name into the Facebook search bar.
"Because of the limited nature of the setting, we removed it for people who weren't using it," Facebook's Lessin says. This setting will be removed in the coming weeks for the "small percentage of people who still have it," he says.
Rather than remove this setting, Naked Security's Vaas says it should have been fixed. "If the original setting was limited in scope and failed to do what it purported […] why not rework it so as to actually protect people's privacy and give them the right to not be found?" she says.
Facebook says in its place, the social network has built "new, contextual tools, along with education about how to use them."
These in-context notices will appear throughout Facebook to help you better understand certain actions you take.
This series of in-product messages will appear when you hide content from your timeline, for example, to inform you where, if at all, the information still appears.
Facebook's Updated Activity Log
Facebook's Activity Log, which was introduced last year, tracks what you've posted on Facebook, lets you change the audience of past posts and lets you choose what appears on your timeline.
Click to enlarge.
Facebook is updating the Activity Log with a new navigation that lets you review your comments and likes, photos of you, and posts you've been tagged in. It will also let you sort your information so you can see public photos you're tagged in and have hidden from your timeline, but which still appear on Facebook.
Facebook's 'Request and Removal' Tool
Within Facebook's updated Activity Log is a "Request and Removal" tool that lets you take action on multiple photos you've been tagged in. For example, you can ask people who posted them to remove them.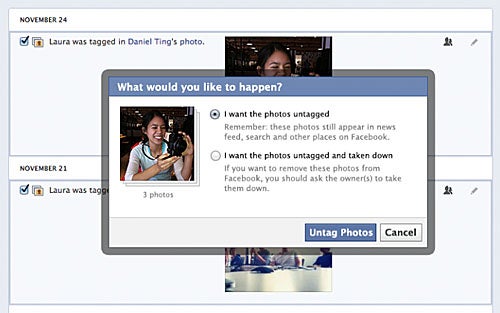 You can find this tool—once it rolls out to you—by clicking on the "Photos of You" tab, selecting multiple photos and then choosing the option you prefer: untagging all the photos or requesting that the photos be removed. You also have the option to include a message to the person who posted the photos.
Naked Security's Vaas says this change, while a step in the right direction, misses the mark:
"Rather than having to slog through a continual process of requesting that people untag them in photos, and that they please leave off the habit entirely in the future, and rather than simply blocking tagged photos from appearing on their timelines, many Facebook users want to simply block anyone from tagging them without having received express prior permission to do so," she says. "Unfortunately, Facebook has failed to give us this blanket tag-blocking ability in these recent privacy changes."
Kristin Burnham covers consumer technology, social networking and enterprise collaboration for CIO.com. Follow Kristin on Twitter @kmburnham. Follow everything from CIO.com on Twitter @CIOonline and on Facebook. Email Kristin at kburnham@cio.com