**Update: Twitter confirmed on Sunday that Instagram has disabled photo integration with Twitter. As a result, photos are no longer appearing in Tweets or user photo galleries.**
The battle of the photo-sharing sites is heating up: Earlier this week, Instagram revoked Twitter's capability to properly display its photos on the social networking and microblogging website and in its applications.
Twitter addressed the issue on Wednesday, issuing the following statement:
"Users are experiencing issues with viewing Instagram photos on Twitter. Issues include cropped images. This is due to Instagram disabling its Twitter cards integration, and as a result, photos are being displayed using a pre-cards experience. So, when users click on Tweets with an Instagram link, photos appear cropped."
Before the change on Wednesday, you could view Instagram photos by clicking on a "View Photo" link on Twitter's site, which would open the image on the same page. Now, clicking the image link takes you off Twitter's website or app and to the Instagram website, where you can view the photo.
Instagram's CEO, Kevin Systrom, spoke at the LeWeb tech conference in Paris this week where he defended the company's decision to part ways with Twitter.
"We've decided that right now, what makes sense is to direct our users to the Instagram website," he says.
Luckily, there are a few—albeit inconvenient—workarounds if you want your Twitter followers to view Instagram handiwork within the website or application. Here's a look.
Tips to View Instagram Photos on Twitter
Open the Instagram app in your mobile device and navigate to your profile page. Then, click the gear icon to open the Settings page. Scroll to the bottom where it says "Save to Library" and make sure the "Filtered Photos" option is clicked on.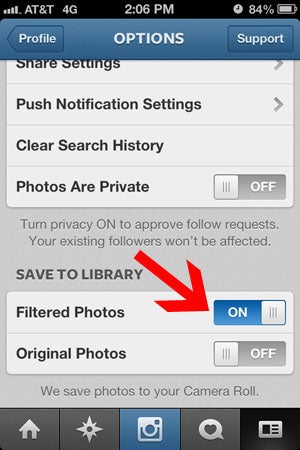 This will save your Instagram photos to your Camera Roll. From there you can upload them to Twitter for your followers to view unaltered.
Your second option requires a little more work.
Instagram still allows you to embed your photo on Flickr, Foursquare and Tumblr. If you want to share your pictures there, go to the application and reshare the picture directly to Twitter.
Kristin Burnham covers consumer technology, social networking and enterprise collaboration for CIO.com. Follow Kristin on Twitter @kmburnham. Follow everything from CIO.com on Twitter @CIOonline and on Facebook. Email Kristin at kburnham@cio.com