The three classic places to work are typically a dedicated office, home office or a coffee shop. All involve tradeoffs: The office has its set of interruptions, home can be lonely (and, for some workers, unproductive) and coffee shops offer the appearance of a social atmosphere without the practice of actually getting work done.
Today, however, companies are exploring a new strategy called coworking. Let's explore what that means and see if it's something you might want to try.
With coworking, a collection of individuals from different companies share a large space that generally offers an open workspace plan, Internet access and power.
Most people doing coworking are knowledge-workers—the programmers, designers, writers and testers who can work with a laptop just about anywhere. Because they are working in similar domains, coworkers can bounce ideas off each other, trade expertise requests, network and even form virtual project teams to solve one-week, one-day or one-hour projects.
Analysis: For Tech Staffers, Working Remotely Requires More Than Wi-Fi and a Desk
"When people work together, they bump into each other, they ask questions," says Aaron Schaap, founder of The Factory, a coworking space in West Michigan. "From that idea, what we really sell is not space, but serendipity. You happen to get a desk, but the amount of people you bump into is surprising and unplanned."
To learn more, I picked up my laptop and cell phone and tried working out of The Factory for a few days.
Enter The Factory: A Place to Work—and Join a Community
Located on the fourth floor of Grand Rapids' downtown Leonard Building (also known as the San Chez Building due to the success of the San Chez Bistro), The Factory has 5,000 square feet of open-plan office space. This includes two conference rooms, a meeting room, community space for eating and meeting, and plenty of desks and desk areas. After opening an expansion in 2011, the factory grew from 12 regular members to 55.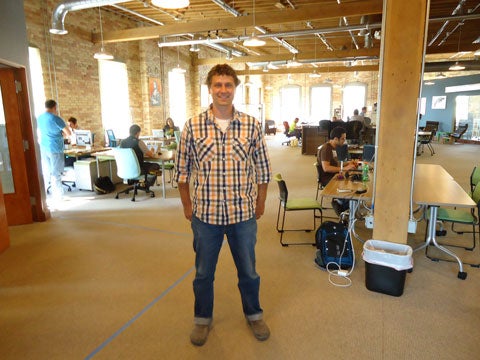 Membership has different levels. A day pass is $20, or you can get a 10-visit "punch card" for $150. Two visits a week is $75 per month. For $150 per month, you can work out of it every day of the week; for $275, you get a mailbox, your own desk, first priority for booking conference rooms and a key in case you plan to come in early or stay late.
Schaap explains that the goal is not to sell desk space or accommodations but, rather, to recruit people who want to belong to a community. "We have community lunches on Wednesday. We have a community mailing list. Or you might just bump into someone at coffee and have a good conversation," he says. To keep the community active, The Factory offers use of its space at night to groups such as the Grand Rapids Web Developers Group, StartUpWeekend and even CodeForAmerica.
The people who want to put their heads down, get work done and eschew the community setting, Schaap adds, "tend to come in, not talk to anyone and eventually fade away. We don't have to say anything to them. They recognize it is not a great fit."
I sit down at a shared a spot next to two programmers: Andrew Heckman and Dave Brondsma.
Heckman had been working for a local nonprofit that puts on conferences; at one of those events, he was introduced to HMC Healthworks, his current employer. The only issue: HMC is in Florida, and he's in West Michigan.
Heckman worked from home for three months, but it did not suit him—the difference between personal time and work time was too unclear, the routine was too different (he grew a very long beard), and the social life was nonexistent. So Heckman sought out the factory and quickly moved from a part-time to a full-time member.
"The immediate benefit is just talking to other people. I've learned a lot about dynamic memory in Python from [Brondsma, and] I also bounce ideas off of Jay Job," he says. "It can be something as simple as, 'What do you think of this design approach?' I can immediately get someone else's opinion, someone from a different background. You just can't get that if you are the only programmer at a small company." His company seems to agree—HMC pays Heckman's Factory membership as an employee benefit.
How-To: Meeting Security, Productivity Challenges That Come With Remote Workers
"Compare the price of a space at The Factory with renting professional office space, keeping it heated and furnished, with electricity and janitorial services, and you'll find that a coworking space is a great deal for any company," says Brondsma, who works in the SourceForge division at Geeknet, which also owns Slashdot and a slew of other internet properties.
Geeknet is organized as a virtual workforce with an office in Ann Arbor, and Brondsma occasionally makes the two-hour drive for face-to-face meetings. He also used to meet a coworker at The Factory once a week and, even though he has since transferred to a different team, he and Brondsma still get together every once in a while. "Mostly I'm here for the socialization, the sense of community," Brondsma says.
That said, it isn't all social. Annie Klooster, the Factory's operations manager, tells me workers use headphones as a sort of social signal—anyone wearing headphones is busy and not open to questions or conversation. (The Factory does have work spaces dedicated to heads-down, don't-bother-me work.) An earbud in one ear means quick questions, but only quick questions, are fine. Klooster adds that, yes, people do wear headphones without actually listening to anything.
How to Find a Coworking Space Near You
Besides The Factory, West Michigan has a few other coworking facilities. Both The Cottage and Regus have desks for rent. Regus tends to focus on virtual offices and meeting spaces as opposed to establishing a community, while the Cottage falls somewhere in the middle.
Two tools for finding coworking spaces near you include Desksnear.me and CoworkingRegistry.org. Desksnear.me is tied directly to Google Maps—type in your location and push-pins will suggest places where you might want to work—but is unfortunately sparsely populated. For now, if both tools fail, you can always try a Google search for "Coworking (city),(state/province)."
While the movement is not universal, there are multiple coworking spaces in every major U.S. city; Grand Rapids, with a city population of only 188,000 and an extended metropolitan area of around 700,000, has three or four facilities.
Three or four? There's one more story to tell.
FoodCircles: From Coworking Tenant to Landlord
As I put the final touches on the research for this article, my phone rings; it's Jonathan Kumar, who I met at The Factory the previous week. At the time, he was in a state of incredible haste; his company had just outgrown The Factory and purchased its own office space a few blocks north.
Kumar's company, FoodCircles, is in the customer acquisition business. Instead of charging to offer a coupon, though, FoodCircles sells social good. Customers who use Kumar's application see a list of restaurants that provide a dessert or appetizer for free; in return, customers make a donation large enough to provide a meal for a local soup kitchen or an African-based charity.
When FoodCircles started, the company could not afford The Factory's monthly fee, so Schaap accepted FoodCircles at the price of doing the dishes, taking out the trash and acting as the janitors. Kumar says using the space allowed his small firm to meet people it would not have met at home or a coffee shop. "We often stayed into the evenings, and there were a lot of events, so we got to meet designers and programmers," he says. "We even participated in a startup weekend event. It was a great location for us."
The space also provided a sense of reality to the business. Before it had a significant presence, when FoodCircles was just two guys with a dream, "The Factory provided us an amazing place to take our clients," Kumar says. "We didn't have to ask them to meet at Starbucks, or my house. Instead we could meet at this posh space in the heart of downtown, in the fourth floor of the San Chez Building."
Kumar did worry that FoodCircles may have imposed a bit on The Factory's other tenants. "We were the youngest people in the space and the only startup in customer validation mode. Most of the other people were more established, doing corporate software development. We were constantly asking for feedback, asking people to use our application in beta," he says. "At one point, we withdrew a bit."
Today, though, thanks to increased sales and some investment, the company has grown enough to rent its own space. Kumar calls it Detention Studios—employees use second-hand desks reminiscent of a high-school classroom—and, along with renting room to expand, FoodCircles has empty desks to "pay it forward" by letting others rent desks at community prices. So far, two solo professionals and a reporter from the local television station have taken advantage of the offer.
Kumar ends our conversation with an offer: The next time I am in town, he says, I should swing by and work out of the studio.
Perhaps I will. I wonder if I can earn my keep by doing the dishes and taking out the trash?
Matthew Heusser is a consultant and writer based in West Michigan. You can follow Matt on Twitter @mheusser, contact him by email or visit the website of his company, Excelon Development. Follow everything from CIO.com on Twitter @CIOonline, on Facebook, and on Google +.