There are nearly 17 million independent workers in the U.S., according to a recent MBO Partners study. This number is expected to grow to a whopping 50 percent of the U.S. workforce by 2020, according to the study. The likely culprit has been the poor economy but OnForce's findings challenge that notion. (MBO Partners helps IT professionals develop careers as independent consultants. OnForce specializes in providing technology talent.)
OnForce surveyed more than 500 independent contractors and found that 60 percent of respondents joined the independent workforce willingly. "These findings highlight the changing workforce dynamic in field service brought about by the volatile global economy," Sumair Dutta, vice president and principal analyst of service management at Aberdeen, says.
More surprisingly, 56 percent of those surveyed said they wouldn't go back to work for an employer even if they were offered comparable salary and benefits.
OnForce Survey of 500 IT independent Works Breakdown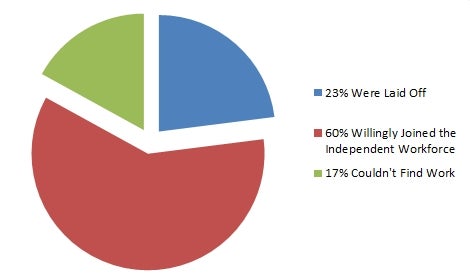 According to OnForce, the reason is the changing relationship between employers and employees. "Healthcare coverage is one of the biggest incentives for having an employer, but a recent study by consulting firm Deloitte found that nine percent of employers plan to drop healthcare coverage when the new laws kick in (Affordable Care Act (ACA) )," says Peter Cannone, CEO of OnForce.
"Scaled back benefits, coupled with a natural desire for autonomy, authority and increased flexibility is weakening the employer-employee relationship–resulting in an increasingly independent workforce," Cannone says.
Related Story: 7 Things to Consider When Hiring an IT Consultant
With the IT unemployment rate hovering around 3.3 percent for Q3 2012, companies are having a hard time finding people with the special mix of skills they find necessary, according to OnForce. This is causing companies to use IT contractors more heavily, enabling companies to get the specialized talent they need to keep things moving forward without having to wait for the perfect candidate.
Rich Hein is a senior writer for CIO.com. He covers IT careers. Follow everything from CIO.com on Twitter @CIOonline, on Facebook, and on Google +.