Samsung this morning announced that it sold more than five million Galaxy Note II devices globally in the first two months since its launch. That's a whole bunch of smartphones…or mini tablets…nay, "phablets" – and a lot of new Samsung Galaxy Note 2 owners.
I've been using the Galaxy Note II for a couple of weeks now, and I spent that time really digging into its Android 4.1 "Jelly Bean" OS, seeking the coolest, most valuable and unique Galaxy Note II tips and tricks to help get the most out of the new device. Check out the following list of Galaxy Note II-specific features, tweaks, customizations, tips and tricks, and you'll master your new Note II in no time. (Also read my Samsung Galaxy S III tips and tricks post for additional features that the two devices share.)
Samsung Galaxy Note II Enhanced S PEN Features.
One of the most unique things about the Galaxy Note II, besides its massive 5.5-inch display, is its "S Pen" stylus, which lets you draw on screen, create handwritten notes, sign documents and more. The S Pen isn't new; the original Galaxy Note also had a similar stylus. But the Note II has a number of new and enhanced S Pen features. Here's a quick breakdown of the most notable ones.
1) Personalized Email Signature. Whenever you compose a new email message using the native Android email app, you can sign the bottom of your message with a signature, symbol, drawing or other doodle to personalize your messages. You just compose a message as you normally would, tap the S Pen button on the stylus and then draw within the message body.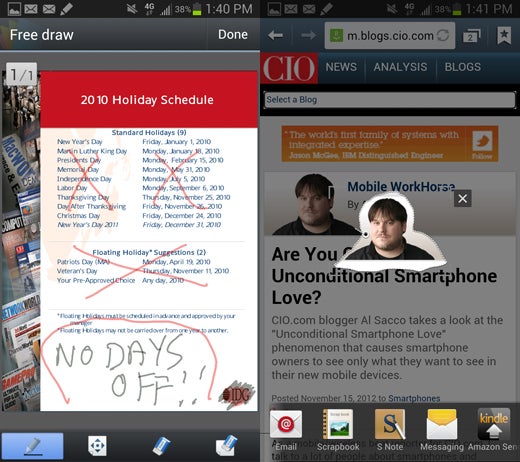 2) Hand-Written Notes on PowerPoint presentations. Using the S Pen and the pre-installed Polaris Office app, you can write notes and annotations on PowerPoint presentations. After you open up a presentation file, hit the + button at the top of the screen and then choose "Free Draw." You can draw all over the presentation, save your changes and then resend it with all notes intact.
3) Clipping Images with Galaxy Note II S Pen. The Galaxy Note II's S Pen can be used to outline and clip images from anywhere on screen or in any application. You simply hold down the S Pen button to activate the cropping tool, circle or outline whatever it is you want to crop and then close the "lasso" to confirm the shape. Your clipped image appears on screen, along with a number of application icons that can be used to send the image to a specific app. If you do not click an icon, your clipping automatically saves to the clipboard.
4) Galaxy Note II, S Pen and Airview. Airview is a new feature that lets Galaxy Note II users preview multimedia files, email and more just by hovering the S Pen over a photo, video clip or message. You can preview the first few lines of a new email message in the native Android mail app by holding the S Pen above the message on screen, at up to one centimeter away from the display. You can preview photo albums saved locally to the device by hovering over an unopened album. And the S Pen can be used to quickly scan through video clips to find and navigate to specific locations by hovering over the video's timeline.
Galaxy Note II Camera and Gallery Features
Thanks to its glorious Super AMOLED display and eight-megapixel camera, the Samsung Galaxy Note II is a multimedia powerhouse. It also has a number of its own unique new camera and image-gallery features.
1) Quickly and Easily Organize Photo Galleries. Creating and organizing photo albums in the Note II's gallery is easy and intuitive. To move existing images to a new album, just open up your image Gallery, navigate to and open the folder with the images you want to move and tap the new folder button with the + sign. You're then prompted to name the new album. After you create a new album, you select all of the images you want to move by checking boxes in their upper-left corners. And you can move them all at once by dragging one of the checked images into the new folder and tapping the Save button.
2) View Photo Albums in Grid, Timeline and Spiral Modes. The Galaxy Note II lets you view photo albums in three different modes: the standard Grid mode; a new Timeline mode, which displays your images in a cascading timeline; and the new Spiral view, which displays your images in a rotating spiral. To switch between gallery-view modes, just open your picture Gallery and tap the View button in the upper right corner of your gallery screen.
3) Tag Photos with Text. You can write notes on the "back" of your digital images using the Galaxy Note II's S Pen tool. Just open up an image that's saved on your device and tap the Menu button. Choose the "Draw on Image" option, and the image flips around to reveal a blank surface that can be used to write notes on. Print whatever information you want to include with the photo. (You can change the style and color of the writing instrument) and then hit the Done button to save your notes, which are then tied to that image. Images with notes have a note icon in their upper-right corners.
4) Best Shot, Best Faces and Slow Motion/Fast Video Recording. The Galaxy Note II has a number of brand new camera and video features that build on features in other Samsung phones, including the popular Samsung Galaxy S III. The GSIII's Best Shot features, which takes a number of rapid-fire images and then helps you pick the best one, now has a menu option of its own. Just open up your Note II camera, tap the Shooting Mode menu button at the center top of your display and choose Best Shot.
A new Best Face feature also takes a rapid sequence of images, but it's designed to help you get the best pictures of groups, by letting you scroll through the various images and choose the best facial expressions for each person and then combine them into one photo. The Best Face feature is also accessed via the camera's Shooting Mode menu.
And the Note II has new Slow Motion and Fast Motion video-recording features. To activate either feature, open your Note II camera, switch to video mode by sliding the camera button into the video position, tap the Recording Mode menu at the top of the display and choose Slow Motion or Fast Motion.
Samsung Galaxy Note II Sharing
1) Galaxy Note II and S Beam. Samsung Galaxy Note II users can employ the device's S Beam technology to tap two compatible Samsung devices together and instantly share photos, videos, documents and more using Near Field Communications (NFC) technologies.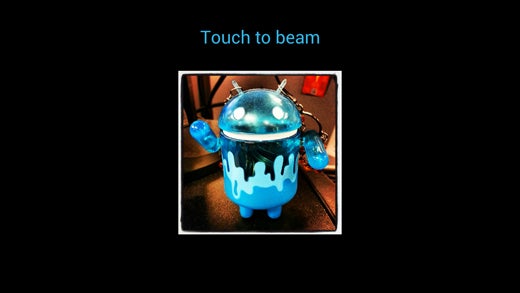 Just enable NFC in your device Settings by clicking the Wireless and Network menu and then choosing More settings. Next, navigate to the image, Web page or note you want to share, and tap your device against the device you want to receive the file. (The receiving device must also support S Beam, and NFC must be activated.) Confirm the transfer by clicking the on-screen confirmation, and you're good to go.
2) Galaxy Note II and Share Shot. A Share Shot feature lets you quickly create lists of people to whom you want to send images; so you could, for example, take pictures during a camping trip and then easily distribute the entire set to everyone who camped out (as long as all those people have compatible, Android-based Samsung phones).
To enable Share Shot, open your Camera and select Share Shot from the Shooting Mode menu, turn on Wi-Fi Direct and then pick the device you want to share with from the detected devices. A multi-connect option lets you share with multiple users at once. Accept the on-screen sharing request, and all images taken will be saved in participants' camera galleries.
AS
Al Sacco covers Mobile and Wireless for CIO.com. Follow Al on Twitter @MobileWorkHorse. Follow everything from CIO.com on Twitter @CIOonline and on Facebook. Email Al at asacco@cio.com