Ask anyone in IT about technology trends and you might get a sideways glance. After all, what seems like a novel idea—Google Wave, anyone?—can sometime die on the vine. Few of us are ready to proclaim whether Windows 8 is a raging success or another iterative release.
However, over the past year, a few trends did emerge. Some, such as 3-D printing, took a while to germinate in the basements of arm-chair engineers. Some popped out of nowhere and took the world by storm. These trends all dominated headlines—and, in some case, even changed how we do business and manage the world of IT.
1. Big Data Takes Center Stage
Analyzing reams of data is not a new trend. Massive government labs in northern California and Chicago have sequenced genomes and analyzed nuclear fusion models for decades. What's new is how big data has gone mainstream. Tools such as Google Analytics make it easy for IT admins to analyze the flow of site visits to a company domain, even when there are millions of hits.
How-To: Big Data Analytics Today Lets Businesses Play Moneyball
Year in Review: Top 12 Big Data Stories of 2012
An ancillary trend: infographics that help explain massive data sets also became popular, if not a bit overused. Colorful charts, expanding onto multiple pages, helped take big data findings and made them comprehendible.
2. Online Training Now Crowdsourced
Corporate training rarely makes sudden lurches forward. For most large companies, online courses to help employees learn a new CRM app or accounting process are now commonplace. What changed in 2012 has to do with the folks creating the content. Sites such as Udemy and Udacity are crowd-sourced training portals where experts can post a training seminar. When the CEO of Yahoo posts a training course to understand how product development works, you know there's a trend.
3. Near-Field Communication Fills a Need
NFC first appeared in phones late last year, but the concept took several months to catch on. Now, you see it everywhere: Samsung shows two phones bumping together to exchange a playlist in its commercials. Many new models from Google and Samsung support the technology, which requires a slight contact to exchange a small amount of data. Moo.com recently started offering a business card with an NFC chip, and Samsung TecTile tabs make it easy to connect to a Wi-Fi network.
Feature:NFC Not Just for Mobile Payments: Six Future Uses News: NFC Use Growing Outside Smartphones
The main advantage: Bluetooth is too hard to configure for many, and the immediate data exchange of NFC means people are more likely to use the technology on a whim.
4. Long-Range Biometrics
Biometric security, for example, uses a fingerprint or iris scan to grant security access. For the past 10 years, the idea has grown, but few of us use the technology on a daily basis. That could change with long-range scanners such as those made by IDair AIRprint, which captures fingerprints at 500 pixels per inch but does so from about three feet away. That means much more flexibility in how a building security checkpoint works—and much faster processing time. The AIRprint has another advantage: while the reader sits about three feet away, processing can occur anywhere over Wi-Fi.
5. Super High-Resolution Displays
The Samsung Series 9 monitor is an example of a brilliantly crisp, colorful, and super high-resolution monitor, which runs at 2560 x 1440 resolution, makes photos pop and Word documents look like they were a printed page sitting in front of you. This past year, Apple jumped on the bandwagon as well, with so-called Retina displays on the MacBook Pro laptop and the new iPad. With an increase in resolution, employees can keep a Skype video screen in one corner, a Web browser to the side and another business app on the same screen, all without any loss of fidelity or workspace cramping.
6. Bring Your Own Device (BYOD)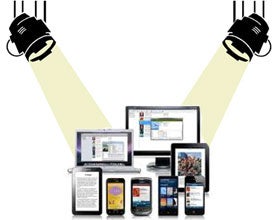 You might call this a troubling development, but the reality for most enterprises these days is that employees are bringing their consumer devices to work and using them for work. This can include mainstream devices such as the Amazon Kindle Fire HD, which is mostly intended for reading books and watching movies but has a lightning fast Web browser that works perfectly fine for corporate Webmail.
Analysis: IT, Employees See BYOD Security (Much) Differently
How-To: For BYOD Best Practices, Secure Data, Not Devices
Most IT executives have responded in kind, using services such as the Cisco Systems BYOD Smart Solution to control how employees can use device son corporate networks without restricting them entirely.
7. 3-D Printing
Rapid prototyping has helped large companies for the past decade. When General Motors needs a new part for an electric car prototype, it spins one in its own prototyping lab. Now, though, 3-D printing is now a viable option for companies of any size. For example, the MakerBot Replicator costs $1,749 but can easily generate a part for a new bicycle or a protective smartphone case. Another barrier to entry smashed this year: You don't need a degree in engineering or 3-D design skills. You can download part designs from Thingiverse.com in the morning and start printing by the afternoon.
John Brandon is a former IT manager at a Fortune 100 company who now writes about technology. He has written more than 2,500 articles in the past 10 years. You can follow him on Twitter @jmbrandonbb. Follow everything from CIO.com on Twitter @CIOonline, on Facebook, and on Google +.