As Americans head to the polls today to cast their vote in the 2012 presidential election, Facebook hopes it will be the go-to site for up-to-date news and results coverage.
If you're of voting age, Facebook will show you a reminder that it's election day at the top of your news feed when you log in. You'll be prompted to mark whether you've voted, and that action will be broadcast to your Facebook friends on both Web and mobile versions of the site.
Beyond its efforts to encourage you to vote, Facebook has partnered with and is promoting a handful of apps and pages to ensure you're up-to-date on the latest news. Here's a look at how you can use Facebook for Election Day coverage.
The U.S. Politics on Facebook page aggregates the use of Facebook by politicians, elected officials and political campaigns. You'll also see a number of reshared Facebook posts from sites such as C-SPAN, as well as Mitt Romney, President Barack Obama and other well-known figureheads and celebrities.
In addition to aggregating posts from others, the U.S. Politics on Facebook page also posts Facebook-specific election stats, such as the top trending terms on the social network in the U.S.
Lastly, the U.S. Politics on Facebook page includes an app that helps you find your polling location by entering in your address.
This summer, Facebook and CNN announced a partnership to create an app that lets Facebook users declare that they're voting and broadcast what issues are important to them.
In addition to sharing your support of a candidate on your Timeline, which is optional, you can browse and answer a series of questions on the candidates ranging from, "Who has the most compelling vision for America's Future" to "Has Superstorm Sandy changed your preference in presidential candidates?" Other question topics include the economy, immigration, health care, foreign policy, social issues, gun control and more.
Still undecided about who to vote for? Before you head to the polls, check out the iSideWith.com Facebook app, which shows you which presidential candidate you side with based on the political issues that you say are the most important to you.
After you give the app permission to access your profile, you'll answer a number of multiple choice questions and select how important each issue is. The app will then match your answers to the candidates and display which issues you agree or disagree on.
The app also lets you share, compare and discuss your results with your Facebook friends.
Follow President Barack Obama's Facebook page for the latest information and campaign photos. You can also donate to President Obama's campaign from within Facebook, visit his store for Obama gear such as bumper stickers, buttons and coffee mugs, and commit to vote for the President.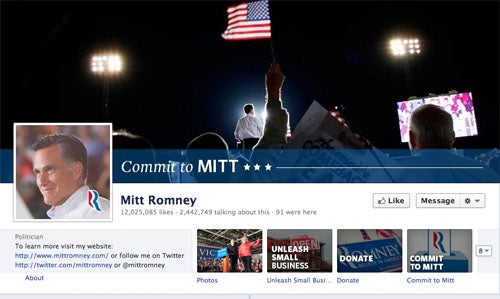 In addition to news and photos, you can also donate to support Mitt Romney's campaign from Facebook, "Commit to Mitt" to vote for him, purchase Romney-branded gear and upload a photo of yourself supporting Romney for president. There's also a petition you can sign supporting small businesses and job creation.
Kristin Burnham covers consumer technology, social networking and enterprise collaboration for CIO.com. Follow Kristin on Twitter @kmburnham. Follow everything from CIO.com on Twitter @CIOonline and on Facebook. Email Kristin at kburnham@cio.com