When's the best time to tweet? How can you find more relevant people to follow? Want to track your tweets and retweets?
While Twitter.com is a good place to start and dashboards such as Hootsuite and TweetDeck help you organize your stream, to get the most from Twitter you need to look outside the box.
Here are 10 Twitter tools—some mainstays and some newcomers—that will give you greater insight into your network, find new people to connect with and more.
Followerwonk is a free Twitter analytics tool that helps you find, analyze and optimize your account for social growth. The tool has five features: search Twitter bios, compare users, analyze followers, track followers and sort followers.
"SearchTwitter bios" lets you target potential customers or new people to follow by keyword. You can sort the results page by the user's influence, number of tweets, how many people they follow and how many people follow them, and how new they are to Twitter. You can also follow them directly from the results page.
"Compare users" lets you compare your social graph with to up to three other Twitter users, highlighting statistics such as common followers, influence, average number of followers per day and how often they tweet.
"Analyze followers" helps you find out who in your network is the most influential, whos dormant and the popular locations of your followers and more.
"Track followers" gives you statistics on who has followed you, changes to your social graph; and lastly "Sort followers" lets you categorize who follows you by name, days on twitter, tweet count and more.
Tweriod is a Twitter tool that determines the best time of day to tweet. After signing in with your Twitter account, the toll will sample up to 1,000 of your followers and generate a report.
When your report is ready, Tweriod notifies you via email or direct message. The more followers you have, the longer it may take to generate the report.
Your report will show you the times of days and days of the week when you'll have the most exposure. You'll also find information on when most of your followers are online, which you can also sort by days of the week.
For more robust statistics, Tweriod offers a "Premium Analysis," which ranges from $3.99/month to $15/month, or from $5 to $20 on an ad-hoc basis, depending on how many followers you have.
Looking for a more visual representation of your Twitter activity? Tweetsheet is a free tool that takes highlights from your Twitter account—such as your top followers, geographic impact and most retweeted posts—and turns it into an infographic.
The infographic also displays your number of tweets and retweets each month for 12 months (depicted by the bar graph). This tool bases its information on the last 3,200 tweets from your account.
Twitonomy is a Twitter analytics tool and dashboard currently in beta.
The analytics features of Twitonomy track your average tweets per day, the number of links you tweet, the percentage of your tweets that are retweeted, the users you retweet most often, the users you reply to most, your top hashtags and more.
In addition to analytics, Twitonomy also features a customizable dashboard that displays your stream of tweets and the latest tweets from those you follow. You can also add modules based on a keyword search, list or user.
TwileShare is a free service that lets you upload and share files on Twitter—images, documents, PDFs, ebooks and more.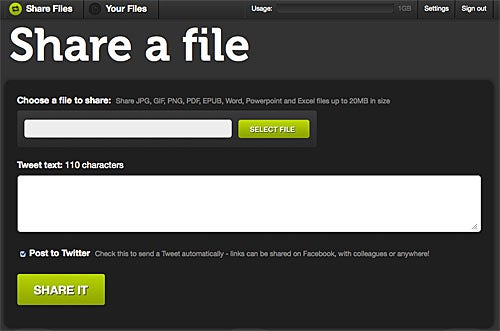 TwileShare gives you 1GB of storage and lets you view statistics on how many people have viewed your file. To upload a file, visit the website and allow it access to your Twitter account. Select the file you want to upload and share, create a message to accompany it, then click "Share It."
Ever wonder how many of your Twitter followers are actually spam accounts? Twitblock, a free tool, scans your account for such followers, and lets you decide whether an account is spam, lets you block the account or report it.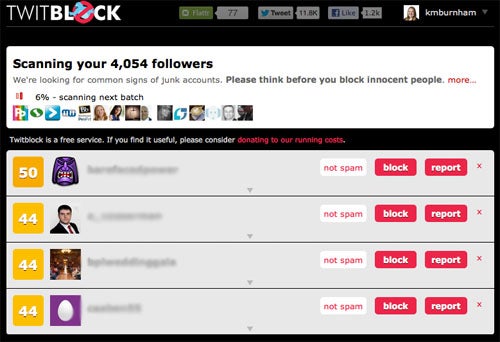 Depending on how many followers you have, the complete scan could take a while to complete.
Twilert is a free web app that sends you regular email updates with tweets containing your brand, product, service or any other keyword. Think of it as Google Alerts for Twitter.
To start, connect your account and enter your email address. Then, select your time zone and enter a search term and frequency into the designated fields. For more robust options, choose the "Advanced Search" option, where you can designate certain users, location and sentiment of the tweet. You can add or remove alerts at any time.
If you're often overwhelmed by the volume of tweets in your stream—or are worried about missing something important—browser add-on Slipstream helps you deal with that. Slipstream is available only for Chrome and Safari browsers.

Once you install the add-on, visit Twitter.com. Find a tweet you want to remove, click "Hide," then tweak the settings in the box that pops up. You'll be asked if you want to hide tweets from a specific user or about a certain topic. When you're done adjusting the settings, click "Hide those tweets."
If you're looking for new followers—or want to be found more easily—Twellow, or the Yellow Book for Twitter, lets you do both.
Twellow is a robust directory of who's who on Twitter. You can search by category, such as "Society & Culture" or "Computers & Technology," or enter in a search term.
You can also choose to be listed in its directory. Twellow will pull your Twitter bio and show how you rank in a number of categories it believes you are knowledgeable about.
Twitter Counter is a free tool that tracks your Twitter follower stats: from the number of followers you have and how that number has grown over a period of time, to predictions on how many followers you'll have in the future. You can also compare your growth to other's Twitter accounts.
Twitter Counter also offers a paid version, which gives you insights into how many people have mentioned you, how many retweets you've had and more. The premium version ranges from $17/month to $150/month.
Kristin Burnham covers consumer technology, social networking and enterprise collaboration for CIO.com. Follow Kristin on Twitter @kmburnham. Follow everything from CIO.com on Twitter @CIOonline and on Facebook. Email Kristin at kburnham@cio.com