There are three primary ways to build an online business. One option is to use a website that shows off your products and services. Another possibility is to create an online catalog of products that you sell. The third way is to build a website that sells only one product or service up front. This article looks at this third option in the context of an Internet marketing business site that uses features such as squeeze pages, sales pages, autoresponders and payment processors.
How-To: Beyond Templates: Building a Better Business Website
Contrary to what many people might think, the purpose of building an online business isn't just to sell a product. The long-term purpose is to build a customer list that will lead to multiple sales.
According to Maria Veloso, author of Web Copy That Sells, if you concentrate only on making one sale, you've left as much as 90 percent of the potential income from the lifetime of that customer on the table. This is why you need to build a list.
List building is the heart of all your marketing efforts. This is how you keep in contact with your clients. It's also a way to market other products and services.
Get the Tools and Programs You Need
First, let's take a look at the applications, services and expertise that you'll need to get your site up and running.
To get started, you'll need a hosting account and the capability to build Web pages. Until recently, I built all my sites, including Corel Photo-Paint X4 Insider and Speed Up My Computer Now, from scratch. While this method offers a lot of control, it's also time-consuming—and, unless you are trained in graphic design, you'll need to hire a graphic designer as well.
Recently, I learned of an alternative—a professional template known as OptimizePress that functions with the WordPress Content Management System.
There are several advantages to using OptimizePress:
It offers a professional appearance and uniform design.
It uses shortcodes, which are linked to graphical elements. These speed up your development timeline.
It can function as a sales funnel as well as a blog.
It can integrate with third-party products such as a membership site.
As for hosting, I currently use GoDaddy—but if I was to start over, I'd use a service such as HostGator, which makes it easy to make regular database backups through its Control Panel. This is an essential security measure. While WordPress is a popular CMS, it also needs to be secured against hackers. Making regular database backups on a weekly basis will protect your valuable data.
Note that when you sign up for a hosting service such as GoDaddy or HostGator, WordPress is available as an installation option. This saves you from having to install it manually.
Next, it's time to get an autoresponder. There are several available; over the years I have used offerings from AWeber and iContact. For this project, I'm using iContact. In the past, I've asked for a customer's name and email address, though I've found recently that people are more likely to sign up if only an email address is required. (Where to use the autoresponder is discussed below.)
Finally, you'll need a payment processor. I've used two main methods of payment processing over the years. One is ClickBank. This service lets you build an affiliate system. In other words, you can recruit people to sell your products, offering a commission of up to 75 percent, and maximize your sales efforts in the process.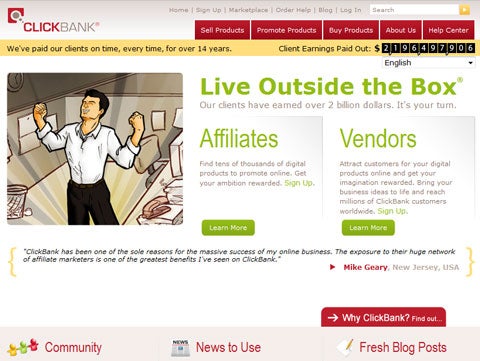 The other approach is PayPal, which is a better choice if you intend to be the only person selling your products; the fees will be lower as well. (Other options include ClickSure or SafeCharge.)
Process Payments, Build Lists at the Same Time
Now that all these components in place, you can start building the site and your list. In the world of Internet marketing, there are two main approaches: One is to create a free digital report—such as a report, video or audio file—with the objective of obtaining the prospect's email address for your marketing list. The other is to sell a product from a sales page.
Marketers regularly test these methods, and the more common approach these days is to give away a free product in exchange for an email address. Digital products are also easy to work with—they can be uploaded using a compression utility such as WinZip, plus they offer low overhead, fast shipping and no issues about returns.
How-To: Make Video Marketing Work for Your Business
A squeeze page is one of the best ways to present a digital product to a customer. Such a page typically includes an attention-grabbing headline, bullet points that list the benefits of a product or service and a call to action at the bottom. You can add video as well. In exchange for this free content, potential customers enter their email address into a submission form.
One point to consider here is whether to use a single or double email opt-in approach. If you use an autoresponder with a single opt-in option, a prospect is subscribed to your list as soon as he or she fills out the form. If you use the double opt-in email approach, on the other hand, the prospect must first fill out the form and then click on the link in a subsequent conformation email in order to sign up for your list.
While the double opt-in approach does cut down on spam, you may lose potential customers who neglect to click on the confirmation link. The single opt-in method eliminates that problem, and it could increase your signup rate, but it does leave you vulnerable to email spam and higher bounce rates. Whichever approach you use, make sure people know they can unsubscribe at any time, and include instructions at the bottom of each email message.
After a customer signs up for your free product, he's redirected to the sales page and is now on your "prospect" email list.
When a customer pays for something, on the other hand, you want to be able to add him to a paid customer email list. This process is a bit different than adding someone to the prospect list, and it will vary depending on which payment processor you use.
Analysis: 10 Open Source Shopping Carts to Run Your Ecommerce Business
When it comes time to place the order, use one of the payment processors mentioned above—or, if you have an established business, you can use your existing merchant account. After the customer places his order, redirect him to a Thank You page that gives him a receipt and any download information.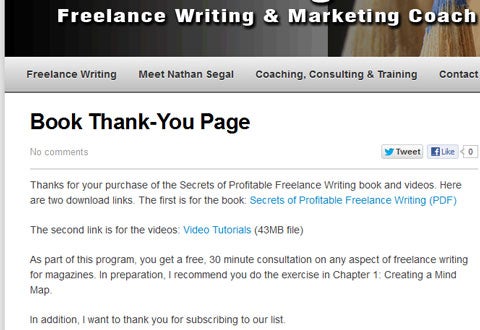 When you set up an account with ClickBank, this is the required procedure. This is all well and good, but there is one flaw to the process—you won't be able to capture the customer information for your paid email list. This is crucial for your ongoing marketing efforts, after all.
Here's how to get around the problem. After the customer has completed his purchase, set up a redirect to another signup page that looks like the screenshot below.
After the customer fills in this information, he will then go to the Thank You page and receive an email confirmation of the signup, along with order and download information. Admittedly, this creates a redundant system for making sure that customers get what they paid for. Sometimes, though, they miss these steps and you'll otherwise have to fix the problem on the back end. Using this approach gives customers two methods of obtaining order information.
Profits From Your Lists With Affiliate Programs
Once the sales process is complete, you'll have customer information on two email lists—one for prospects, the other for paid clients. This allows you to target your promotions accordingly.
At this point, I recommend that you look into affiliate programs, which allow you to sell other products and services to your customers and give you a commission for each sale. Places to learn more about affiliate marketing and find lists of businesses offering affiliate programs include AssociatePrograms.com, Commission Junction and Linkshare.
Now that you've had an introduction to Internet marketing, future articles will look at building a sales process with OptimizePress, integrating autoresponders with squeeze and sales pages, using PayPal and ClickBank and increasing revenue with affiliate programs.
Nathan Segal has been working as a freelance writer, photographer and artist for 14 years. He is based in British Columbia, Canada. Reach him via email or visit his website. Follow everything from CIO.com on Twitter @CIOonline, on Facebook, and on Google +.