The entry-level iPad Mini with the 7.9-inch touchscreen costs $329—a price tag that tech analyst Rob Enderle calls, "the worst of all possible worlds."
The 16GB WiFi-only iPad Mini costs well above the starting price of its two biggest competitors in the space, the Amazon Kindle Fire HD and Google Nexus 7, both $199 (although the entry-level Google Nexus 7 is 8GB). Enderle, a veteran tech analyst and avid Apple watcher, had put the ceiling on the entry level iPad Mini at $250, a slight premium over the competition.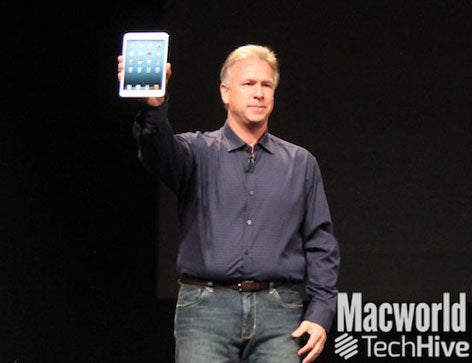 By delivering an iPad priced out of market, "Apple validates the [small-tablet] class with a product, but sharply shifts demand to the competition," Enderle says.
Cost has been hailed as the most important feature of an iPad Mini. Earlier this week, sources told 9to5Mac that the iPad Mini would start at $329. Wall Street analysts were shooting for a price tag anywhere from $299 to $349.
On the enterprise front, Dozuki, a software developer for tablets used on factory floors, has seen industrial customers prefer cheaper, smaller Android tablets over the larger iPad because of the cost.
Truth is, the iPad Mini has put Apple in a pickle.
Tablets and even smartphones are quickly becoming sold on the cheap—Amazon Kindle CEO Jeff Bezos confirmed this month that the Kindle is sold "at cost"—so that money can be made on services accessed via the device. Yet Apple couldn't get near the $199 price.
"Unless they did something to subsidize the price, that would just collapse the margins," Enderle says. "It would be very difficult to weather that particular storm because Apple lives on very high margins… Apple has to find a stronger engine [in services], in order to compete."
The iPad Mini, arguably CEO Tim Cook's first product under his watch, represents a significant shift in Apple strategy. "Apple in the past has defined new products with new form factors and waited for the market to follow," writes Adam Leach, analyst at Ovum, in a research note. "In this instance Apple is following the market trend towards smaller cheaper tablet form-factors. This reflects a fundamental change in the way Apple operates."
Indeed, Apple marketing chief Phil Schiller spent a lot of time comparing the iPad Mini with the Google Nexus 7. The iPad Mini has a slightly larger screen than the Nexus 7 and runs existing iPad apps, whereas competitors run stretched out smartphone apps resulting in a lackluster user experience, he says.
Slideshow: 15 Best iPad Apps for Newbies
And then there's the potential cannibalization of the wildly popular 9.7-inch iPad.
The iPad Mini can be a hot seller in the holiday season. A $329 gift is a little more reasonable than the entry-level $499 fourth-generation iPad also announced today. However, some cannibalism might be offset by the fact that Apple will continue to sell the entry-level iPad 2 at $399.
"The iPad Mini will be a much tighter margin product, too, so it will have a top line and bottom line impact," Enderle says. "Of course, Apple didn't have a lot of choice. If they didn't play in the smaller tablet market, they likely were going to lose a lot of market."
Tom Kaneshige covers Apple and Consumerization of IT for CIO.com. Follow Tom on Twitter @kaneshige. Follow everything from CIO.com on Twitter @CIOonline and on Facebook. Email Tom at tkaneshige@cio.com