Billed as a premium 14-inch ultrabook for business users, the Lenovo ThinkPad X1 Carbon measures just 0.74 inches (18.9mm) thick at its thickest point. According to Lenovo, the X1 Carbon meets and exceeds the specifications laid out for 13-inch ultrabooks and tips the scale at a portable 2.99lbs (1.36kg). This is only slightly heavier than two iPads tablets and lighter than many 13-inch ultrabooks on the market today.
So how does the Lenovo X1 Carbon fare for business? After testing it for about a month in a real-world work environment, here's what you should know.
Lenovo ThinkPad X1 Carbon Specifications
Despite its billing as an ultrabook, the 14-inch display offers 1600 x 900 resolution. Under the hood, the X1 Carbon is powered by a third-generation Intel Core i5 ultra-mobile processor clocked at 1.8GHz. The ultrabook can accommodate up to 8GB of low-voltage DDR3L RAM, though the review unit only came loaded with 4GB. Storage is in the form of a solid-state drive (SSD) with the option of either 128 GB or 256 GB.
On the wireless connectivity front, the X1 Carbon comes with 802.11n for Wi-Fi networking and Bluetooth 4.0. Mobile wireless (wireless wide-area network) capability is offered as an option, and the SIM card tray is cleverly located along the back edge. The location is unobtrusive and is effectively hidden from sight when the screen is opened at an angle of 90 degrees or more.
News: Lenovo Packs 'Thinnest' Thinkpad Ultrabook with 4G LTE
The X1 Carbon has two USB ports (one USB 2.0 and one USB 3.0), a Mini DisplayPort port and a combination audio port for both microphone and headphone. A handy 4-in-1 SD card reader is located along the side. This is useful because the ultrabook doesn't come with an internal optical disk drive.
ThinkPad fans will find the familiar red TrackPoint pointer located around the middle of the keyboard, while those who prefer a standard touchpad will find the large glass touchpad with dedicated mouse buttons highly appealing. The touchpad is also clickable, providing a satisfying tactile response, and is multi-touch capable. Finally, a 720p HD webcam is embedded along the top of the display.
Using the Lenovo ThinkPad X1 Carbon
Despite using an ultra-mobile processor, the X1 Carbon ultrabook never felt slow. It performed every standard office productivity task seamlessly and could handle opening of 30 to 40 simultaneous browser tabs without lagging. That would have broken the backs of many older ultra-thin laptops and netbooks. With the help of a Matrox DualHead2Go Digital SE and a Lenovo ThinkPad USB 3.0 Dock, I got it to drive four 1920 x 1080 external monitors without any noticeable slowdown.
Part of its performance can probably be attributed to the fast SSD that came with the X1 Carbon. While my focus was more toward practical business usage than benchmarking, I did find out that the X1 Carbon attained respectable performance figures more in line with an SSD-equipped laptop using CrystalDiskMark disk benchmarking software—430 MBps for read and 270 MBps for write.
Lenovo says the ThinkPad X1 Carbon is really a 14-inch laptop in the form factor of a 13-inch laptop. It fits snugly into a custom-fitted 13-inch laptop case, so the company's claim is accurate here.
Impressive performance and form factor aside, I did find some room for improvement in the X1 Carbon. For one, a third USB port would have been useful given the large number of USB peripherals on the market. In addition, the recessed wireless toggle is hard to access; you need fingernails to hit the switch.
Assessing Lenovo ThinkPad X1 Carbon Security, Management Features
Unlike most other ultrabooks, the X1 Carbon comes with a number of business-centric hardware. For example, a fingerprint reader is unobtrusively located on the right side of the palm rest. It's within easy reach, but you can't touch it by accident.
Under the hood, security is tempered by the presence of BIOS encryption and Trusted Platform Module (TPM) 1.2, while a physical Kensington lock slot on right hand corner helps to secure it against causal or opportunistic theft.
Feature: 8 Hot Ultrabooks to Watch
Another less obvious but important security consideration is the X1 Carbon's support for Intel's third-generation vPro Technology. This feature lets IT technicians remotely take control of a vPro-enabled device to diagnose problems or roll out security patches or lock down the computer if it is lost or stolen.
Is Lenovo ThinkPad X1 Carbon Better for Business Users?
The X1 Carbon has a number of positive attributes for business settings. One of them would surely be its matte screen, as opposed to the high-glare prone glossy displays that most PC manufacturers seem to have fallen in love with. Moreover, the capability for the screen to be tilted almost flat is great when collaborating face-to-face in a small team, allowing for points to be quickly illustrated over onscreen charts or graphs.
The rigidity and build of the X1 Carbon chassis is excellent, courtesy of its carbon fiber-reinforced roll cage. While the display portion felt less rigid than earlier ThinkPads, the ruggedness does not appear to be compromised. I was able to lift up the ultrabook by holding along one side of the screen with the lid open; it does, however, flex somewhat alarmingly if you hold onto the extreme corner with just one hand. Overall, the X1 Carbon should up to the rigors of travel and work.
What I really loved was the backlit island-style keyboard, which offered exceptional tactile feel. Unlike the shallow key pitch of most ultra-thin laptops, the keyboard on the ThinkPad X1 Carbon feels satisfying, yet is whisper quiet. As a bonus, the keys are backlit for folks who don't touch-type. The backlight is controlled by hitting the Function key and Spacebar, and toggles between three off, low and high settings.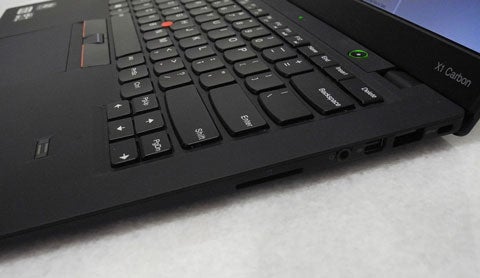 Commentary: Dirty Secrets of the Lenovo ThinkPad X1 Carbon, 3 Other Ultrabooks
Despite Lenovo's claims of up to 8.2 hours of battery life for the X1 Carbon, real-world tests (Internet browsing and office productivity tasks) done with the screen brightness set to 75 percent resulted in up to 5.5 hours of usage. This is still pretty decent, though you are unlikely to leave the office with the power adapter at home.
On the bright side, the Lenovo RapidCharge capability makes up for this by its ability to charge up to 80 percent of its battery capacity in just 30 minutes. This is extraordinarily useful, especially for executives who have to run from meeting to meeting. Even a short 10-minute stint at your desk with the X1 Carbon plugged in should see it good to go for another hour.
One downside of the RapidCharge technology is that it didn't work with at least one vehicle inverter that I tested it with—the Kensington dual Auto/Air inverter. This could be due to the chargers larger power draw. And while I've not had the opportunity to test it on a plane, it seems that you may not be able to recharge it on the plane as well.
For all its strengths, the X1 Carbon is far from perfect. One glaring downside of the top business ultrabook from Lenovo was its lack of an integrated Gigabit Ethernet port and VGA port. Wired Ethernet offers much faster transfer speeds than Wi-Fi and is important for quick turnaround times for IT department working on recovery or upgrading tasks. In addition, while DP is expected to be leading display interface port in the next few years, many corporations and exhibition venues still offer only legacy options such as the VGA port.
To make up for this, Lenovo offers an Ethernet USB dongle as an option, while you can get the Lenovo USB 3.0 to DVI/VGA Monitor Adapter to connect to legacy display devices. Of course, these additional gadgets are more things that can get left at home by mistake or misplaced.
Lenovo ThinkPad X1 Carbon: The bottom line
Despite some shortcomings, the overall performance and features of the Lenovo X1 Carbon make it a highly desirable business device. The fact that it will doubtlessly turn heads and serve as a conversation starter comes as an added bonus, as will its light weight and slim form factor.
Related: Lenovo Shows Windows 8 Ultrabook-Tablet Hybrid With Touchscreen
On the flip side, the X1 Carbon with Windows 7 Professional preinstalled is priced at $1,759, which places it in the price bracket for premium laptops. Price aside, and assuming you don't mind the absence of an integrated Ethernet port and VGA port, the X1 Carbon could well be the best business ultrabook that you can buy right now.
With the upcoming Windows 8 release, you may be tempted to wait for the new OS before buying an X1 Carbon. However, a touch-screen version of the X1 Carbon will probably not improve productivity all that much. Given that its hardware specifications are already top-tier, you may want to go ahead and get the X1 Carbon now if you don't mind upgrading to Windows 8 yourself later.
Paul Mah is a freelance writer and blogger who lives in Singapore. Paul has worked a number of years in various capacities within the IT industry. You can reach Paul at paul@mah.sg and follow him on Twitter at @paulmah.
Follow everything from CIO.com on Twitter @CIOonline, on Facebook, and on Google +.