Rumors are rampant about an Apple iPad Mini—an iPad with a 7-inch touchscreen—hitting the market perhaps as early as next month. For the past week, industry watchers have been speculating what an iPad Mini will look like. Will it have a camera? Will it support 4G LTE? How much will it cost?
CIOs are wondering how an iPad Mini might be used in the enterprise.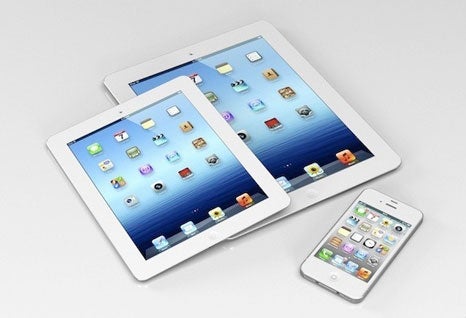 The short answer is that small-screen tablets have already made inroads on factory floors, says Kyle Wiens of iFixit, a website providing free repair manuals and advice forums. Wiens is a reliable prognosticator of everything Apple, as well as an iOS app developer.
The iPad Mini's chances in the enterprise just might hinge on cost, he says. It'll be competing with other small screen tablets, such as the Amazon Kindle Fire (starting at $159) and Google Nexus 7 (starting at $199). Odds are good that Apple will strip many iPad features to get to a lower price point.
Among consumers, a lower price tag might open doors to customers who had been turned off by the high cost of the iPad (starting at $499). For instance, Piper Jaffray surveyed 7,700 teenagers and found that 43 percent were more likely to buy an iPad if Apple released a smaller version priced at $299.
While speculation about an iPad Mini abounds, one thing is for certain: Although the late Steve Jobs dismissed such a product as a "tweener," a cheaper tablet with a smaller screen has shown to have market upside among both consumers and companies.
CIO.com sat down with Wiens to get his take on the iPad Mini.
Will there be an iPad Mini?
Wiens: I think it's going to happen. There are less leaks about the iPad Mini than the iPhone 5. But the reason there were so many leaks about the iPhone 5 was because Apple was making a lot more of them. Apple also was diversifying, using more manufacturers, and pushing capacity to the max. With the iPad Mini, it's different.
Are you expecting surprise features in the iPad Mini?
Wiens: I have expectations for no interesting features.
The real question is, how much is it going to cost?
There have been some rumors that the iPad Mini will be WiFi-only to cut down on costs. My gut feeling is that there will be a cellular-capable version, although the most popular one will be the WiFi-only version, which will be the Nexus 7 competitor. (Nexus 7 is WiFi-only.)
How will iPad apps run on an iPad Mini?
Wiens: I think the iPad Mini will have the same screen resolution as the original iPad, 1024 x 768, so the apps should work fine. At 7 inches, though, I don't think it'll be Retina.
Analysts differ on the iPad Mini's chances in the enterprise. What do you think?
Wiens: I have another company called Dozuki, which has been providing both 7-inch and 10-inch tablets in the enterprise. Dozuki is software that helps manufacturers use tablets on factory floors. Manufacturers use tablets to provide instructions to workers for assembling machines and to document service equipment.
With the iPad Mini in this environment, the cost is the issue. When you're talking deploying hundreds of these things, the iPad gets expensive. We've seen industrial customers prefer cheaper Android tablets over the iPad because of the cost.
(For a contrarian view, check out iPad Mini Not Likely to Follow New iPad's Enterprise Success.)
Will the iPad Mini open doors to the single-use case scenario?
Wiens: There might be some cases where it's more convenient. Imagine a waitress [taking orders] where a phone might be too small and an iPad too big. The iPad Mini could be good as a hand-held, walk-around tool. Managers walking around the factory floor prefer the 7-inch form factor.
As a kiosk in front of a retail store, you might want to go bigger than the iPad.
I'm excited to see tablets get more pervasive in industrial environments. A variety of form factors helps because there are a lot of different situations.
The iPad Mini is still speculation at this point. On the consumer front, how will an Apple offering fare against the Kindle Fire and Google Nexus 7?
Wiens: The Kindle Fire really isn't good at anything except for consuming Amazon-purchased content. So the question is whether or not the iPad Mini can beat the Kindle Fire on price. That's really the challenge. Apple is trying to make money on hardware, and Amazon isn't.
Slideshow: Apple Innovation: 10 Future Tech Ideas
The 7-inch tablet that I like is the Google Nexus 7, the first Android tablet that is anywhere near as good as the iPad in terms of usability. It runs the latest version of Android. It's elegant and has fluid performance, whereas the Kindle Fire is jittery and runs an old version of Android, which is really obnoxious for developers.
It's going to be interesting watching the race between the iPad Mini and the Nexus 7. Not nearly as many people know about the Nexus 7, and so Google faces an uphill battle.
Tom Kaneshige covers Apple and Consumerization of IT for CIO.com. Follow Tom on Twitter @kaneshige. Follow everything from CIO.com on Twitter @CIOonline and on Facebook. Email Tom at tkaneshige@cio.com