A week after reintroducing Facebook Gifts—a feature that lets you send real items to your Facebook friends—the social network is launching another possible push into ecommerce: "Want" and "Collect" buttons.
These buttons are part of a new feature called "Collections," which allows businesses to showcase goods on their pages and sell them through Facebook.
One Facebook rep further described the new feature:
"Weve seen that businesses often use pages to share information about their products through photo albums. Today, we are beginning a small test in which a few select businesses will be able to share information about their products through a feature called Collections. Collections can be discovered in the news feed, and people will be able to engage with these collections and share things they are interested in with their friends. People can click through and buy these items off of Facebook."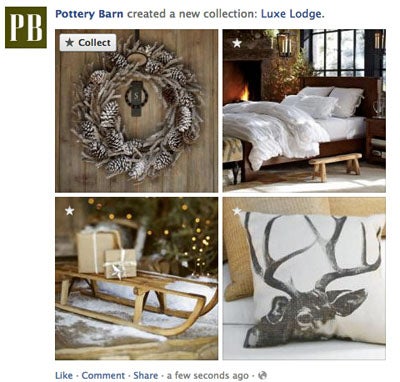 Participating retailers can add either "Want" or "Collect" buttons to news feed posts about products. Facebook users who have liked the retailer's page can then save and share these products to a "Wishlist" and even purchase the product through the retailer's website from Facebook. Facebook is testing both "Want" and "Collect" versions, so you will likely see one or the other.
Facebook is testing this feature with seven retailers: Fab.com, Michael Kors, Neiman Marcus, Pottery Barn, Smith Optics, Victoria's Secret and Wayfair.
[How the Generations Use Social Media to Job Search (Infographic)]
M. Eric Johnson, associate dean of the MBA program at the Tuck School of Business at Dartmouth College, says that Facebook's new Collections and last week's announcement of Facebook Gifts could be putting the social network on the right track for ecommerce.
"These feel like they could gain some traction, but Facebook has to walk a thin line. Many users would love the convenience of shopping on its platform—particularly with the support of friends," he says. "But Facebook must avoid turning into a spam pit, where friends all turn into salespeople and every action is commercially based."
Johnson also says this new feature could challenge social bookmarking site Pinterest.
"Collections drives right into the heart of Pinterest, but with a brash commercial attitude," he says.
Here's a look at how to get started with Facebook's newest feature.
Facebook Collections: How to Get Started
Because Collections is available on only seven retailers' Facebook pages right now, you need to like one of those pages to use it.
Start by visiting a page and clicking on one of its Collections. These posts are denoted by a green briefcase icon with a star. If you already like a retailer's page, these posts will also appear in your news feed.
As you flip through the album and find a product you want to "collect," hover over the photo to see the Collect button in the top-left corner. Click this to add the product to your "Wishlist."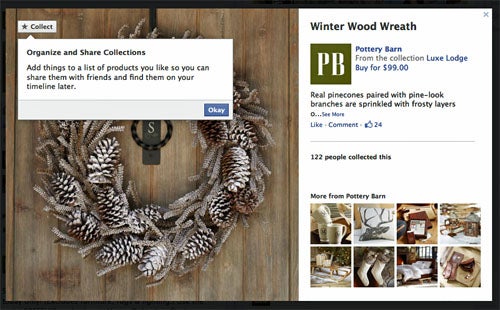 Similar to Pinterest's boards, you have three lists you can add this product to: a general Wishlist, Fashion and For the Home. Or, you can create a new Collection and label it appropriately.
After you add the product to a Wishlist, it appears on your profile in two places: under "Recent Activity" and in a new section called "Products." The latter is difficult to find, unless you add the box to your profile.
To find and showcase your Collections more easily, add a new app box by clicking the + button in an empty box below the icons for your photos, friends, subscriptions, etc. These are found below your cover photo. If you have more than four app boxes featured, you'll need to click the drop-down menu on the left to show them all.
[4 New Websites for Cool Facebook Cover Photos]
When you click the + button, select "Products" from the list.
This will give you an easy access point to revisit items you've added to your Collections. Clicking this box brings you to your Activity Log, where you can view all your Collections and Products. You can also change your privacy settings for this feature on this page.
To purchase a product you like, revisit the original post on the retailer's Facebook page. Above the description of the product is a link that will take you to the retailer's website to purchase the product.
Kristin Burnham covers consumer technology, social networking and enterprise collaboration for CIO.com. Follow Kristin on Twitter @kmburnham. Follow everything from CIO.com on Twitter @CIOonline and on Facebook. Email Kristin at kburnham@cio.com