Despite shrinking U.S. mobile market share and an ongoing loss of consumer confidence in the company, BlackBerry-maker Research In Motion (RIM) is still putting the enterprise first.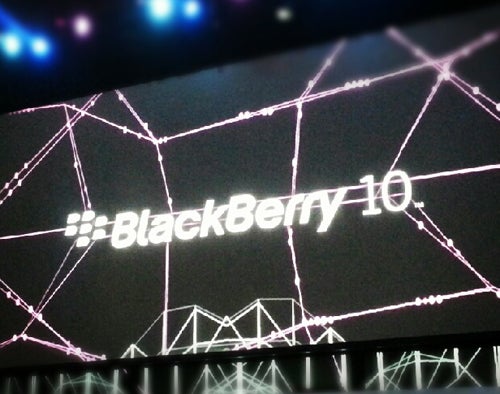 In the first quarter of 2013, the Canadian company plans to launch its first two BlackBerry 10 smartphones, along with some updated mobile-device-management software. Last week, at RIM's BlackBerry Jam Americas developer conference, I sat down with both Jeff Holleran, RIM's senior director of enterprise product management, and Gregg Ostrowski, the company's senior director of technical solutions, to discuss BlackBerry 10 and BES 10 and what these new product will mean to enterprises developers.
BlackBerry Balance and BES 10
The most significant feature in BlackBerry 10, from an enterprise perspective, is probably BlackBerry Balance, which lets corporations create two separate on-device "personas," one for corporate data and one for personal information. BlackBerry Balance isn't exactly new–we've know about Balance for more than a year–but the version of Balance in BlackBerry 10 has many new features and a polished interface.
"The goal and the experience of Balance is to support that BYOD user that brings a BlackBerry into work, and, the day they walked into the company, they had a device in a certain state with their information on it," Holleran says. "They day they walk out of the company they'll have all of that same information. The experience people have today, they're signing over their life when they bring a device in."
BlackBerry Balance lets enterprises wipe all corporate data without affecting the personal information stored on users' device, Holleran says–though RIM will provide some custom options to wipe personal information for "advanced customers looking for a complete lockdown."
"BlackBerry Balance is not just protection of the corporate data," he says. "It is protection of the personal data as well. It truly separates the uses of the device and what you're doing in either persona from each other. So what's done on the enterprise side is clear. If you're in a regulated industry, it's very important to do the right things to manage and monitor what you do [with your device.]"
When a BlackBerry 10 user switches back and forth between corporate and personal personas, his background "wallpaper" changes so he immediately knows which persona is active. And the same applications can be installed within both workspaces so users can employ the apps or services for both work and personal purposes without accidentally using a personal account for work or vice versa.
"This is something that's very unique to the BlackBerry experience, this ability to put the second version of the application out there and really isolate the use cases between the two."
That sounds great from an enterprise perspective, but do users really want to flip back and forth between multiple "phones" in a single piece of hardware?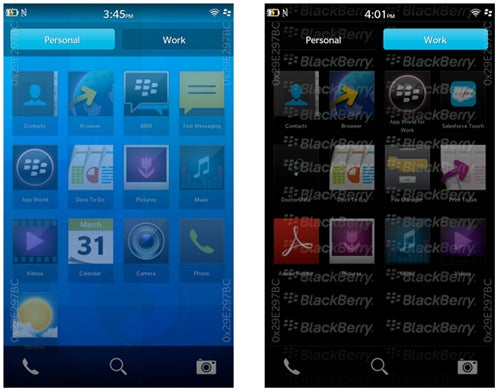 "As an end user of a device, I don't want to make that mistake [of accidentally misusing a work app]. So if the device can help me do my job better, it becomes a more compelling experience to me," says Holleran.
For a detailed look at Blackberry Balance, visit RIM's BlackBerry for Business blog.
BlackBerry Enterprise Service (BES) 10
Last month, RIM released the first official information on its upcoming BlackBerry Enterprise Service (BES) 10, which will eventually integrate the company's current BlackBerry, iOS and Android management services into one product.
Right now, RIM's BlackBerry Mobile Fusion product is used to manage BlackBerry PlayBook tablets and iOS and Android devices, and its BlackBerry Enterprise Server (BES) manages current in-market BlackBerry devices. The initial version of BES 10 will be released along with the first BlackBerry 10 devices in the first quarter of 2013, and RIM will release an update in May 2013 to integrate the various components so they can run on a single server.
One of the most notable enterprise enhancements in BES 10 is the use of Microsoft ActiveSync technology as a sync engine, according to Holleran.
"One of the challenges that enterprises have faced with these [non BlackBerry] devices is that they're not interested in exposing ActiveSync out to the public Internet," he says. "We've solved that with the simple change for us, of BES 5, the proprietary messaging protocols, BES 10 and the switch out over to ActiveSync as our sync engine. We didn't change out anything that we did around the rest of it. The security is all there, the transport is all there. We just changed out the sync engine service."
The use of ActiveSync allows RIM to offer enterprises a number of corporate connectivity options for BlackBerry devices with varying levels of security. Enterprises can connect BlackBerry tablets and BlackBerry 10 devices directly to ActiveSync without any additional BlackBerry software. Or they can connect BlackBerrys, iOS or Android devices to RIM's BlackBerry 10 infrastructure for a secure, behind-the-firewall data transport and other security features, including access to BlackBerry Balance. (Apple's iOS and Google's Android software don't support all of the same security safeguards as BlackBerry 10, so they can't be managed using all of the same IT policies as BlackBerry 10 devices.)
So does it make sense for companies that don't use BlackBerry devices to use BES 10?
Holleran says absolutely.
"We're dedicated to meeting the needs of our enterprise customers, and that is a heterogeneous world today," he says. "In some cases, we're being engaged by customers that are new to us that dont have BlackBerrys, but want to manage these third-party devices. People have come to us and said, 'RIM, you guys are a gold standard for managing mobile devices in general. You understand it, you know what's going on there. How can you help us out with this influx of other devices?'" BES 10 is Holleran's answer.
BES 10 also makes it extremely simple to connect BlackBerry 10 devices to corporate resources, according to Holleran.
"To activate an enterprise device with BlackBerry 10 you'll just need the email address and the activation password, and it goes through the exact same workflow as an end user putting in, say, their Gmail or Yahoo Account," says Holleran.
"When you put the e-mail address in, the device will make a call up to our infrastructure, and it will return one of two data sets. If it's a consumer-based email it will send all of those settings down. If you've ever configured Outlook or any email client to talk to Gmail, for example, every time I do that, I've got to go out and Google, 'What are the ports? What are the server names?' We provide all that information back down to the user that is putting that information in."
If it's an enterprise account, adds Holleran, when the user sets that activation password, or the enterprise sets it for them, BES 10 sends the email address, the server to connect it to and timeout of that password up to the company's infrastructure. The device does the rest, he says.
Check out the following video for more details on BlackBerry 10 device activation and BlackBerry Balance.
BlackBerry 10 and Enterprise App World
Corporate BlackBerry 10 users will have access to an enterprise-specific version of RIM's BlackBerry App World software shop, called Enterprise App World
"With Enterprise App World, you will have a couple of options for delivering an application out to an enterprise," Holleran says. "The first one is that [organizations] actually get the application from you [the developer] and they host it behind their firewall as a part of BES 10. They then have the ability to denote that application as optional or mandatory and deliver it to their users' devices or have it available for the end-user to choose as something they may want to download and put on their device.
"The second thing that we've done there is connected up what we would consider a whitelisted version of App World. So as an administrator, I can browse the public App World catalogue and select applications and decide that I'd like those to be available to my enterprise users. And when you put them into Enterprise App World, it will actually install them into that [corporate] workspace on the device."
Enterprise App World will be available as part of BES 10.
BlackBerry Jam Enterprise Edition
The BlackBerry Jam Americas event — as well as all of RIM's additional Jam developer sessions the company held around the world during the past months — was geared at all BlackBerry developers. But being an enterprise-focused company, RIM wants to hold a developer event especially for corporate developers. So RIM's Gregg Ostrowski, who is in charge of enterprise developer relations, came up with the idea of a BlackBerry Jam for Enterprise event.
"We launched the BlackBerry Jam series as a way of getting out to the broad development community," Ostrowski says. "With the BlackBerry Jam Enterprise series that I've come up with, I wanted to focus on the enterprise developer. Enterprise developers have specific needs and they have specific requirements. "
BlackBerry Jam for enterprises will be "specific to things like workflow, field service applications, things that are really for the back office employee," says Ostrowski.
One popular enterprise session Ostrowski organized at BlackBerry Jam Americas was how to port over existing BlackBerry Java apps to BlackBerry 10.
"That is going to be a big theme of our enterprise series," he says. "When I talk about the needs of an enterprise developer, they still have to worry about supporting older devices, so when you look at BlackBerry 6 or BlackBerry 7, enterprises don't just throw devices away when new ones come in. They'll have an attrition plan over 18 months or so."
RIM didn't announce details on BlackBerry Jam for Enterprise dates, but it instructed interested developers to check for updates on the Inside BlackBerry for Business blog.
AS
Al Sacco covers Mobile and Wireless for CIO.com. Follow Al on Twitter @ASacco. Follow everything from CIO.com on Twitter @CIOonline and on Facebook. Email Al at asacco@cio.com