When you walk in to a phone service provider store eager to buy a new smartphone after you accidentally dropped your iPhone in the toilet, you know it's going to be a long afternoon. Even if you already have the iPhone5 or an Android device like the Samsung Galaxy S3 in mind, you're still faced with decisions about different data plans, contract commitments and accessories.
Customers browse AT&T offerings and speak with brand ambassadors during the grand opening of the new AT&T flagship store on Chicago's Michigan Avenue which benefitted from enhancements made after extensive CX research. (Photo courtesy of AT&T)
When all of this is being thrown at you at check out, it all starts to seem a little confusing and was negatively impacting how customers viewed the stores. AT&T wanted to change the buying process and make it easier for customers to get in and out of any one of their 2,300 retail stores with the right product and plan in hand and none of the extra frustration.
Thaddeus Arroyo, CIO of AT&T, started by taking a look at customer behavior in the retail storesan endeavor that won the company a 2012 CIO 100 award. He set out to analyze the customer experience and learn why customers came in to the store and how many interactions it took to accomplish their goal. In order to achieve this, he needed his sales people to get closer to customers. "We drive toward improving efficiency for customers and employees," Arroyo says. "We focused more on 'how do we deliver that relational experience with customers and how do we get our reps from behind the counter'."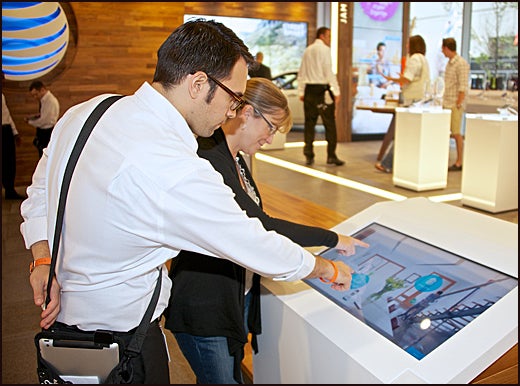 A Retail Sales Consultant at the Michigan Avenue Flagship store demonstrates the Solutions Map technology to show a customer what is available in the store. (Photo courtesy of AT&T)
In order to do faster transactions and get happier customers, AT&T had to revamp their customer experience. Customer experience is the entire lifecycle of interactions between the customer and the company and the customer's perception of those actions.
Bruce Temkin, managing partner of the Temkin Group, a customer experience (CX) research and consulting company, says CIOs need to gather customer data from various channels, "Listen in on calls, read feedback from surveys, and learn how to integrate this into the development of IT," he says. He says the only way to figure out how to best serve your customers is to look at data that comes directly from them. "Every large company will need to be able to analyze the data to tell what the key trends are and what is making people happy or sad," he says.
A Retail Sales Consultant at the Arlington Heights store uses the OPUS Mobile Technology to help a customer. With the tablets, agents can access customer accounts and offer solutions. (Photo courtesy of AT&T)
So AT&T did just that. They looked at all the things a customer could do in their retail space in order to better educate the sales reps on how to interact with them. They watched videos of customers in stores to see the behavior they exhibit when they are waiting, how they interact with displays and how they act around sales people. "That allowed us to collect data in terms of where we could make [the retail experience] more interactive."
Arroyo also organized focus groups in order to talk to customers directly about what they liked and disliked about the store experience. "We developed a concept by having them interact and provide direct feedback about the ease of use and human factors behind the technology."
By collaborating with key business partners, such as AT&T's mobility retail operations group, Arroyo developed suite of solutions to simplify the retail experience on the customer side and the sales side. In general, he says, "Customers want apps and services on their device to be user friendly and suitable for them. This is what sparked the idea and the [technology] solutions yielded from making each step more achievable, scalable and efficient."
The process of gathering customer data gave Arroyo and the sales reps a clearer view of the customer experience so they could lay out a better process on how to get them the right product in the most efficient way. They designed it so when the customer walks into the store, they check in at the welcome center, which is a self-service kiosk where they register and identify what they've come to the store for that day. The customer is then matched with the sales rep that can best help them with their transaction.
"We leverage data on the customers to deliver a much more personalized experience," Arroyo says. "We know their needs and map them to the right skill set. We have a pretty good match rate and what other solutions we can offer [based on] knowing what they consume."
The sales rep uses a system called OPUS, or One Point of Universal Service to ring up the customer's purchases. The system resides on a mobile/tablet app so they can complete a transaction on the sales floor, as opposed to behind the counter. Once the transaction is completed, a text message survey is sent to the customer to see if they were satisfied with their experience.
"It's a behavior approach and as we look at that from a technology perspective, it's really oriented around, 'how do we facilitate [customers] to be successful,'" Arroyo says.
The sales reps' use of the tablet OPUS system is especially important because Arroyo says it creates a more personal experience without the counter being a barrier and shows the technology in use to the customer. "You stand next to the sales person and they pick up the customer from the point we last left them in the sales cycle," he says. According to AT&T, the use of tablets on the retail floor has led to a six percent increase in tablet sales. The company also says they have seen increased sales of accessories because transactions are taking place near the products instead of behind the counter.
The rollout began in 2009 and will continue through 2013. AT&T has seen their expected payback and "Satisfaction with the retail experience has improved across the board," Arroyo says. He says customers have certain expectations of their technology working well whenever and however they want and knew that had to extend to their customer service techniques as well. "You want it working before you leave [the store] and you don't want surprises. We look beyond financial and at the most important thing: the returns in the eyes of customers."
Lauren Brousell is editorial assistant for CIO magazine. She can be reached at lbrousell@cio.com. Follow her on Twitter @lbrousell.
Follow everything from CIO.com on Twitter @CIOonline, on Facebook, and on Google +.