More and more content is being consumed on smartphones, which doesn't bode well for online publishers. The shift in Web advertising from desktop to mobile hasn't been an easy one; there's just not a lot of real estate on a tiny smartphone screen for selling or consuming ads.
Now a new survey shows the iPhone as a good vehicle for mobile ads, at least more so than Android.
The Online Publishers Association, or OPA, released findings from a survey this week that provides some insight on smartphone user behavior, including mobile advertising. The survey found that iPhone owners are more favorable to mobile ads.
OPA surveyed some 2,500 Internet users and found that 44 percent have smartphones. More than 90 percent of smartphone respondents access content on their smartphone weekly, and half access content daily. Stat of the day: Over two-thirds of smartphone users say they "cannot live without their smartphone."
Part of the reason for greater smartphone content consumption is that more people are using smartphones. Smartphone adoption has been rising at a torrid pace, and the OPA projects smartphone penetration among the U.S. internet population to rise from 44 percent to 57 percent next year, which would be roughly 142 million consumers.
Slideshow: 12 Types of Cell Phone Users That Drive People Nuts
Many new buyers are 35 years and older as the user base trends toward a more balanced age and gender split. However, the economic gap continues to widen. Smartphone owners have always skewed toward higher household incomes—how else could they afford smartphones?
The Android and iPhone are the two most popular smartphones by far, according to OPA: 46 percent of smartphone respondents have an Android phone, and 35 percent have an iPhone. Both platforms rose nearly 10 percent from last year. BlackBerry holds third place with 16 percent, a decline of nearly 10 percent.
One of the more interesting findings stems from the differences between the Android and iPhone: iPhone users are more positive about smartphone advertising than their Android counterparts. That is, consistently more iPhone owners think ads are eye-catching, relevant, hard to ignore, and motivates them to research and buy, according to the OPA survey.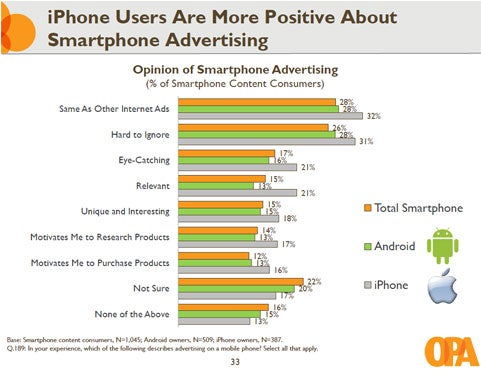 Tech analyst Rob Enderle says that despite this survey's results, the iPhone is not necessarily a better advertising platform than Android and that advertisers are not likely to pick one platform over the other. He says the study suggests a confidence interval between 5 percent and 10 percent.
"This places Android and iOS as equal peers and, given these ads are typically delivered inside apps or through the Web, it is likely advertisers will treat both dominant platforms equally," Enderle says.
Tom Kaneshige covers Apple and Consumerization of IT for CIO.com. Follow Tom on Twitter @kaneshige. Follow everything from CIO.com on Twitter @CIOonline and on Facebook. Email Tom at tkaneshige@cio.com