As the 2012 Olympics kick off today, don't rely solely on the TV broadcasts to enjoy the festivities: Thanks to social media, there are plenty of alternative, real-time outlets to get your fill of Olympic coverage.
Here's a look at the many ways you can stay up-to-date on what's happening, from Facebook to the Olympic Hub, Twitter, YouTube and more.
1. Facebook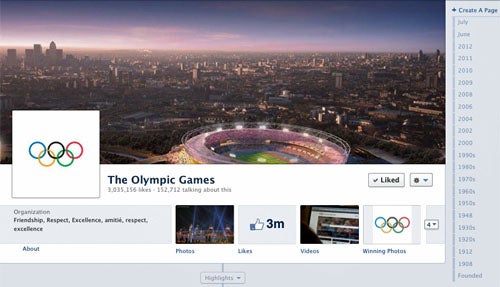 The Olympics have an impressive presence on Facebook this year, with a number of pages to "like" for the latest updates.
The official Olympics page has more than 3 million likes and features a number of photos, updates, videos and shared updates from athletes. Also cool: This page has built out its Timeline, so you can browse milestones and pictures as far back as its inception in 1894.
There's also the NBC Olympics page. NBC is the Olympics' official broadcast partner. Much like the official Olympics Facebook page, you'll find updates, video, photos, questions and more.
Lastly, there are a few Facebook apps built exclusively for the Olympics. One that you should check out is the NBC Olympics app—a social reader app.
[Vancouver 2010: An Exclusive Tour of the Technology Operations Center]
2. Twitter
For the latest Olympic news, follow these official International Olympic Committee (IOC) accounts: @USOlympic, @Olympics and @London2012. On each of these, you'll find updates from events, news, results, photos and more.
The London 2012 Twitter page also has a number of lists you can subscribe to. These include lists of athletes competing (both past and present), paralympians, organizing committees and sports feeds.
3. The Olympic Athletes' Hub
New to this year's Olympic coverage is a cool site called the Olympic Athletes' Hub, a search engine-style website where you can connect to the social networking streams of athletes and events on Twitter and Facebook.
To sign up, you need to sign in with either your Facebook or Twitter account. Once you've completed the sign-up process, you can begin by searching for an athlete, team, sport, discipline or event to follow on Facebook or Twitter. You can also view all of their updates from within the Olympic Athletes' Hub.
The Olympic Athletes' Hub also has a gamification element to it: The more athletes and sports you follow on Facebook and Twitter from the Hub, the more rewards you earn, in which you unlock badges, win prizes and compete to be the "ultimate Olympic Fan."
4. Google+
The Olympics have a good presence on Google+, if that is your preferred social network. Be sure to follow the official London 2012 Google+ page, the Olympic Games page and the NBC Olympics page. While each of these has a presence on Google+, the coverage appears much more robust on Facebook.
5. YouTube
For video coverage of everything you might miss during the work week, check out the official channel of the U.S. Olympic Team on YouTube. You can browse videos of "gold medal moments," Olympic coaching tips, clips of returning veterans and more.
There's also the official Olympic Channel by the IOC, where you can sort videos by sport and country, and view the events on tap for the day. You'll also notice a link on the top of this YouTube page where you can watch the Olympics live in the U.S. on NBCOlympics.com.
Kristin Burnham covers consumer technology, social networking and enterprise collaboration for CIO.com. Follow Kristin on Twitter @kmburnham. Follow everything from CIO.com on Twitter @CIOonline and on Facebook. Email Kristin at kburnham@cio.com