Samsung's latest and greatest Android smartphone, the Galaxy S III, was released less than two months ago–and just weeks ago in the United States–but it's already flying off the shelves of wireless carrier stores.
In fact, Samsung's president of its information technology and mobile communication division, Shin Jong-kyun, said last week that the company has already sold more than 10 million devices, an average of roughly 190,000 Galaxy S III devices a day since it was first released. For context, Apple says it sold 3.7 million iPhones in the second quarter of 2012.
That's a whole lot of new Galaxy S III users. I've had my new GSIII device for a month now, and I spent a lot of time tinkering to learn the ins and outs. Here's a list of 10 Samsung Galaxy S III tips and tricks that every GSIII user should know. (Read "Samsung Galaxy S III: 8 Key Features and Facts" for more specifics on the device. And check out these images and video from Samsung's launch for an insider's look at the Galaxy S III New York City event.)
1) Galaxy S III Home-Screen Panels and Folders
The Galaxy S III's home-screen panels are completely customizable. You can have as many as seven different home-screen panels or eliminate panels as you see fit. You can also move icons and widgets to wherever you want them and even resize some widgets to fit your screen.
By default, the Galaxy S III has seven home-screen panels, but you might not want that many. To delete panels, click the Menu button (located to the left of the main Home button below the display) and then choose the Edit option. On the next screen, drag and drop a home-screen panel in the trash bin icon at the bottom of the display to delete it or click the plus-sign icon at the bottom right of the display to add a new panel. You can also reorganize your panels by dragging them into the order you want them to appear. And you can set a home panel as your main or central panel by tapping the house icon in the upper-right corner of each panel.
The simplest way to jump between panels is by swiping left or right until you reach the panel you want. But a set of small dots near the bottom of your display, just above your fixed-app tray, can also be used to quickly navigate home-screen panels. Just place a finger over the dots and slowly slide it left or right to rapidly scroll through panels. Or tap the corresponding dot to jump directly to a specific panel. And a quick single-tap of the main home button brings you back to your central home panel.
You can also create folders on each home-screen panel to organize applications and customize your device. To create a new Galaxy S III folder, tap the Menu key again and choose the Create Folder option. An empty, unnamed folder will appear on your home-screen panel. Tap the folder to rename it and drag and drop applications into it to fill the folder.
2) Quickly Launch Galaxy S III Search Function
You can quickly access a built-in search function that not only searches the Web, via Google, but also your device. Simply tap and hold the Galaxy S III's Menu key until a search bar appears, then type in whatever you seek.
3) Customize Your Galaxy S III App Drawer
The Galaxy S III's App Drawer is where all of your mobile apps are stored. You can access the App Drawer at any time by clicking the Apps icon in your fixed-apps tray at the bottom of the device's display. And you can customize your App Drawer by tapping the Menu key when the Drawer is open.
You can set the App Drawer to organize applications in alphabetical-list or alphabetical-grid form. Or you can customize the Drawer yourself and rearrange apps any way you want. To organize or customize your App Drawer, open it up and then tap the Menu button. Next, choose the View Type option and select the setting you want.
You can also hide apps, view all downloaded apps, quickly uninstall multiple apps at one time and share applications by choosing the appropriate options from the App Drawer's Menu.
4) Galaxy S III Power-Saving Mode, Battery Percentage Indicator
The Galaxy S III is a solid smartphone with a ton of unique features and strengths. Unfortunately, battery life is not one of those strengths. So it's important to maximize and effectively manage your GSIII battery life. Two quick
and easy ways to do this are to use the device's built-in power-saving mode and activate the home-screen battery-percentage indicator option, which gives you more insight into your device's battery life.
You can enable power-saving mode by opening up the GSIII Settings, scrolling down to the Device options and turning the Power Saving setting on. You can also set the GSIII to show an actual battery-level percentage on your home screen instead of just an icon, so you can keep closer tabs on battery life. Just open up your Settings, choose the Display option and then check the Display Battery Percentage box.
5) How to Take Screen Shots on the Galaxy S III
The Galaxy S III has ways to capture screen shots. You can simply slide your hand across the device's display at any time to grab a screen shot, which is then saved to your image gallery. Or simultaneously tap and hold the Galaxy S III's Home and Power buttons until the screen flashes and captures a screen shot. (The GSIII power button is on its right side.)
6) Quickly Launch Galaxy S III "S Voice" Features
Samsung built voice-activated features into the Galaxy S III, called "S Voice." And you can quickly access the features to do things like search the Web, get directions and control some mobile apps. To launch S Voice, double tap the GSIII Home button. (Note: To control apps using S Voice, you must enable the feature in the device Settings. Open Setting, choose Language and Input and turn the Voice Cmd for Apps option on.)
7) How to Use the Galaxy S III "Pop Up Player" Video Player
A "Pop Up Player" video feature lets Galaxy S III users watch video clips while performing other tasks. So, for example, you wouldn't need to stop or leave a video screen to check e-mail or surf the Web. Pop Up Player is easy to use, as well; you just tap an associated icon at the bottom of the display to minimize a video clip, then move the video around the screen into the position that works best for you while you check your email, etc.
8) The Galaxy S III App Switch and Task Manager
The Galaxy S III has a valuable App Switcher feature that lets you see all the recent applications you've used and quickly jump back and forth between them. To open the App Switcher, hold down the GSIII Home button for a couple of seconds. You can then scroll up and down to see recent apps and click to open them.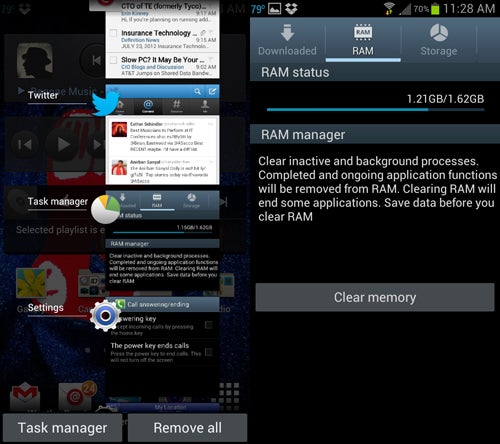 With the App Switcher open, a Task Manager option appears at the bottom of the screen. If you tap the option to open the Task Manager you can get information on device and memory-card storage, RAM usage, the size of downloaded apps, all active apps and more. In the Active Applications section you can force close apps that may be causing device performance issues. And you can clear your device memory in the RAM tab.
9) The Galaxy S III "Tap-to-Top" Feature
The Galaxy S III has a "tap-to-top" feature that lets you rapidly jump from anywhere in your e-mail inbox, contact list or within an e-mail message to the top of the list or message. The feature can save you time and curb all that scrolling to get to the top of lists. To jump to the top of your e-mail inbox, contact list or the start of a message simply double tap the top of your Galaxy S III device, just above the ear-speaker–tap the top of the device, not the top of the display.
10) Set the Galaxy S III Power Button to Answer/End Phone Calls
You can use your Galaxy S III's Home button to answer and end phone calls so you don't need to swipe the screen or tap any other on-screen buttons. To enable the feature, open up your Settings, choose the Accessibility options and then click to open the Call Answering/Ending settings. On the following page, check both the Answering Key and The Power Key Ends Calls boxes.
AS
Al Sacco covers Mobile and Wireless for CIO.com. Follow Al on Twitter @ASacco. Follow everything from CIO.com on Twitter @CIOonline and on Facebook. Email Al at asacco@cio.com
Al Sacco was a journalist, blogger and editor who covers the fast-paced mobile beat for CIO.com and IDG Enterprise, with a focus on wearable tech, smartphones and tablet PCs. Al managed CIO.com writers and contributors, covered news, and shared insightful expert analysis of key industry happenings. He also wrote a wide variety of tutorials and how-tos to help readers get the most out of their gadgets, and regularly offered up recommendations on software for a number of mobile platforms. Al resides in Boston and is a passionate reader, traveler, beer lover, film buff and Red Sox fan.