Beginning this week, LinkedIn is rolling out a redesigned homepage and adding a few new features to LinkedIn Today, its social news service.
"Were always looking for new ways to make the homepage experience better, more efficient and a place where you can come everyday to get what you need to be productive and successful," says Caroline Gaffney, LinkedIn product manager. "This is just the beginning of many more exciting, new features we plan to bring to the homepage to offer more customization and functionality this year."
Ryan Roslansky, head of content products at LinkedIn, announced two new features : commenting and liking and "trending in your network."
"These two new features, together with the existing customizable news feed, allow members to not only narrow down the most timely and relevant information needed when needed, but to also gather valuable insights about other like-minded individuals within their professional networks and beyond," Roslansky says.
Here's a look at the newly redesigned homepage and LinkedIn Today's newest features.
LinkedIn's Homepage: What's New
LinkedIn's new homepage, which is rolling out to all users in the coming weeks, is cleaner, simpler and more user-friendly. It also looks a bit more like Facebook.
The "Share an update" box is now located at the top of your stream, followed by what LinkedIn thinks are the most important updates from your network. This can include trending topics, news, professional updates as well as what your connections and industry are reading, sharing and discussing.
You'll also notice that your stream is a lot more graphically appealing now, with images included in more of the updates. Another welcome feature: infinite scrolling—you no longer need to click "see more" to access older updates.
[Want more LinkedIn tips, tricks and analysis? Check out CIO.com's LinkedIn Bible.]
Taking a cue from Facebook, interacting with your connections' posts is easier now, too. You can "like," comment and share updates from within the homepage, as well as send a connection a message right from within his or her update.

Overall, LinkedIn's new homepage is a lot less cluttered and looks more current. LinkedIn's Gaffney says this is just one of many updates coming to LinkedIn. You can expect more customization and additional features in the coming year, she says.
LinkedIn Today: Two New Features
LinkedIn Today, the professional social network's social news product, also boasts a few updates: commenting and liking and "trending in your network."
Commenting and Liking: New to LinkedIn Today, under each featured article, is information about who the article was shared by, who likes it, in which categories it's trending and a list of all the comments. The design is similar to what you see on Facebook.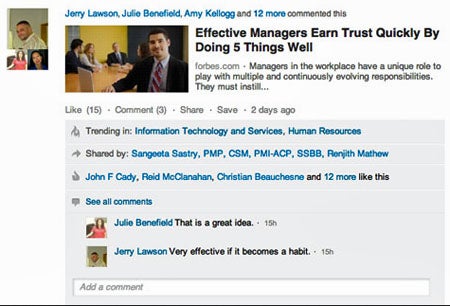 "This means members will be able to see a snapshot of what's top of mind among their professional networks," says LinkedIn's Roslansky.
Trending in Your Network: This new tab, found on the right side of LinkedIn Today under the top stories, gives you a filter to sort through all the news articles and industry updates, based on the articles that are currently the most popular among members of you professional networks, regardless of their industry.
Kristin Burnham covers consumer technology, social networking and enterprise collaboration for CIO.com. Follow Kristin on Twitter @kmburnham. Follow everything from CIO.com on Twitter @CIOonline and on Facebook. Email Kristin at kburnham@cio.com