You may have fallen victim to it before: Malware disguised as a legitimate Facebook post or app that entices you to click. Now, though, Facebook is offering you free options if you suspect your device has been infected.
This is the most recent in a number of updates Facebook has rolled out in its fight against malware. In April, the social network launched the Facebook Anti-Virus Marketplace and made enhancements to its external blacklist system. Last month, it made changes to its mobile reporting flows.
Previously, if you suspected you may have malware installed on your device, you would have either needed to run antivirus on your device or waited until Facebook identified an actionable threat. With this newest update, you can proactively obtain your choice of a free antivirus product to scan and clean your system.
To accomplish this cleaner approach, Facebook has partnered with Microsoft to offer its Security Essentials product and with McAfee for its Scan and Repair product.
According to Facebook, the McAfee option downloads a small program onto your Windows computer to perform a one-time scan of your system for malware. It won't interfere with your existing antivirus or other security products. After it scans your system, it gives you the option to automatically or manually remove the files it flags as malicious.
The Microsoft Security Essentials option, Facebook says, is a full antivirus product. Once you download and install it, it will add antivirus software to your computer that will continue to protect your system with the latest from Microsoft.
You can access the Facebook antivirus checkpoint here. You'll be instructed to choose an option, as seen below.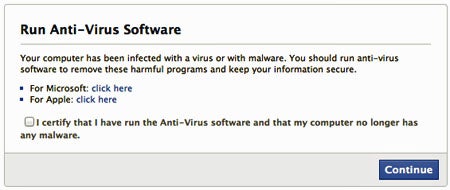 [Want more tips, tricks and details on Facebook? Check out CIO.com's Facebook Bible.]
After you choose an option, click the box certifying you have run the antivirus software and that your computer is clean, then click continue. Facebook will redirect you back to your news feed.
Facebook isn't the only site to offer malware detection. Last year, Google announced that you could run a system scan on your computer if you suspected your device had been compromised by malware.
Kristin Burnham covers consumer technology, social networking and enterprise collaboration for CIO.com. Follow Kristin on Twitter @kmburnham. Follow everything from CIO.com on Twitter @CIOonline and on Facebook. Email Kristin at kburnham@cio.com