Google's I/O developer conference is largely aimed at the people who create applications for Google's various software ecosystems or use Google's Web infrastructure, but the company also made a number of news announcements that are significant to all Google users–also known as everyone.
The following list details six of the most interesting and exciting announcements from Google I/O 2012 and explains why the announcements could be relevant to you. This list does not, however, cover all of news from I/O 2012; instead, it spotlights the most significant news for consumers and not just developers. (You can also check out my I/O live blog for more information on the event or to watch a video of the day one keynote address.)
1) Google Nexus 7 Tablet and Android "Jelly Bean" 4.1
On Wednesday morning, the first day of I/O 2012, Google made what was perhaps the single most noteworthy announcement from the show: It showed off the brand new Nexus 7 tablet, which will be released in the middle of July with a starting price of $199. The tablet runs the latest version of the Android mobile OS, v4.1, or "Jelly Bean." (The fact that only a handful of current Android devices run the previous Android version, v4.0, or "Ice Cream Sandwich," is another issue altogether.)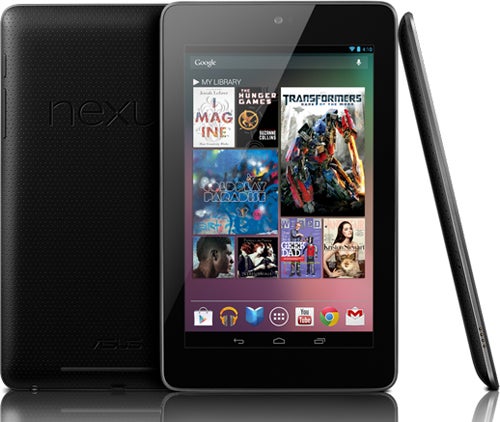 The Nexus 7 is 7-inches in size, it weighs 340 grams, and the tablet is built by electronics maker ASUS. The tablet has a 1280×800 HD display. It has a variety of wireless connectivity options including Wi-Fi, Bluetooth and NFC–no cellular version has been announced yet. The Nexus 7 packs a Tegra chipset with quad-core CPU and a 12-core GPU. And it has a front-facing camera, though it doesn't have a camera on its rear panel. The Nexus 7 tablet should be released in mid-July, but you can preorder it from the Google Play store today for $199.99. Check out my video hands on with the tablet here and read more about the Nexus 7 on Google's website.
Google also detailed some of the enhancements for Android 4.1 Jelly Bean, which should be rolled out for Galaxy Nexus, some Galaxy S devices and Motorola Xooms in July–sorry HTC users, no Jelly Bean for you just yet.
Jelly Bean will have application encryption, and apps on Jelly Bean devices that are updated via the Google Play store will get "smart" app updates, which means individual parts of the software APKs, or app packages, can be updated separately instead having to update entire APKs, as is the case in older versions of Android. The smart app updates can help reduce battery drain and other strain on system resources, according to Google.
Jelly Bean has new voice-typing functionality that lets you type using your voice when you don't have a Web connection. New camera improvements include navigation features and touch gestures. Jelly Bean notifications are much richer, and users can respond to certain notifications directly from their status bars without opening the actual applications. And new widgets resize themselves to fit in open spaces on users' home screens.
Hugo Barra, Google's director of Android product management, also announced some new Android statistics: The company has seen 400 million total Android activations to date, which is four times more than the number announced at last year's I/O conference; and Google sees a million new Android devices activated every day.
2) Nexus Q
The second new piece of hardware Google announced at I/O 2012 is the Nexus Q, a spherical, Android-powered computer that connects to home entertainments systems, including TVs and speakers system, and serves as a central media server for streaming music, TV and movies.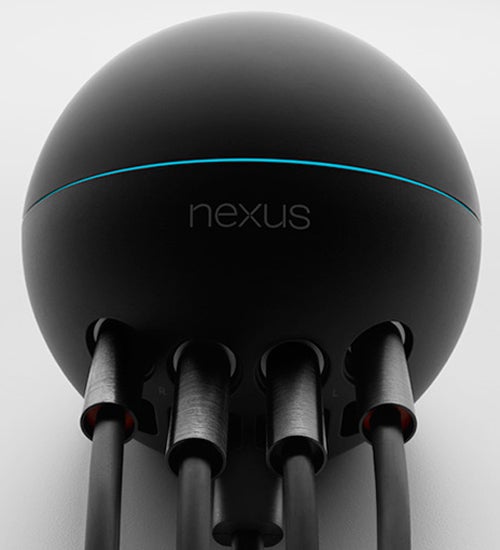 The device connects to the Google Play Store, and owners can purchase content from the shop using the device. The Nexus Q connects with other compatible Android devices via NFC or Bluetooth, so users can control it wirelessly using their smartphones or tablets. Anyone with a compatible Android phone can be added to the device's list of users, so people at a party with Android devices could, for example, control and edit music playlists. And a glowing ring of LEDs that circles the gadget glows in various colors based on the type of audio it's playing.
The Nexus Q will sell for $299, and you can pre-order one today via the Google Play store. Google says it will begin shipping the Nexus Q in July.
3) Chrome and Google Drive for Apple iOS
Google's VP of Chrome and Apps, Sundar Pichai announced some new usage statistics on the company's browser at the conference. Chrome currently has more than 310 million active users, making it the most popular browser in the world, according to Pichai.
Google users and developers have been "persistently asking" the company to release a version of the Chrome browser for Apple iOS devices, including iPhones and iPads, according to Google's Brian Rakowski, product manager of Chrome development. So Google responded at I/O by releasing Chrome for iOS. Chrome for iPhone and Chrome for iPad are both currently available in the iTunes Store. And Chrome is already the top free app in iTunes.
Chrome wasn't the only new iOS app announced and released at I/O; iOS users also got new Google Drive applications. Google Drive is the company's cloud-storage service.
4) Google Play Store Enhancements
Google Play, the company's mobile app and online media store recently hit two milestones: Play has delivered a total of 20 billion total applications to date; and 600,000 apps and games are now available in the store.
Google announced at I/O that movies and TV shows are now available for purchase in Google Play. In the past, Play store customers could only rent films and TV episodes. Now they can purchase feature films, single TV episodes and full seasons. And Google partnered with media companies including Disney, ABC and NBC Universal to provide their content in the Play Store.
Google also brought magazines to Google Play, and company spotlighted the Esquire, Wired and Family Circle magazines. Two-week free trials are available for many of the magazines in Google Play. And all new content in the Play store is cloud based, so it can be accessed from anywhere–you can also download some content to your devices for offline use.
5) Google's Project Glass
Last April, Google officially announced Project Glass and its Glass device. Glass is a tiny camera that you wear on a pair of glasses or a glasses-like frame to capture your experiences as you see them. At I/O, Sergey Brin, Google's co-founder, provided some updates on the initiative and coordinated an elaborate demonstration to show the value of Glass that included skydivers, stunt bicyclists and men scaling down the sides of the Moscone Center, where I/O was held.
The idea of the demonstration was to show how exciting it can be to see a firsthand view of an experience like jumping out of a plane, doing a backflip on a bike or scaling down a building. Google is clearly putting a lot of time and effort into Project Glass, and it's obvious that it sees some real potential in the idea of recording life experiences in this fashion.
Brin said Google still has a lot of work to do on Glass before it becomes officially available, but he also announced a special "Glass Explorer Edition" headset that developers can preorder for $1500. That device is expected to ship in early 2013.
You can read more about Project Glass on Google's website.
6) Google Docs and Google+ Enhancements
Google announced a valuable new feature for its Google Docs online documents suite: Offline editing for documents. The feature is simple to use and it could be particularly handy for travelers who frequently work on airplanes or in other places without Internet connections.
Users simply open up their documents and make their changes. All edits are then saved locally on their devices until the next time they connect to the Internet, when the changes are automatically synced to their Google Docs accounts. Unfortunately, offline editing is only available for documents at this time, but Google says it's working on the feature for spreadsheets and presentation files.
Google also announced a brand new Events feature in Google+ and rolled out new Google+ Android apps with a streamlined interface.
The Events feature is meant to help users set up and organize events such as parties, capture images and video during the events and share media in real time with all attendees. The event page then serves as a central hub that people can access to check out pictures or download video.
Event coordinators can use Google+ to distribute invites, and after invites are accepted, all of the relevant event information is added to attendees' calendars. Event information is updated as coordinators add or change it.
At the time of the actual event, attendees can turn on "Party Mode" in their Google+ mobile apps and all images and video are automatically shared with other Event participants. Users can visit the event page later and see the most popular shared media, based on comments and views. Learn more about the new Google+ Events features on Google's website.
Finally, Google shared some new usage statistics on Google+: The service now has 250 million total accounts and more than 150 million active monthly users.
AS
Al Sacco covers Mobile and Wireless for CIO.com. Follow Al on Twitter @ASacco. Follow everything from CIO.com on Twitter @CIOonline and on Facebook. Email Al at asacco@cio.com