LinkedIn has extended a new feature, called "Targeted Status Updates" to all companies that have LinkedIn Company Pages. This feature first launched in April, but was available to only a few businesses.
Targeted Status Updates "aims to make it easier for members to receive relevant information from companies they follow," says LinkedIn project manager Mike Grishaver. "In turn, companies can now communicate with their followers in a very personalized way and provide content tailored to specific audiences."
When users follow a company on LinkedIn, information and updates such as company news, industry trends and job opportunities are pushed to the activity stream. LinkedIn says that the more you engage with a company, the more you'll find relevant content.
Here's a rundown of the features and how your businesses can use this to your advantage.
Businesses: How to Target Status Updates
Any company page administrator can target a status update to a particular audience. To do this, log into your company's LinkedIn page, type the text of an update and click the drop-down menu next to "Share with:" for the "Targeted audience" option.
In the next window that pops up, you can choose from a number of targeting options, including company size, industry, function, geography or geography.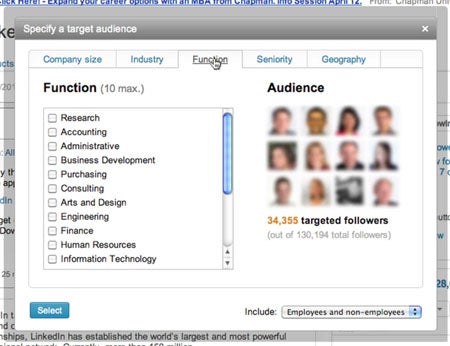 [12 Cool LinkedIn Features You Never Knew About]
Followers who match your criteria will see your update on their homepage, in their activity streams. The update will also be visible to anyone who visits your company page directly.
Another feature of "Targeted Status Updates" is analytics for each post, 24 hours after if was posted. These analytics, which appear under each of your posts, is available only to business page admins and includes the number of impressions the update received, how many clicks it generated, how many times it was shared and the engagement percentage.
LinkedIn also recommends keeping an eye on your follower statistics, which will help you hone your messages to ensure you're reaching the appropriate audience. You can find this tab at the top of your LinkedIn business page between "Products & Services" and "Page Statistics."
Additional information you'll see here includes your follower demographics, updates and engagement levels. You'll also see information about which updates your followers find more interesting,
[Want more LinkedIn tips, tricks and analysis? Check out CIO.com's LinkedIn Bible.]
Kristin Burnham covers consumer technology, social networking and enterprise collaboration for CIO.com. Follow Kristin on Twitter @kmburnham. Follow everything from CIO.com on Twitter @CIOonline and on Facebook. Email Kristin at kburnham@cio.com