Less than a year ago, in September 2011, Samsung launched its Galaxy S II smartphone. Then a few months later in January, it released the popular Galaxy Nexus handheld, followed by the half-phone, half-tablet Note device. In other words, Samsung has been busy.
This week the company is launching the next-generation Galaxy S smartphone, the Galaxy S III, and it held a media launch event yesterday in New York City to celebrate. I attended the event at the lavish SkyLight Studio in New York's SoHo neighborhood, and I came away with some very distinct impressions about the device–as well as a review unit, which I'll evaluate after spending some quality time with it. (Check out my related blog post for an insider's look at the New York Galaxy S III launch event.)
Here are eight notable things about Samsung's Galaxy S III that set it apart from comparable handsets.
1) Samsung Galaxy S III is All About Sharing
During the Galaxy S III launch event, Samsung made it very clear that the new device is meant to ease and enhance the smartphone-based sharing process. Whether it is images, video, presentations or documents, the Galaxy S III is designed to remove the modern day "hiccups" associated with quickly and easily sharing digital files.
Specifically, Galaxy S III users can employ the device's S Beam and Android Beam technologies to tap two Galaxy S III devices together and instantly share photos, videos, documents and more using Wi-Fi Direct and Near Field Communications (NFC) technologies. You don't need a cellular or Wi-Fi network.
The feature only works with S Beam/Android Beam-compatible phones, though, so you can't just tap your device against any phone to share media. S Beam is certainly a valuable feature if you have friends or family with compatible devices. And it could help motivate people who want to quickly share content with their friends who already have Galaxy S III devices to buy the handheld.
The "Share Shot" feature lets you quickly create lists of people to whom you want to send a set of images; so you could, for example, take pictures during a camping trip and then easily distribute the entire set to everyone who camped out. The "Buddy Photo Share" feature makes it simple to tag people in photos. The feature recognizes faces, and then lets you add a tag that you can type manually or pull in from your device contacts and then share the image.
The Galaxy S III's "All Share Play" feature makes it easy to share and access files on other devices, such as your tablet or PC. And "All Share Group Cast" let you share files and collaborate with others on the same Wi-Fi networks.
Many mobile platforms offer similar sharing functionalities, but Samsung is taking a unique approach with the Galaxy S III.
2) Samsung Galaxy S III Runs Android 4.0, Ice Cream Sandwich (ICS)
Like its older sibling the Galaxy Nexus, the Galaxy S III runs Google's latest mobile OS software, Android 4.0 Ice Cream Sandwich (ICS). Many in-market Android devices are currently being upgraded to ICS, or they will be soon, but the Galaxy S III is one of the few that is already there. (Read more about Android 4.0 and the enterprise in "Android Ice Cream Sandwich: Best New Features for Business." And find out how to get ICS on your Android phone, even if your wireless carrier hasn't release a software update yet.)
3) Notable Galaxy S III Features and Specs
The Samsung Galaxy S III is expected to become available in the coming weeks on five U.S. wireless carriers, including AT&T, Sprint, T-Mobile, U.S. Cellular and Verizon Wireless.
The AT&T, Sprint, U.S. Cellular and Verizon devices all support LTE; the T-Mobile version supports HSPA+/HSPA/EDGE networks. Official pricing details are not yet available.
The device is quite large at 5.38 inches x 2.78 inches, but its 0.34-inch thinness helps make up for the big size. It also weighs only 4.7 ounces. The handheld has a 1280 x 720, 4.8-inch Super HD AMOLED display.
The Galaxy S III also has a 1.5GHz, dual-core Qualcomm processor. And it packs 16GB of built-in storage with support for microSD cards up to 64GB.
You can find more official details on the Galaxy S III on Samsung's website.
4) Samsung Galaxy S III Digital Camera
The Galaxy S III's 8 megapixel camera with auto focus has some unique features, including a number of shooting modes to help you get the best images possible in specific environments. Modes include Single shot, meant for everyday single images; Burst Shot, which lets you quickly snap up to 20 photos in a row, at a rate of roughly 3 photos per second, to capture action sequences; HDR (High Dynamic Range) mode, meant to capture images with lots of depth, shadows and different levels of light; Panorama mode to capture wide-angle panoramas; and Buddy Share, as mentioned in the previous section.
The Galaxy S III camera also offers a set of "Scene Modes" to adjust color, white balance, exposure and more, and give you more control over your images.
Many of these valuable features eliminate the need to buy third-party apps that enable similar functionalities.
5) Samsung's Massive Galaxy S III Marketing Push
Samsung is putting a lot of time and effort into marketing the Galaxy S III. In fact, it's the largest North American campaign ever for the electronics maker.
The company filmed a number of Galaxy-S-III-specific TV spots, in which two geeky-looking 20-somethings rain praise on the new device. Samsung's planning a huge campaign related to the 2012 Olympics in London, though it didn't provide any specific details. It's launching an interactive Galaxy-S-III-themed game in movie theatres across the United States that film viewers can play before their movies start. It's making a $1.5 million donation to the World Wildlife Foundation in the name of the Galaxy S III.
Samsung will also launch a program called "Share to Go" in some of its largest markets that will make use of posters in high-traffic areas and venues. Each poster will feature a code that can be scanned by Galaxy S III users to obtain free content, including music downloads from popular artists.
And those are just the initiatives the company decided to announce.
6) Galaxy S III "TecTiles" and Piles of Additional Accessories
Along with the Galaxy S III handheld, Samsung is releasing device specific accessories.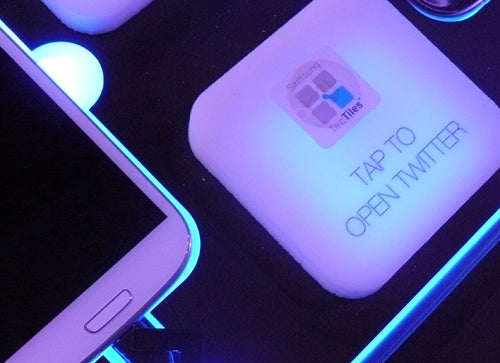 The company will sell packs of NFC-enabled stickers, called "TecTiles," that users can place all around their homes, offices or cars to automate common tasks. For example, a Galaxy S III owner could program a TecTile to automatically turn on Bluetooth when touched up with a Galaxy S III device and then stick that TecTile to their car's dashboard to quickly activate Bluetooth whenever they get in the car. Or a TecTile could be programed to activate the Galaxy S III alarm and then stuck to a bedside tablet or nightstand to automatically turn on the alarm when a user gets in bed. TecTiles will be sold in packs of five for $15, or roughly $3 per sticker.
Samsung is also launching a Galaxy S III projector that lets users connect to HDMI compatible TVs or monitors to share content ($100); a desktop dock that charges the devices and lets users listen to music via external speakers ($50); three different "premium audio docks" and speakers for streaming music via Bluetooth ($200 to $400, depending on the model); a capacitive stylus pen or "C-Pen" for precise writing on the Galaxy S III display ($30); a Galaxy-S-III-specific vehicle navigation mount ($50); and many more accessories all designed to boost the device's features and functions.
7) Galaxy S III "Pop Up Player" Picture-in-Picture
An innovative "Pop Up Player" video feature lets Galaxy S III users watch video clips while performing other tasks. So, for example, you wouldn't need to stop or leave a video screen to check e-mail or surf the Web. Pop Up Player is intuitive and easy to use, as well; you just tap an associated icon at the bottom of the display while watching a video to minimize the clip, then move the video around the screen into the position that works best for you and then check your email, etc.
8) Galaxy S III is a Samsung Approved for Enterprise (SAFE) Smartphone
Samsung is attempting to capitalize on the current BYOD enterprise trend and differentiate itself from competitors by making its Android devices more IT-friendly. The Galaxy S III is the first Samsung Approved for Enterprise (SAFE) device that is branded and sold as such by wireless carrier partners. SAFE makes Android devices more secure and easier to manage by addressing some of the IT challenges inherent in the Android OS. The Galaxy S III is not the only SAFE device–the Galaxy Note, Galaxy SII and Galaxy Tab 7.7 are also SAFE–but it's the first handset to undergo a new Samsung quality assurance testing and verification process meant to ensure all related enterprise features function correctly.
Specifically, Samsung created SAFE as a way to "defragment" the many versions of Android, including Gingerbread v2.3 and Ice Cream Sandwich v4.0. The SAFE-optimized Galaxy S III supports up to 338 IT Policies, and it enables on-device AES-256 bit encryption. SAFE devices also have improved support for Microsoft Exchange ActiveSync and support for products from popular VPN providers such as Cisco, F5 ad Juniper, as well as MDM software vendors such as AirWatch, MobileIron and Sybase. Android presents some very real security challenges for IT, but Samsung is taking steps to mitigate many of the major issues.
Find more information on SAFE on Samsung's website.
AS
Al Sacco covers Mobile and Wireless for CIO.com. Follow Al on Twitter @ASacco. Follow everything from CIO.com on Twitter @CIOonline and on Facebook. Email Al at asacco@cio.com