Ecommerce is taking a bigger portion of overall retail sales in the United States. According to the U.S. Department of Commerce, consumers spent more than $194 billion online in 2011. With this kind of spending, it's not surprising to see more small businesses moving some, or all, operations online.
Tips: 10 Holiday Shopping Changes to Make Right Now to Your Ecommerce Site
How-To: 7 Email Marketing Tips to Boost Holiday Sales
Fueling the ecommerce movement is easy-to-use software that makes it inexpensive for a small business to add ecommerce to a business website. For less than $100 per month, you can add an ecommerce component to grow your existing small business and reach new customers, or even start a new online business.
If you already have a business website, a good option is to integrate a standalone shopping cart—including open-source shopping carts—for ecommerce functionality. This is a good fit for those who want more control but would otherwise need technical expertise or an IT staff to host and manage an ecommerce site.
Another option that suits most entrepreneurs and small to medium-sized businesses (SMBs) is hosted ecommerce software. A hosted solution will provide everything from domain name registration to the tools you need to build an ecommerce website, including the shopping cart, with minimal tech and website design knowledge required. Many will also take care of PCI compliance in order to keep your customers' data safe.
How to Find the Right Ecommerce Software Platform
The best reasons for using hosted ecommerce software are the low cost and lack of IT requirements. Another benefit to hosted ecommerce is that many solutions are designed to grow with your business. You typically won't pay for features you aren't using today, but you have the option to upgrade services and features as needed.
Most ecommerce platforms will provide the basics to get you started. This includes customizable site templates, an integrated shopping cart, search engine optimization (SEO), email marketing, inventory management and analytics. All you need to do is create an account and use store management tools to customize your ecommerce presence.
To find the best fit for your business, you need to look at what is most important to you and research the vendors offering complete ecommerce packages. For example, do plan to invest heavily in email marketing, or is mobile commerce a must-have option? Once you have a list of the features you need, look for an ecommerce software vendor that has a proven track record and can deliver the tools and services to meet your business goals.
Top 5 Ecommerce Software and Shopping Carts for Small Business Owners
Here are five options if you plan to invest in hosted ecommerce software to grow your small business or start a new online venture.
1. Ability Commerce: Amazon Channel Feed
The Ability Commerce feature set includes mobile-optimized versions of stores and tools to integrate your order management system (OMS) and accounting system. This ecommerce platform also includes the SmartSite content manager; this lets users without any programming knowledge change store promotions, prices, images and products in the Web store.
A key Ability Commerce feature is the Channel Feed service to manage products on Amazon. Once you provide the inventory to sell on Amazon, Ability Commerce Amazon experts will monitor your products daily to help you position products better, motivate buyers and, ultimately, boost sales.
Pricing for Ability Commerce is customized based on specific business requirements.
2. Big Commerce: Real-Time eBay Integration
The Big Commerce platform is a good choice for any small business that wants to start an online store and maintain an eBay business.
Big Commerce offers ample features for hosting, store design, SEO, mobile commerce, marketing and inventory—plus you can integrate your online Web stores with eBay listings from within the Big Commerce platform. Simply choose which products to push to eBay, create an eBay listing template and set custom eBay shipping. Now inventory is always synced between your online store and eBay.
Big Commerce offers five pricing plans, starting at $24.95 per month for 100 product listings. The Silver Plan, which is suitable for most small businesses looking to invest in ecommerce and which Big Commerce deems the "best value," costs $39.95 per month for 500 products, 10 staff logins, 3 GB bandwidth and 300 MB storage.
3. Intuit Ecommerce: The Merchant Account
Intuit's ecommerce offering offers a simple point and click interface that makes it easy to create and publish a store that you can update at any time.
With Intuit Websites, you'll get everything needed to design and launch an online store, including the domain name, hosting, the SimpleStore ecommerce software, a site builder tool and online payments via Intuit merchant accounts. The merchant account is a big feature, as it enables small businesses to move beyond offering basic PayPal payments at checkout. Another nice feature of Intuit websites is the Facebook extension with which you can create a store a Facebook Business Page that automatically syncs with current store inventory.
Intuit websites with ecommerce start at $19.99 per month for a 100-page website, 5 GB storage, one domain and five email accounts. A Business Plus plan offers additional features and storage for a $59.99 per month subscription fee. Intuit provides free phone support and assistance with all subscriptions.
4. Shopify: Advanced SEO and Analytics
Shopify hosted ecommerce lets you pick a template, optimize the design, add a product catalog, organize your products and create blog posts from a single administration dashboard. Shopify feature built-in mobile commerce that includes an iPhone app and mobile storefront. Marketing tools for SEO and coupon codes to help sell items are also available.
Shopify integrates with Google Analytics; this lets you automatically track customer purchases and shopping cart transactions connected to Google Analytics data. It also features built-in analytics to benchmark your online store's performance to help you track ecommerce over time.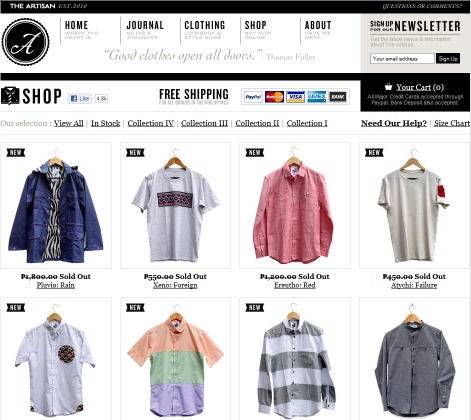 Shopify starts at $29 per month and includes unlimited bandwidth, 100 products, 1 GB of storage and a 2 percent transaction fee. For $50 per month, the basic business account is good for up to 2,500 product listings, a 1 percent transaction fee and 5 GB of storage.
5. Vendio: Automated Selling on Amazon, EBay and Facebook
With a focus on automation, Vendio ecommerce software saves you time with tools to easily put products on eBay, Amazon, Facebook and your own online Web store. List products once and they'll be published simultaneously on the supported marketplaces.
Other Vendio features include inventory control, sales and order management, email marketing, the shopping cart with drag-and-drop features and analytics reporting. Vendio Online Stores provides business owners with marketing features, including Google Analytics and built-in options, while a Vendio-powered Web store is optimized for mobile Apple iOS devices.
Vendio pricing starts at $99.95 per month and includes 200 products, 2-GB of storage, Vendio Applications and your own Web Store plus the aforementioned Amazon, eBay and Facebook marketplace integration.
Based in Nova Scotia, Canada, Vangie Beal has been covering small business, electronic commerce and Internet technology for more than a decade. You can tweet with her online @AuroraGG. Follow everything from CIO.com on Twitter @CIOonline, on Facebook, and on Google +.